Mexico Travel Tips Mexico Lake Fishing Reports
The following lakes are all within a half-day drive from Zapata, Texas and for the adventuresome angler seeking a little variety, each of these destinations holds some serious unique experience potential. If you are fed up with intense fishing pressure and overly educated, lure-shy fish, you need to head south of the border! Remember that a Mexico Fishing License is required to fish in Mexico. This includes the Mexican side of Falcon Lake. You enter Mexico anytime you pass between an imaginary line drawn between two international boundary markers. Know the law concerning passing boats and vehicles before attempting a trip. This will save you much inconvenience, extra expense and necessity of cancelling trips. If you travel beyond a check point (like to El Cuchillo), visas, deposits and travel permits are required.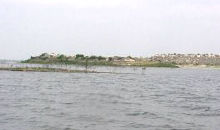 Local fishermen have been booking guide trips and enjoying personal fishing trips to Presa El Cuchillo La Soldera for years. Fishing reports have run the gamut from poor to outstanding. I believe Shirley from Beacon Lodge has an 11 pound black bass, and Gaylen (now deceased) and Shirley have a lot of 7 pound + fish recorded. I can attest to the quality catfishing after a couple trips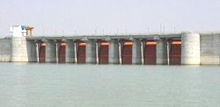 there. Sadly, I have missed the great bite on blacks but have caught enough to believe that this is truly a great fishery worthy of enjoying again and again. In 2006, look for high lake levels to have inundated much new area and fishing reports have been mixed. Lots of small fish and some good ones, El Cuchillo may best be fished with a guide the first time it is fished.
We selected the Las Palmas motel shown because of its relativey safe boat parking and security. Be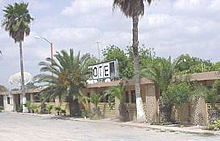 advised that all rooms come with running water, but not all of them have hot and cold. If this is important, inquire and verify status when selecting a room. we understand some improvements have been made recently. There are also several new motels on the way to and on the lake including the Don Carlos. Be sure to check current status and availability before planning a trip.
Las Palmas Motel is located in China, Nuevo Leon. Lake El Cuchillo Dam. Tel: 011-52-823-2-00-52. Several new motel properties/projects have come on line including the Billy Bass located on the highway just before the lake and the Hotel Hacienda Don Carlos www.hotelesmilenium.com 823-232-2500 located on Paraque Estatal El Cuchillo in side the park. The Don Carlos (Closed!) offers many immenities and is priced accordingly.



Presa Derivadora Las Blancas is one choice for a convenient Mexican fishing experience. During guide trips and tournaments Las Blancas has proven to consistently produce good stringers of fish.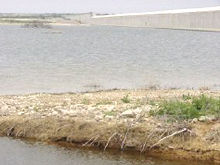 Twenty to thirty fish to 6 lbs or more has been a good average for a day at Las Blancas.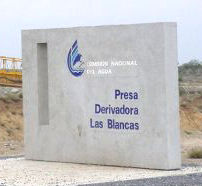 Fish to 9 lbs have been taken and up to 5 lbs is a reasonable expectation on a good trip.
Located just south of Mier, Tamaulipas, on Mexico Hwy 54 (5 miles south of Highway 2/54 turnoff), this lake has the potential to be another El Cuchillo if they hold to the plan of prohibiting netting and trotlines and protecting the lake during the spawn.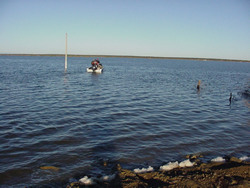 The problem with this fishery is that with the fluctuating lake levels, launching runs somewhere between marginal and inadequate most of the time. In addition to a Mexican licenses and boat permit, a special lake permit is required (although difficult to obtain) and should be purchased in advance. Probably best to just wait and buy at the lake if stopped or questioned. For the trip from Zapata to the Lake, you are looking at around 50 miles, crossing at the Dam and with good roads on the last leg of 16 miles in Mexico. Since this is inside the checkpoint, no Visa or other Mexican paperwork is required except for the regular Mexico fishing license and boat/lake permit. It is however, necessary for you to have your original registration and titles with you for the boat, trailer and vehicle, for purposes of entering and leaving Mexico. The boat and vehicle must be registered to the same party and no commerical boat can be permitted (pleasure class only and must have current Texas Certificate of number for a boat Blue/White (now white) card or equivalent out of state document). Boats and vehicles have sometimes been refused entry if the ownership is not identical and registration/titles are not produced.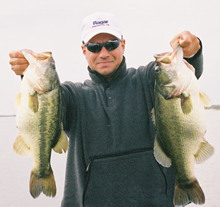 A public launch area accessed at the end of the park entrance road (adjacent to canal) or a ramp on a private ranch (property owners or friends only) are currently options being used (Check current status before going.) successfully for launching small rigs. Guide trips are available using your rig (small aluminum boat and 50 hp or so motor recommended) or a guide's boat. Cost is of course reduced if your 4x4 and small boat is used. We recommend using only experienced Mexico guides to assure your fishing enjoyment (Picture at left of Sergio and 2 of the 26 fish caught on Las Blancas 12/24/03 with Andres Flores).
There is a good, reasonably priced motel about 7 miles from the lake with a protected courtyard available for boat and vehicle parking. This is located on Mexico Hwy 2 right at the Alamo River. Guided trips may be available for bass fishing on the Alamo at the motel. A restaurant is attached to and part of the motel. Porfirio (Pelo) Garcia owns and runs the operation. His telephone is 011-52-897-97-3-08-37.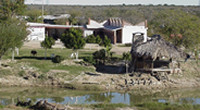 Closed!

Packages for one day trips to Las Blancas start at $500 (2 fishermen) with the point of departure being Zapata, Texas. Call us for names of guides and/or to discuss special arrangements. Mexico fishing licenses and boat permits are available at Falcon Lake Tackle. Carlos at Falcon Heights can also help you with guide service and he has won several recent Mexican tournaments.


Sugar Lake, the closest Mexico lake with an on-lake motel, launching, and a Mexico rated some-star restaurant, has yet to produce the consistent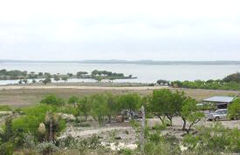 numbers of big fish, which it has done in previous years. Big fish have been caught there the last few years. Also, it is a beautiful destination with good catfishing just a short day trip from Zapata. Fishing at this lake has been excellent and there are several guides that can put you and your friends on some good fish. The food here was a source of great enjoyment for us, especially the garlic shrimp, when NOE was alive. Noe's son has the place now telephone 011-52-897-972-17-03.
The lake, located just south of Cuidad Miguel Aleman, has two parts. Reports are that this year higher water levels and work performed has provided improved accessibility from one part to the other. When this occurs, it means much more convenient and less driving is required to launch in the lower lake. The water level fluctuates so check fishing AND Launching status before heading to Sugar.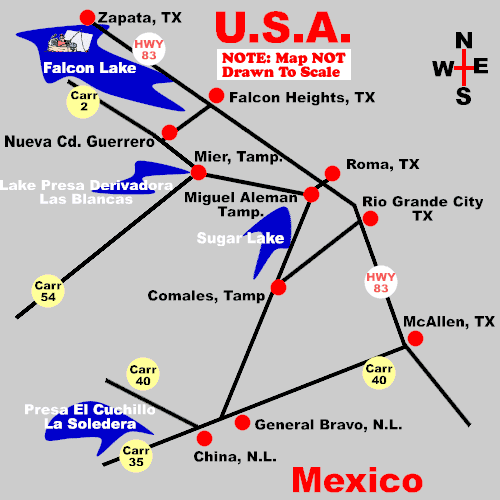 Mexico Fishing License and Boat Permits