The following is a brief overview of some of the local folks who have touched the lives and hearts of many people, including the writer, either through fishing adventures, acts of friendship, or in a few instances, downright hostile interactions. Some of these folks have left us now and in some small way we hope this recognition of their contributions will help keep their memories alive a little longer.
If you have any stories to tell about these fine gentlemen, please email them to Larry so we can post them here.
Jimmy Murray - Guide, Writer, Friend and Champion of Falcon Lake by Larry Bridgeman December 12, 2003 I wanted to jot down a few thoughts concerning the tragedy we just experienced in the loss of our friend Jim Murray. Perhaps it will help mitigate some of the pain and sorrow we are finding difficult to handle.
We were proud and blessed to have called Jim and Donna friends and comrades. We hosted many of the registrations for
the Media South tournaments that Jim ran and usually followed it up with dinner, stories and a fair amount of laughter. In more than a few instances, our discussions turned to Falcon Lake and the myriad challenges we faced in rebuilding our fishery, removing known hazards, getting low-level launching facilities constructed, effecting some control over illegal netting on the US side and getting some political intervention in the exploitation of Falcon's water resources by Mexico.
While many of these issues are not yet resolved, what has been accomplished at least is an awareness by all agencies and commissions, politicians and fishermen at to what steps/actions are required and much of this is a result of Jim's help and effort. The effort started by Jim as Save Falcon Lake will hopefully be carried forward by others as will the restoration program we have started and presently have in progress with many balls bouncing.
Jim and I fished the river together with Bill Dee (S.O.B.Gambler Lures) and Oliver Talamante a few months ago and it was one of the truly enjoyable experiences I have had recently. Jim was a Fishermen's fisherman and we always appreciated his advice, kindness and support. There was a giant hole left in our heart when we received the notification of his death and it will most likely never heal.
I understand that Jim's ashes will be spread in part over his favorite Falcon fishing hole and he and Gaylen are probably already plotting some actions to stir up the folks who have been dragging Falcon's fishery down into the depths of despair. So long Jim and keep the Good Lord apprised of our needs here at Falcon.

Jim Murray suffered a fatal heart attack on December 11, 2003 in Fort Worth, Texas where he and his wife Donna were attending the Fort Worth Futurity. This was one of their annual pilgrimages devoted to the sale of their handcrafted leather goods.

"We have little doubt that Jim is probably already fishing up in heaven and catching the big ones. We will miss you Jim and be sure to say hello to the other Zapata guides who preceded you. You will remain on our minds and in our hearts forever." Signed: His Friends
Tommy Jenkins 1945-2002 I met Tommy Jenkins a number of times, but I never
got a chance to fish with him. A good mutual friend Carlos Olivares told me a lot about Tommy and the lessons he learned fishing with Tommy. They also guided together both in Mexico and on Falcon. Debra Hengst also shared some of her stories about fishing with Tommy and the tournaments they won. One of my regrets is about how busy I always thought I was, sometimes too busy to fish. I blew it and I missed fishing with some of the great legends covered in these pages
When I moved to Zapata and opened the tackle store I got to see Tommy a little more often, but he had been stricken with pancreatic cancer by then and his battles and life entered a new and final phase. I remember attending a Sheriff's Auction one day and there was some fishing tackle there they had confiscated from some bad guys. I noticed one of the few rods worth salvaging was a Laredo Bait Caster and when I picked it up I noticed the name on the rod was Tommy Jenkins. I approached the Sheriff, apprised him of the situation and I was able to get the rod and return it to Tommy. A small enough thing, but I was happy to have been able to return the rod to him and we laughed about the coincidence of attending the sale, seeing the rod and noticing Tommy's name on it. I occasionally crossed paths with Tommy at tournaments as I did at the O.P.E.C where I snapped the above picture of Tommy sharing a drink with Jim Edwards who is a fishing legend as well. I believe this was one of the last tournaments Tommy was able to attend.
We will all miss Tommy and his skills as one of the anchors of Falcon fishing. Fish well Tommy.
JENKINS Stories:
I remember a winter day a few years back when Tommy and I were out on one of our many Falcon excursions. We were up the river fishing and heading for one of Tommy's favorite creeks. As we pulled into the mouth of the creek there was a huge hardwood with lots of protruding limbs that caught our attention. As we picked up our rods rigged with black chartreuse craws we raised them and cast simultaneously, Tommys bait hit just to the left as mine settled in on the right side. As we were laughing about the unplanned perfect landing, we both had a strike and as we set the hooks, it felt a little strange. We soon figured out why. As we brought our fish closer to the boat, turns out it was not two fish, but rather one with two baits in her mouth. We laughed about that simultaneous hook up for a long time. Debra Hengst SA Texas
Pete Knight aka "The Peacher" by Larry Bridgeman March 2003
Many times over the past two years, if you have read our Flash Fishing Report, you have no doubt noticed the reports containing numerous references to the "Preacher".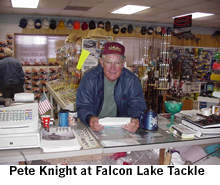 Well, for the past eleven years the "Preacher" has made the trek from his home in North Texas to Zapata. He usually arrives in October and packs it in after the major spawn in late March. Pete conducts church services on Sundays at a local RV Park where he is well known and respected for his pastoral expertise. He also runs a food pantry of sorts and is generous in providing aid to the impoverished familes around Zapata and in Mexico.
However, he is perhaps best known for his skill at working hardwoods and for catching big bass. Pete fishes strictly from a motorized fishing tube and quite likely has caught as many big bass as almost anyone who has, or ever will fish Falcon. I would definitely put him somewhere up in the top ten. Once he arrives at Falcon, he fishes hard averaging 30 to 35 hours a week in good weather and bad. This last year Pete has suffered some serious medical problems and he is reluctantly going to greatly curtail his fishing at Falcon beginning next year. Pete has documented his philosophy, approach and technique in a treatise that I believe is worthy of note for anyone who is serious about fishing Falcon. Here is a preview of the document written by Pete that we will present chapter-by-chapter over the next few weeks.
The Joy of Tube Fishing Falcon by Pete Knight
"I have been fishing Falcon Lake since 1992. In my opinion, it is the best black bass lake west of the Mississippi River. A hidden goodie tucked away down here in deep South Texas where only the determined bass hosses go. What makes Falcon so special is the big bass opportunity. Every time you flip into one of those old hardwood treetops, you stand a good chance of getting a trophy.I am almost seventy years old and probably my Falcon Lake days are limited. I will always be greatful to God for the great time I've had on this lake.
I am a tube fisherman, (a motorized tube), and I fish about 30 to 35 hours per week from October through March. I have caught nine fish over 10 lbs. two over 11 lbs one 12.78 and a host of two to nine lbs fish. I am dedicated to catch and release and I take less than 10 fish from the lake each year. The rest are released on the spot or nearby. I have a neat friend who also tube fishes with me. We are of the opinion, that tube fishing is not the only way but it is a darn good way. It has advantages and disadvantages when compared to boat fishing. The main advantage of tube fishing is being able to stay right on the trees or cover until you are completely satisfied that you have fished it properly. Many times in a boat with winds, it is difficult to stay on cover long enough. The advantage of boat fishing is the ability to cover more territory than possible in a tube, With all that said, let's talk tube fishing.
I use a 71/2 Loomis Stick given to me by a friend Bubba Haralson. It has plenty of backbone and is the key to fighting big bass. I use a 50 to 80 lb Hi Vis braided line with 1/16 or 1/8 oz sinker tied to a 2/0 owner hook (wide gap). That is real light! I peel off about 8 ft of line (rod tip to hook)and lock down my little 4 oz plastic Mickey Mouse reel (in a tube you cannot afford a drag). Just you against her(smile). Sometimes you win, Sometimes she wins.
Gaylen " Indio/Chief" Gilbreath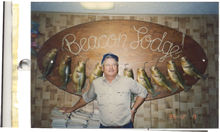 by Larry Bridgeman January 2003
In 1970, when Indio loaded up his BBQ pit and headed for Falcon, Fort Worth/Arlington lost a great BBQ chef and Zapata gained a great guide and ultimately a great apostle and host for Falcon Lake. I know of no one who cared more about Falcon Lake or was more sincere about making others aware of the Falcon story than the "Chief". His latter years were spent in a tireless effort developing Beacon Lodge into a first class property replete with the famous Indio Ribs and brisket. The catfish dinners were to die for and everyone was always welcome. Beacon Lodge was one of the favorite places for bass tournament headquarters and Gaylen's hospitality was legendary. He had a story for every occasion and a joke for every issue. Gaylen's jokes were as copius as his hospitality and there were no strangers at Beacon Lodge, only friends, new or old.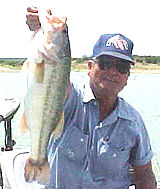 Gaylen's early days in Zapata were spent guiding at Redwood where he was frequently seen sharing war stories and adventures with co-legend Tommy Gray. I remember during my first days in Zapata, meeting and hanging out at Redwood around Tommy and Gaylen. I wondered how any two guys could have so many stories and jokes. Even then, Gaylen's culinary skills were legendary and many a meal was enjoyed at the Redwood Pub.
Later, Gaylen and his friend/co-guide Bill "Mudbug" Stanfield would venture into the RV Park business, which was the forerunner of their Beacon Lodge hospitality operation. Gaylen had the good fortunate of meeting Shirley Bell who shared the later years of his life as a partner in all things and especially in the fishing expeditions which they both enjoyed with equal passion. Old Mexico trips were a frequent past time and El Cuchillo, Sugar Lake and Lake Guerrero were favorite destinations. I honestly believe that Shirley was one of the few people who could stay up with Gaylen's energy on the lake, on the dance floor or at the bar. In fact, Shirley has been known to sometimes beat everyone at all three.
Our last time with Gaylen was this Christmas where we shared a meal and Gaylen and Shirley's friendship. Christmas and Thanksgiving at Beacon had come to be for us annual events to which we very much looked forward. All of us were shocked by Gaylen's premature departure on December 28, 2002 at 67 years young and we know that Zapata, without Gaylen will not be nearly as good a place. Gaylen will, however, continue to watch over Falcon as his ashes were released over the lake he loved January 6th, 2003 by those who cared for him most. Good Fishing "Chief" from all of us who loved you.
Gaylen Stories/Memories
Gaylen was always able to take a few words, put them together, and make their meaning more profound then would have been possible by most anybody else. A few months ago Gaylen and Shirley stopped by Falcon Lake Tackle to pick up a few items for their trip to El Cuchillo. I commented how great it was that they had the opportunity, the energy and the wisdom to enjoy the numerous excursions they were making to Mexico. Gaylen replied something about the fact that life is short and you need to live everyday for the day. "Heck" he said, "we don't even buy green bananas". Larry Bridgeman, Remembering Gaylen January 2002

by Larry Bridgeman
Gene and his wife Darlene first came to Zapata in 1965. Gene was a fishing guide extraordinaire. As one old timer who has fished the lake for twenty-blank years put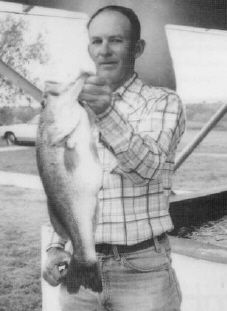 it..."if you didn't mind getting hollered at, you would always catch more and bigger fish fishing with Gene".
Among other attributes, Gene was a father, a director for one of this regions major tournament circuits, the subject of many articles and shows and was the local minnow supplier for thirty years. He also held the Falcon Lake Black Bass record at 11.03 Lbs which stood from 1970 to the mid 1980's. More than that, Gene was just a great guy to fish with. I can still remember his admonishment, "Set the blankty blank hook" even when you had a tree securely hooked and knew full well it was too big to fit the net. Gene made and sold spinnerbaits, good spinnerbaits and, to his credit, he never tried to get you hung up so he could sell you more baits.
You could always find Gene at the Steak House immediately after his guide trips drinking coffee and if he was in the mood, some good information frequently flowed around the table. Some believe that if he stirred his coffee counter-clockwise, it was best not to ask any questions or look for information. Gene left us way too early and we all miss him.
For those of you who were friends of Darlene and Gene, Darlene has remarried and to a pretty nice fellow. Louis Maricle, Gene's son-in-law who also guided here on Falcon turning in some pretty respectable performances, is working in Louisiana. A cottonmouth moccasin took a bite of Lewis but he has recovered for the most part and they are doing well.
Just One More Cast by Buddy Isaacks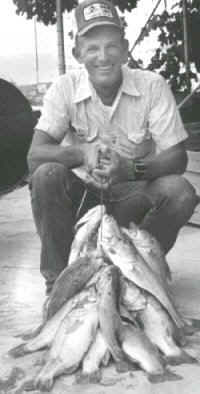 Back in the summer of 1988, I met a fishing guide I will never forget The guide I am speaking of was Gene Christian of Zapata, Texas.
After a brief conversation over the phone about our fishing trip together, I hung up and really didn't know whether I wanted to fish with the gruff- speaking man of few words or not, but arrangements had already been made for the next weekend so why not.
On meeting Gene the next weekend and fishing a day and a half with him, I found that underneath the gruff: tall, raw-boned frame of a man was actually a very caring person in respect to his wife Darlene, his family, and his love of what he did, which was to guide and educate men, women, and kids on catching those green critters that live in the depths of Falcon Lake.
To reinforce my statement on Gene's ability to educate someone on the different ways to work a lure and fish the diverse structure of Falcon, the following weekend after fishing with Gene, my partner Mike Matsler and I finished first place in an Anglers Choice tournament with a total of five fish weighing in at 33-plus pounds. Two of those bass weighed over eight pounds each.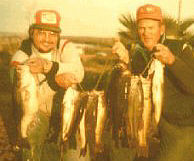 Gene was a man you could depend on, whether it was putting a person on a big bass or just being a caring friend. Over the few short years that I was acquainted with Gene, he became a very close and respected friend, as he was with many other people in the small community of Zapata. This friend and fishing partner passed away on February 16, 1994 at the age of 58.
Gene started his guide business in 1965 when he and his family moved from Raymondville. Gene has been revered for his knowledge of bass fishing in many bass magazines. Articles have also been printed about Gene's fishing expertise in the Houston Post. There was also an article in the Great Outdoorsman about a floating worm rig that Gene used, which is known today to most of us as somewhat like a Carolina rig. Gene also made and sold a great-working spinnerbait that the bass in Falcon could not resist.
Gene held the lake record with an 11.03- pound bass from January 1970 until he mid-80s. Gene was also the Division 8 director for the Angler Sport tournament circuit.
Darlene, his wonderful family, myself, and many other people who knew and loved this unique man will miss him and his straight-forward personality.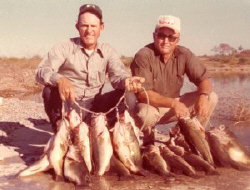 When you were in the boat fishing with this great man, and when he would feel a slight tap on his line, before he would set the hook, he would always say in a soft voice, "Hello, down there". Then the next thing you would hear would be a giant bass breaking the calm surface on Falcon Lake.
So if you're ever fishing on Lake Falcon and you listen real close, you will probably hear off in the distance a peaceful "Hello, down there", you'll know that Gene Christian has just set the hook on another huge bass in God's great lake in the sky.
God bless you, Gene. By the way, when you take the Man out for a fishing trip up there, please ask Him for all of us fishermen down here to keep His hooks sharp, His line retied, and His great landing net ready at hand for all of us. ~


Quiz: Who has been on the lake since the 60's, caught more big fish than perhaps any one else on Falcon, showed more customers what its like to hire and fish with a good guide and lives on the highway with a back patio positioned to take advantage of the cool southeast breezes off Falcon Lake?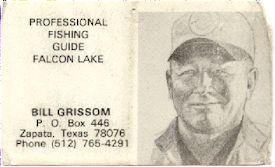 If you answered Bill Grissom, you just might be right. I met Bill in the early 70's and fished with him on many occasions during the time I was working out of Zapata and returning on short trips. I can truly say, I never had a bad fishing day with Bill. It is true that time changes nearly everything and everyone. The breezes that cool Bill's patio now blow over a dry Veleño. Bill is unable to fish much anymore because of medical problems and regretfully, his guiding days have pretty much ended.
If you know Bill, you know he never was one to talk your leg off and usually when he spoke, it was significant and to the point. I remember one day that Bill went out fishing with Tommy Gray and yours truly. Bill never was a big fan of high power Bass boats and he fished for years out of aluminum Starcraft boats and did just fine. We had been fishing up Salado and we had just pulled out of a creek across from Old Guerrero. With weather threatening, I took off a little faster than normal. The Champion single console was just reaching 4000 RPM when the tackle box in front of Bill flew open and about ten packages of worms hit Bill head on. Somehow he managed to grab all of them and with Tommy Gray setting there laughing Bill remarked something about high power boats with no windshields being dangerous and needing to be outlawed. Of course that story has grown over the years and it sounds a little more serious when Bill is recalling it, especially over a couple of Miller black labels.
If you never were fortunate enough to fish with Bill, you missed some great fishing and some pretty darn good stories.
I have fished Falcon Lake for 35 years, and have been there during it's most productive and leanest years. I consider myself fortunate to have fished with each of the four men many times.I have never had a bad trip. Yes, there were a multitude of times that I never had a bite, but the company of anyone of these legends more than compensated for the lack of fish.

I began fishing with Bill Grissom when my children were very small, and am indebted to him for helping me keep my sanity through these difficult years of being a parent.Bill was a great listener and gave me immense help in solving my problems by just being there and letting me talk. Bill ran a tight ship and if he wanted you to fish out of both sides of the boat he would tell you.It was not your decision to make.I have become a loyal friend of Bill, and thank him for sharing the responsibility of raising two beautiful adults. I also consider myself fortunate enough to have witnessed many sunrises on Lake Falcon and am sorry for those who have not.

Robert LeClercq, June 2001


They say that when the good Lord decided to call Ode home, he had all the angels restocking heaven's lakes a week before Ode's arrival. Probably a good idea because there are going to be a lot of fish caught when Ode hooks up with Gene Christian and Tommy Gray. Ode was a unique individual…he had more stories than most guides have lures. What amazed me was that when you were with Ode fishing, you rarely heard a story repeated.
I remember one winter day Ode was guiding me and we put in at the Arroyo del Burro. I had called Ode several weeks earlier to book a Saturday fishing trip on a short weekend visit I was making from out-of-state. We knew when we pulled out of the Redwood Lodge in Zapata it was cold. A Blue Northern had hit the day before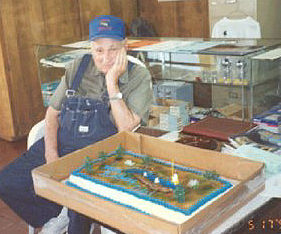 and north winds chilled the air, the Chevy truck and fisherman to the bone. The first sign that this was not going to be a comfortable trip was the frost on Ode's windshield but we both dressed warm so no big deal...right? WRONG!
As we struggled to keep the ice out of the guides, a task normally reserved for northern lakes, we each silently began to question why we were there. Two hours into the fishing day with no bites and plenty of time to ponder the why question, Ode started laughing. I wondered if he was losing it or had been sipping something to keep him warm beside coffee, but Ode assured me that was not the case. Ode finally shared with me what he found so amusing. "I finally figured out why I am out here on this cold, windy, miserable day," said Ode. "I am getting paid and this is my job, the way I live. But what I cannot figure out for the life of me is why you are here". I thought about it for all of 10 seconds and after the second cup of coffee at the Steak House and as my circulation returned to normal, I knew we had made the right decision. The above picture of Ode was taken at his birthday party at the Redwood Lodge in 1996. Ode left us after a long-term illness and some serious time in the hospital. All of us who knew Ode or fished with him miss him and his stories...He was one of the really good guys.
I read the deal on Ode. It was pretty good. Just something that I thought might interest you. I met Ode in about 1968 at Six Mile Marina on Toledo Bend Lake. My brother was guiding down there with Ode. Of course he was so much fun. I was only 13 at the time, but he always had time to talk to me. One thing that I remember real good about Ode, was that he was always talking about Falcon and how good the fishing was, and because of him, I wanted to come down here fishing. After I moved down here and met up with him again, we had a great time talking about Toledo Bend. He was a good one, for sure, as was the rest of them that you have listed.

Jim Murray, June 2001


Tommy Gray, who unfortunately is not with us any longer due to a tragic accident, was a friend, a fishing buddy and an all-around good guy. As owner/operator of Redwood Lodge for 38 years, Tommy touched the lives of many who were either occasional visitors, full time residents, Winter Texans or just passing through Zapata.
His knowledge of Falcon Lake and willingness to help others who lacked his knowledge find fish was well documented. There was the tournament team who won the boat based on information received from Tommy. The rewards and prizes varied from tournament to tournament and fisherman-to-fisherman but the scenario was the same. Ask Tommy for some help and if you followed his advice, you generally ended up with some great fishing and placing near or at the top if you were in a tournament situation.
When I think of Tommy, I remember the good times and great cooking that Tommy would turn out whether on the lake, at his house or special evenings at Redwood Lodge. When you went fishing with Tommy, you got up early and met him at his house. When you walked in the coffee was already perking and the first thing Tommy would say is "How do you want your eggs?". His biscuits were always served with butter and jelly and were the perfect prelude to a great fishing day.
You could not escape Tommy's generosity on the lake either. His ice chest was always well stocked with the standard summer sausage, cheese and green onions with candy and cookies for desert. The special pepper-packed sardines were always there for a second course for those who needed them. If you were real lucky, there might have been some of his wife Rosa's famous fried chicken or homemade tamales slipped into the ice chest. That would always make the day a little brighter and the fishing a little better. We fished out of Tommy's Nitro in later years but Tuffy, his Deep-V took us on many a bass fishing trip and some great cat fishing adventures as well.
Tommy Gray was a name that struck fear in the Falcon Bass community. Tommy caught and released many big bass and he mounted some nice ones that still hang on the wall at Falcon Lake Tackle thanks to the generosity of his family. Tommy is pictured above with a 9 Lb plus black he caught fishing with Bruce Fox at Sugar Lake shortly before a traffic accident called Tommy home. Ironically the accident occurred as a result of his effort to assist a fellow fisherman and right in front of the lodge he ran for 38 years.