November 17, 2010: Ducks have not showed up here at Falcon in any great numbers as of yet. There are a few in the backs of the creeks up the river, but not what we saw at this time last year. Maybe a bit more cold air up north is need to drive them down.
The deer in our country are fat as hogs, and we have heard of several deer in the 170 class being killed in the last week. The rut does not get into full bloom around here till sometime in December. But look for some good animals to be taken this year.
Quail are as thick as anyone has seen in years, and there will be some great hunting around here this season.
October 2010: It's been a long time since this page was updated.. I guess cause we are more oriented to fishing than to hunting.. But Dove hunting in Zapata County this year has been phenomenal. Lots and lots of birds, both mourning doves and white wings have made their home around here this year.
Teal Season opened with few birds on the lake. A few were reported shot. Some ducks are starting to show up this month but they are not thick just yet.. Last year was a banner year for the duck hunters, but few duck hunters come to Falcon. We have been told by a few that know, that this is some of the finest waterfowl hunting around.
The deer and Hogs in our area are a fat as they can be this fall.. And Quail are thicker than dog hair.. Three hatches in a lot of places.. Try Zapata county if you get the chance..
February 2, 2008
This Picture appeared in a hill country newspaper.. Read the caption.. I always proofread.. But sometimes I miss em' too.. There were no spelling mistakes.. I just hope he broke no laws taking the animal in this manner. And if you thought cleaning a deer was tough enough....
November 19 2007 Well it's not exactly deer hunting weather around here, with highs in the middle eightys. The forecast calls for some cooler weather over the Thanksgiving holidays, so maybe we will see a few more deer starting to move. There are reports of the deer in the hill country starting the rut, but down here it is still time to hunt in short britches and swat mosquitos. There have been some good deer killed I have heard and actually have a few pics of deer killed on Game Ranches.
These deerscored 188 and 190 gross respectively.(no deductions)
Maurice Bledsoe-King Ranch 2007
August 28 2007: With the approach of September it's time to get the old shotgun out and knock the mud-dobbers out of the barrel. As this is the first year in a while that the Mud-dobbers have had anything to work with. And with all the rains we have had the Sunflowers and Dove weed are thicker than in a long time. I was in San Ygnacio a few weeks back when some Milo was being cut and the Doves were blotting out the sky. I am sure they have not flown out of Zapata County so if you are in the field this weekend let us know how you did.
The Deer in the area will be carrying a lot of body weight this year so we look forward to seeing some really big animals taken. They have certainly not been short on Groceries. But some will argue that it takes a dry year to make big horns, as the deer will be eating more browse, which according to most all sources, is much higher in Protein. And Protein equals Horns. Of course having South Texas Genetics don't hurt either.Time will tell..So send in those deer pics after the hunt, and we'll show em off for you. By the way, we've got ammunition for most all popular rifles.. And a lot of ammo for rifles that are not! And yes we have most every shotgun shell in a variety of loads.
Take a Kid Hunting!
Be careful out there and treat every gun like it's Loaded!
December 2006: I received an email with a picture of a big hog taken in Zapata County.Killed near Zapata, Texas. This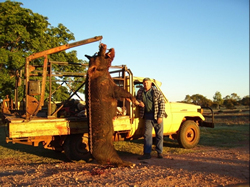 thing was shot near Lake Falcon. An old farmer was pumping water near the lake with his truck when it came out to get a drink. Maybe next time you are wandering around on the ranch at night, you will be a little more cautious when you hear or see pigs.

December 22, 2005-Some of the hunters from Zapata reported the beginning of some minor rutting activity this week and smaller bucks were seen in the comapny of the ladies in several locations. If the rut follows its typical annual progression, we should see an increase in the activity just in time for the major rut around the Christmas holidays.

Check out this 14 point (or more) drop-tine buck harvested on the King Ranch. Awesome animal. You can check out their trophy hunting opportunities at http://www.king-ranch.com/hunting.htm or give Butch Thompson a call at (361) 221-0330. The King Ranch has approximately 700,000 acres of wildlife habitat and offers guided fair-chase hunting opporunities for antelope, turkey, javelina and quail as well as white-tail deer.
Happy Hunting and Merry Christmas from Falcon Lake Tackle.
Please note that we open early on weekends and holidays. Check us out for all your fishing and hunting supplies. We have over 100 different calibers in rifle and pistol ammo and we have cleaning supplies, cases and targets plus an assortment of lanterns, batteries and other hunter supplies. Hunting and fishing theme gifts including authentic antler writing instruments, taxidermy and arrowheads are also available. Check out the gifts section of our website.
December 10, 2005 - A group of local hunters found a lot of activity today on ducks and the action was spread over a good part of the lake. Gadwall and teal (mostly green-wing) were plentiful and some other species were sighted flying, but were not taken. Several fishermen reported a heavy concentration of ducks on the US side of the Rio Grande in the Oscars Cove (first big cove north of Beacon called Arroyo San Bartolo on maps) just across the lake from Hedionda. The ducks were in the backs of the coves. Speedy Collett reported seeing lots of ducks in the first three coves north of Beacon including some mallards, pintails and a lot of teal.
Word of caution, land use below the 307' elevation is controlled by International Water and Boundary and the Game Wardens may be involved in enforcement also. You might want to verify with them where it is legal to hunt bcause all land above the 307' elevation is PRIVATE and you need approval of land owner to hunt. If you choose to hunt without knowledge of restrictions, there may be some risk of being ticketed.
Deer hunting is picking up both in activity and number of bucks being seen. Still not much activity reported of Bucks on Does but it is coming soon. We recently posted a link under Guides to the website of Varal Ranch where some pictures of some recent kills are posted.
January 1, 2004- A hunter from a local area ranch reported sighting a big 16 point buck just out of range. He is going back to see if he can get a shot today. Looked to be a 21" or so inside spread according to the hunter.
Juan A. Villarreal Jr. shot a 10 point that weighed 189 lbs dressed and had a 20 3/4" spread. Nice Buck! Picture Courtesy Zapata County News
Duck and goose hunters have been finding rather small populations of both during the last week. Mostly small ducks and very few geese are being reported on the US side at least from Marker 7 back this way and up river. We have had some reports of hunters seeing geese on the Mexico side but US hunters remain thwarted, at least up to now. We have not heard anything recently about the Tigers and this is where successful hunting reports were coming from a few weeks ago. Maybe this area is just being kept a secret, or no one has been hunting this area since Tiger Island launching was lost when the lake water level increased?
December 21, 2003 - Several hunters from local area ranches reported sighting some big bucks starting to move the last few days. An 8 point with a 18 1/2 " spread was shot yesterday South of Zapata on the Vela Ranch. It is obvious that the rut is about to start and may have already started in some areas. Here are a couple of things to remember. Keep the log on your license filled out current and accurate. You must also keep the original card for your Hunter Education Course on you. It is not sufficient to just show it on the license. I understand some folks have been stopped and checked. If you are not the recipient of benevolence on the part of a game warden, you are looking at some hefty fines up to $500 per.
Duck and goose hunters have reported mixed results lately. One hunter said he spotted some big flocks of geese flying north as he was leaving San Antonio. One thing for sure, is that a general absence of Bermuda banks at this lake level has not been beneficial to attracting big populations of geese. Some action has been reported up the river especially when wind is out of SE. Geese are reportedly using Mexico fields as overnight bedding and feeding areas.
Yes, we have plenty of steel shells here at Falcon Lake Tackle.
November 27, 2003-Reports from several groups of duck/goose hunters over the last few days indicate at least in some areas of the lake there are good populations of ducks and geese and a lot of limits are being reported. Most dark geese of the speckled belly type and a variety of ducks have been seen. The Big Tigers area has been producing the best shooting according to recent reports. Some big bucks are being seen at area leases, but the rut has not started to show up at this time. We have not had any significant moisture since mid-November and fields are mostly dry.
September, 2002-Although the early season dove season started out a little rainy and some of the later periods were wet as well, most of the hunters and outfitters we talked with had some excellent hunts and a good population of birds. Mourning doves were more plentiful than whitewings, but the population of both species was the best in several years.
December 24, 2002- Cuernitos Carerias Outfitters claims this is not a large deer compared to some of the others they have seen on some of their Old Mexico leases. This animal had 11 points with an inside measurement of 22 plus inches. It scored a 172 1/8 gross B & C. Well, it may not be big by their standards, but it is about as big a whitetail as I have every seen. If you have an interest in shooting a lifetime trophy, deer season is open through Feb 14 in Old Mexico.
December 23

There seems to be a good concentration of ducks in the Big Tigers area of the lake and still some around School Bus and north of old Zapata on the Rio also. The ranchers are reporting the best populations of quail in a number of years and just the last few days, hunters report starting to see signs that the rut is gaining momentum. A 12 pointer was shot yesterday and although the rack was not big, the buck field dressed out at about 140 lbs. Rick Neeck from Austin Tx shot this nice 10 pt buck the morning of December 24 north of Zapata near the landfill.
December 15
Ducks and Geese -The abundance of geese on the lake last year has dropped dramatically and this year, at least so far, we have had only a small fraction of last year's visitors. This may be attributable to the higher lake levels and the fact that the large patches of bermuda grass that adorned the lakeshore are now covered up with water. On the other hand last year we saw very few ducks last year on Falcon until near the end of the season. Ducks arrived early this year and populations have varied week to week. Last night over one of Beacon Lodge Gaylen Gilbreath's outstanding catfish dinners several duck hunters told of seeing thousands of ducks a day with a few geese mixed in. Early in the week, limits were coming fairly routinely. That situation has changed dramatcally over the last few days to the point, at least in the marker nine area, where hunting is medicore at best. We had some reports earlier of good populations up the river a mile North of Beacon Lodge, but no one is reporting great success at this time.

Deer - There are some bigger bucks starting to show up and most of the hunters and ranchers I have talked to seem to feel we are getting close to seeing the deer rut. Estimates range from a few days to Xmas week which is pretty much typical.
Quail - Some of the outfitters report this has been the best season they have seen for three years.They are seeing numerous covies of 25 or more birs and they are getting lots of shooting.
Feral Hogs and Javelina - Many hunters have reported an abundance of these animals including a 250 lb Feral shot last week.
December 10 - Deer hunters have been hitting Falcon Lake Tackle in record numbers for ammo, licenses, scents, predator calls and camo items. The reports of a few good deer up to 8 pointers have been scarce, but most of the hunters I have talked to feel the rut is very close to taking off. A few bucks on does have been reported, but the big bucks have still not started showing up. A few reports have come in of feral hogs to 250 lbs and lots of javelina showing up. One party shot a nice bobcat south of Zapata. Ducks are being found in fair numbers both in the river and creeks around markers 8 and 9. No significant reports of geese arriving or being seen have been filed. Thet are making a later flight or have possibly changed their route from last year, probably just later flight.
9/22/02 South Texas Dove Season Opens to Full Limits
I heard that Beacon Lodge's Gaylen Gilbreath had put 15 hunters on limits of mourning dove and white wings Saturday so, when I got the chance Sunday, I rode out to the San Ignacio field with Guide, Joe Guzman and snapped a few shots. I found out that the old trusty digital Sony camera that has done so well on fish is totally ineffective in capturing any of the fast flying birds-on-wing shots or actual hits and this morning I would have traded it in for another barbacoa taco or for a five year old Polaroid.
The birds seemed to be flying either low, or very high and fast. In spite of my best efforts, by the time the camera focused itself, the birds were either in the sun, out of sight or too far away to see. I can verify, however, that there was a steady flight of birds and sounds of 12 and 20 gauge guns blasting away continuously from sunrise until the time I left at 9:00 am.
The mourning doves dominated the early flights and the white wings started flying about 7:30 am. One hunter I talked to described the morning hunt as F & F (fast and furious). "By the time I emptied my gun, the birds were all over me. I would load and empty it again, try to recover the birds and before I could reload there was another bunch all over me. It was crazy out there." One hunters early morning bag is shown above. Limits were definetly not a problem for most hunters. While hunting is nothing like it once was in Mexico where the sky was blackened by thousands of birds lifting in unison, it would be considered very good by most any standard. If you are interested in some F&F shooting, Zapata style, contact Gaylen at 956-765-4616.

02/02/02Pest Control -Texas Style
Falcon Lake Tackle customer Dustin Angle is one of South Texas's premier fishing guides, tournament pro and all-around good guy. Dustin and his buddy Ray had to do a little pest control on their company's property recently. They ended up shooting these two feral/Russian-cross pigs to eliminate the damage they were doing to the company's grounds. The big one (estimated 500 lbs) was able to elude their 7mm rifles on that day, but he's not out of the woods yet. These hogs plague ranchers in South Texas and many ranches will allow hunting for very minimal costs. The best time to get a shot at these hogs is before daybreak and just before dark.
Hunt hogs early and late and catch bass during the day. Sounds like a plan.

01/09/02
Morning Temperature: 51 Degreees
Afternoon Temperature: 79 Degrees
Waterfowl hunting on Falcon Lake has been pretty much confined to geese for last three to four weeks. However, hunters report that the cold spell has started to push the ducks south. A couple of Laredo hunters found a mix of geese and ducks this morning, including mallards and teal. They stopped by Falcon Lake Tackle to purchase steel loads and we snapped a shot of some of their birds.
12/24/01
The last few days have produced some good bucks in the Zapata area. John Nixon is shown here with a beautiful 9 point buck he harvested on his lease just east of Zapata. John purchased his license and ammo at Falcon Lake Tackle and it was the first license issued under the new TPWD license system. The buck had a 19" spread and was just an inch short of John's smile. The deer is being processed here locally at Lalo's and will hang in a prominent spot in John's trophy room. Good job, John.