View Current Tournament Report
TPWD Home TPWD Records-Lake Mexico Lakes Report TPWD Reports

FLT Flash Fishing Report!
Not your Daddy's fishing report...
April 22, 2019: I am not sure where the last ten days have gone. But it would be a good guess to say that they blew away.. We have had one day in the last week that would qualify as a good weather/fishing day..
The wind has been relentless.. And if it ain't out of the south it's out of the north.. With no slack days in between.. With the exception of last Friday.. And this week don't look much better..
So with the high winds, there have been few folks fishing, and those that have, have had to hide from the wind and waves as best they could. Which wasn't easy..
Those that have fished have had some decent results, with a few good fish mixed in.. But fishing open water has been a challenge if not an impossibility. And several of the guides that I have talked to either cancelled or rescheduled some trips last week due to the dangerous conditions.
A few deeper fish are starting to show up, and Carolina rigs out long points and on humps have been reported.. When you can fish em.. But the majority of fish are still shallow from what I am hearing..
I did fish last Friday, but we were chasing some crappie for the skillet.. And crappie in brush piles have been pretty easy to catch. And t is hard to beat when it is golden brown..
Most bass are being caught inside of eight feet of water, and a lot of that is because the shad are still shallow, and really thick in some places on the banks. Starting on a windblown point or rocky shore ain't a bad idea.. Squarebills and small soft plastics are good.
I had a buddy catch an eight and a six on back to back casts on the rip rap of the dam yesterday.. But he said that he threw it for another half hour and caught squat..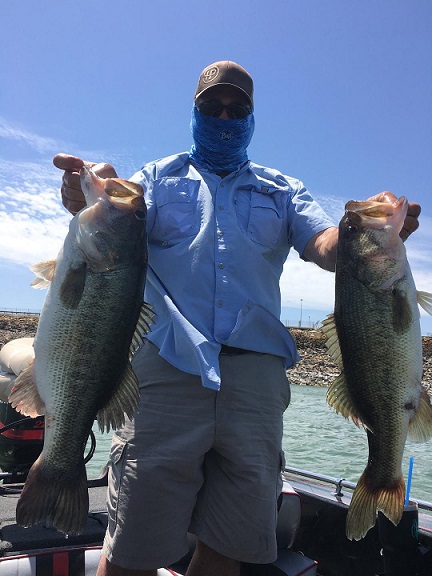 Fishing is crazy shit.. Right place, right time.. I haven't gotten those two together lately..
And Stan Kaminski caught this 10-10 last week.. Pretty fish.. Second cast of the day.. And not a bad start.. There's still a few out there..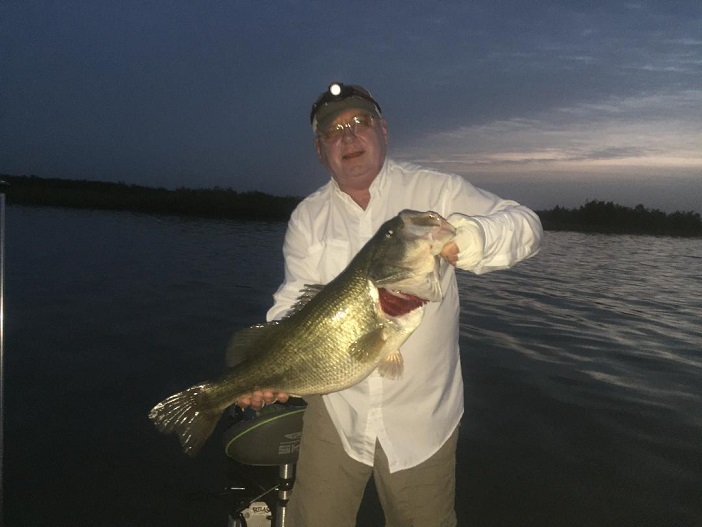 The lake is holding steady as far as water level this last week, as a lot of water is being passed thru from Amistad.. A Lot..
I really have no idea how much or how long this will go on, but I heard from TCEQ about the time it started that it would be about two weeks.
I have no idea if they are planning on taking all the water this go round from Amistad. You will remember that they took about five feet out of Falcon since the first of the year already. I never see a rhyme or reason in it..
So your guess is as good as mine..
The top of the lake could almost be called muddy, with discoloration in the main river channel down to about marker 10. I am sure that will persist until the flow decreases. But it is funny some days how the dirty water moves from side to side.
If you are a white bass fisherman, you can catch a pile of em in a hurry.. Jigging spoons in the schools, or shallow cranks on the right point will catch one every cast. A lot of bass fishermen have complained about running into them all over the place while fishing points.. Sometimes they will peck your soft plastic incessantly..
They are everywhere..
Most of the crappie have finished their spawning, and they are showing up on brushpiles all over the lake. Fifteen to twenty five feet seems to be the best.. And there are still some beasties amongst them..
My favorite crappie report is that they are done.. Don't even need no tarter sauce with them..
The catfish took last week off out in the open water, as a lot of them have headed shallow to spawn.. Jug liners did poorly.. But rod and reel fishermen did pretty good in standing timber.. Especially if he cormorants are roosting anywhere around there..
And it ain't hard to find the cormorants..
About 99% of the Snowbirds have cleared out of town, and things are pretty quiet around and here and in the RV parks. A lot of folks waited till later this year to leave, as winter has been a long time exiting lot of places north of the Mason/Dixon..
Hell it has been long time exiting a lot of country south of Hwy 90.. (IH-10)
I wore blue jeans the last two days up at the ranch.. At least early in the day. Come on summer..
I hope you and your family had a chance to get together yesterday to visit, and celebrate the anniversary of the resurrection of the one true God.
I do not wear my religion on my sleeve, but I will be the first to attest that Jesus Christ can and will change your life if you give him the chance..
You don't need and i-phone or Siri to contact him either..
Get yourself down here when you can, and I'll be back shortly with any news worth talking about..
Now make the wind stop!!
April 12, 2019: As we head into the weekend, there are a couple of clubs in town. Capital City Bass Club out of Austin.. Duh.. And Helotes Bass Club from just outside of SA..
And while we have a nice day to fish today, tomorrow we're supposed to get a Lewinski..
The fronts just won't quit.. We just had one yesterday.. I guess it could be worse.. We could be living up north..
No we couldn't. That shit sucks..
The fish are still shallow around here, and flipping is as good as any when it comes to catching fish.. All the guides are throwing plastics... Well mostly.. A few squarebill and spinnerbait fishermen out there..
Shad are still all over the banks.
I had some buddy's fish the Salado yesterday.. Said they had seventeen in there flipping trees.. And a half dozen that kicked their ass.. You ain't getting them all out of the trees..
Most fish that have been caught this week are averaging two to four pounds.. With a few gooduns mixed in.. Like this 10.24 that Sixto caught..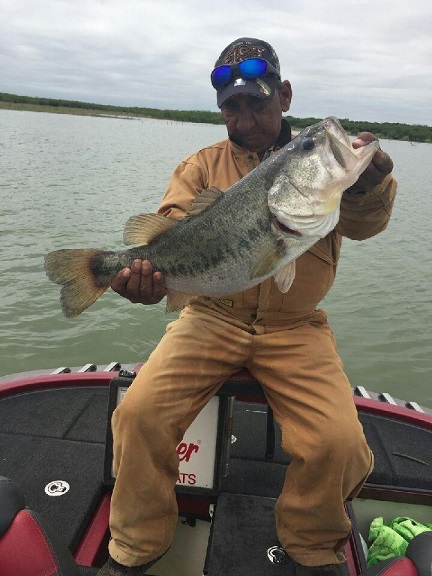 They ain't everywhere.. But they're out there.. You just gotta show it to em..
Seems that not a lot has changed the last ten days.. Other than we have lost six inches of water this week.. Mexico is moving water to the valley for irrigation.. Not sure why.. They had the same rains we had last week..
But in an unusual move, they are also letting water out of Amistad. We'll see where it all shakes out.. But water from there should start hitting here about Sunday.. And we'll probably loose another three inches before then.. At current rates..
But if you are one of those that are tired of beating the banks.. Maybe you can start to catch a few down near the dam now that there is some current moving on the deep rocks.. Just food for thought..
I'll stick to the shallows. No surprise..
The crappie have started to stack up in brush piles, and some folks are whacking them really good. I was planning on getting after them today. But dammit my knee has been killing me.. Damn Picachos..
What else is in the news..
The San Antonio Metropolitan League of Bass Clubs has decided to hold their annual tournament here at Falcon in October. The first weekend to be exact..
It has been a few years since they have been down here.. And that usually means that most of the clubs will move their September tourneys here to do a little pre-fising..
It will be a much needed shot in the arm for Zapata's economy after a long hot summer.. Unless this global cooling takes over..
We look forward to seeing you folks back down here..
We're working on a few other events as well.. I'll pass on details as they firm up..
Hurricane season ain't too far away, and I'm hoping (like always) that this year, as screwy as the weather patterns have been, that we get some storms beneficial to us down here in South Texas.. Which means that I am hoping for Pacific hurricanes.. Wet ones.. Several.
We are overdue to fill up.. Hope springs eternal.. But for this time of year, we are really not doing too bad.
What else is in the news..
I hear that if we shut down the border, we will have a Avocado shortage.. Well shit there ain't no way that we down here in south Texas are going to go without guacamole.
So I have implemented an emergency plan and all assets are in place if they shut down the border..
Anybody that knows anything about baseball knows that the Spanish American league gets a lot of players from Mexico and Central America. And being them fuckers will be stuck on the other side of the border, but right on it, I have used my connections to re-route a bunch of top scouts down here.
We will hold pitching tryouts on the rivers edge.. But they won't be throwing bound leather. Along the river.. They'll be throwing avocados.. Across the river.. Already got the eighteen wheelers lined up..
To date, no one has thrown an avocado over 100 MPH.. So we will also have the folks from Guinness World Book of Records down here, and a test truck from Motorola.. Checking out their new radar guns..
Shit this sounds like a Win-Win for everybody..
The other day, when I was flying over Mexico, the waitress on the plane was giving us the safety briefing like they always do.. Telling you a bunch of bullshit about what might happen in case of a plane wreck. It seems like they leave out a bunch of shit that might happen..
My favorite thing in the briefing is when they say, "In the event of a water landing..."
Hey.. I looked at the fuckin plane before I got on it.. And there weren't no sponsons hanging on this son of a bitch when we took off.. And unless Boeing has invented some airbag technology I don't know about, probably what they should say is, "In the event of a water landing, the last thing you will see is your asshole going over your head.."
I'm thinking that would be a lot more accurate.. Cause I didn't see Sully in the cockpit when I boarded the plane..
I see these commercials about the dark web, hackers, stolen identities, and fraud, because your information is at risk..
And these commercials are put out there by the same assholes that put your information at risk in the first place..
Cyber people..
We let your info, that we demand we have, be hacked.. Now pay us a bunch of money and we'll be sure it never happens again..
Talk about your self licking lollypop.. Bunch of bullshit..
Another commercial I have seen, is for a razor that can eliminate irritation..
Hmmm.. If they can make a razor that will not irritate you. Couldn't they do the same with a wife?
Maybe a spray on or even a topical application..
I hear that Raid! is working on one..
I'm just joking of course.. But relationships these days can get a little complicated.. Back in the day, I had my heart broken so many times I had to carry it around in a sack..
I see this Cortez chick, from the NE somewhere, got elected to the representatives of some bullshit state.. I ain't really paid attention..
Let me put it in perspective for you.. Somebody told me she got 16,000 votes..
More folks than that will read this blog before the sun goes down..
Keep the faith folks. The idiots will self destruct on re-entry..
I gotta go find some Advil.. Now there's a good product.. Although my liver has stuck a cork in the bottom of my esophagus...
Come see us!
April 8, 2019: Things are looking up weather wise around here, and this week should be a dividing line between winter and summer.. You will note that I left out spring..
Spring was that two day period a few weeks back.. We are supposed to approach a hundred degrees later this week.
Water temps are up in the middle seventies and water levels are about the exact same as they were a week ago. And fish are about in the same position as they were a week ago.
Shallow.. Freaking shallow..
When I say shallow, I am not talking eight feet.. Or six feet.. I am talking two feet.. Laydowns in that depth are holding fish, and a few folks have told me that if you find a retama that is shading the water in about two or three feet of water there have been a lot of fish at their bases..
Sounds like last year.. And speaking of last year, while we started out a lot higher, (water level) we are about two feet higher this year at this date.
And some good things happened yesterday that can't hurt us..
It rained in our watershed a good bit and it rained on the valley in a lot of spots that Falcon water irrigates. So both of these thing will help mitigate our water loss. And water saved is as good as water caught.. There is a bit of water in the river but it is not a game changer.. But we might pick up a bit.. We'll see in the next couple of days..
It seems that I write a lot more about fishing than I fish these days. Some of it has to do with old age.. Some has to do with being busy. I somehow got involved with tending too many irons..
But I'm fixin to piss on that fire because summer is finally getting here and I don't have to worry about freezing my ass off or fishing in a north wind.. Two things I abhor..
Shallow fishing is shallow fishing and shallow fishing calls for shallow fishing baits.. A spinnerbait or a small flipping bait is about as good as it gets I hear.. A baby brush hog is really working good.. Or a Rage Craw.. Or a Z-Craw.. Or a beaver.. Or a..
You get the picture.. Your favorite flipping bait, properly presented, will catch you some fish up in the skinny water..
Speaking of pictures.. I need to post a few..
Falcon Loves the Kids.. Seven year old Emilio caught this new PB last week.. Didn't get the weight.. Don't really matter..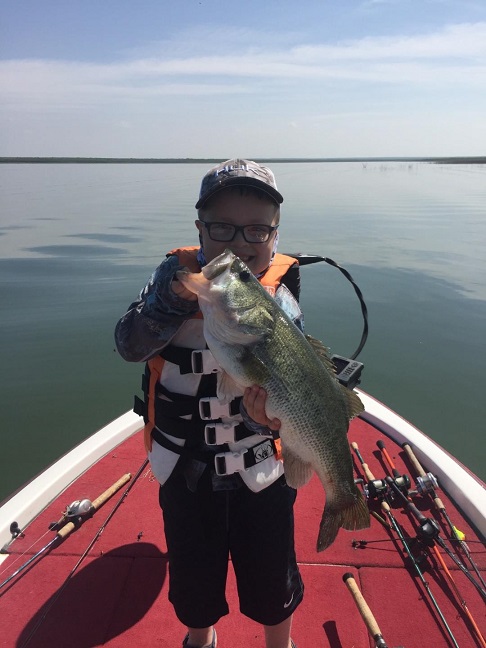 That smile says it all.. And that, brothers and sisters, is what's it's all about..
Last week I told you that the big catfish are going crazy around here..
Cut bait, live bait.. Weenies.. Stinkbait.. It don't make a shit.. And it is OK if it smells like shit..
Just Poo it..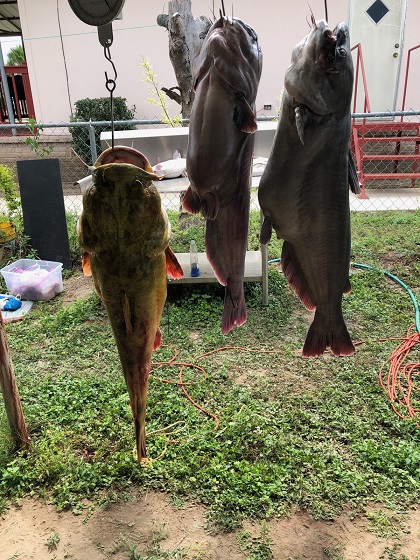 That's a fifty eight pound Yeller on the left.. And about a hunnert and fifty pounds of whiskerfish in that photo.. Them Squareheads from our country can catch em.. They had a bunch of other big fish as well..
The crappie are winding up their spawn, and are starting to be caught on deeper brush piles and ledges.. And there are some slabs being caught..
The white bass are schooling up in a lot of places and if you are any kind of hand with your electronics you can find em and whack em.. Most of their spawning activities have concluded as well.. The bigger fish are deeper in the schools.. Jigging spoons..
I have seen some pics of some really nice bass that have been caught lately.. Most are spawned out but a few remain with eggs.. But not many..
Numbers have improved over three weeks ago, as the shad have hit the banks and are in their procreative spell.. Bait everywhere on the banks.. (Don't forget that 1.5 in sexy shad..)
Hopefully we can keep a lot of this water and protect the fish in the brush..
Last week I talked (bitched) about the cormorants, and it set off a bit of discussion on the TFF.. And in my in box..
And it did illicit a response from PAW as Craig Bonds posted an update of what has gone on behind the scenes in regards to the birds..
And it would be nice if there was some transparency there so we could see what and if anything is actually happening to protect our fisheries from these fish eating bastards.. But to date, nothing has actually been done to alleviate the situation.
Nothing but talk.. We need action.. And it would help if the state helped us help them by letting us know who exactly to contact in our pleas to address the situation.
Doing nothing generally gets nothing done.. Cancer don't cure itself.. And neither will this problem. And with both cases, the host usually fares the worst.. Often times dying a slow death..
I'm trying to keep that from happening.. And I know you are too.. Thanks to all who wrote to PAW and deposited your two cents..
A few days back I took a little vacation down to western Mexico.. Which is really just across from us down here in south Texas. To a little lake called Pichachos, somewhere I have been three times prior..
And let me tell you that all the hype about the numbers of fish in that lake are true.. You cannot catch them all.. Although we tried..
We had thirteen anglers in our party.. And party is a term that could be said to describe us.. Well.. Some of us.. But we behaved for the most part.. When you are getting your ass kicked by the fish every day, it is hard to stay up late singing with the Chachalacas..
But if you saw an up tick in the Pacifico Light stock.. It coulda been us..
We flew thru Dallas on the way to Mazatlan, and we hit town about sunrise.. We had folks from five states going, and the bar at C-21was probably not quite expecting the plague of locusts that landed there.. But the man there handled the situation pretty well, and about $200 worth of Bloody Mary's later we were ready to board our spacecraft.. Errr.. Airplane..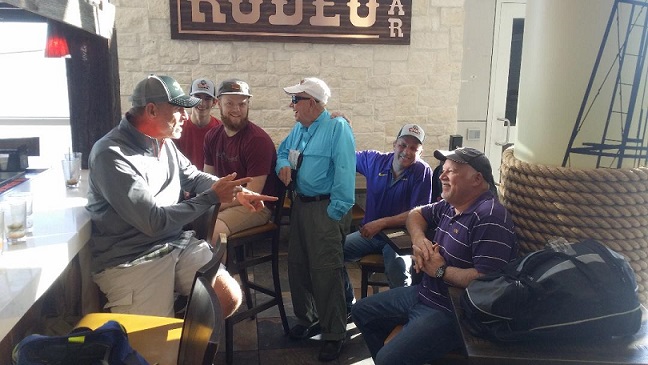 After we achieved orbit, I had a conference with our capsule commander and arranged free Jack Daniel's for the crew.. Well it was free for the rest of em..
Needless to say we landed in Mazatlan like Original Sin..
The crew for Ron Speed picked us up at the airport in their typical professional manner, and forced us into vans with ice chests full of cold beer.. It's hard to get the genie back in the bottle once it gets out..
It was only a fifty minute drive to the lake.. Good thing as we were still sober enough to to rig our rods.. But I will have to admit that I had a bit of trouble stringing my rods.. Good thing they weren't micros..
We did not fish the first evening as there were other folks completing their last evening of fishing.. I took a nap.. As did a lot of us.. We were up early.. And most of us had enough sleepy juice in us to nod off..
Some of the boys caught a bunch of fish off the bank that evening.. I didn't go.. I knew what was coming..
Ok.. Ok.. So far this sounds like a bunch of drinking.. Well.. It was.. But that shit was now over and it was time to kick some bass ass.. (Well, it wasn't all the way over..)
The first morning dawned and we hit the water..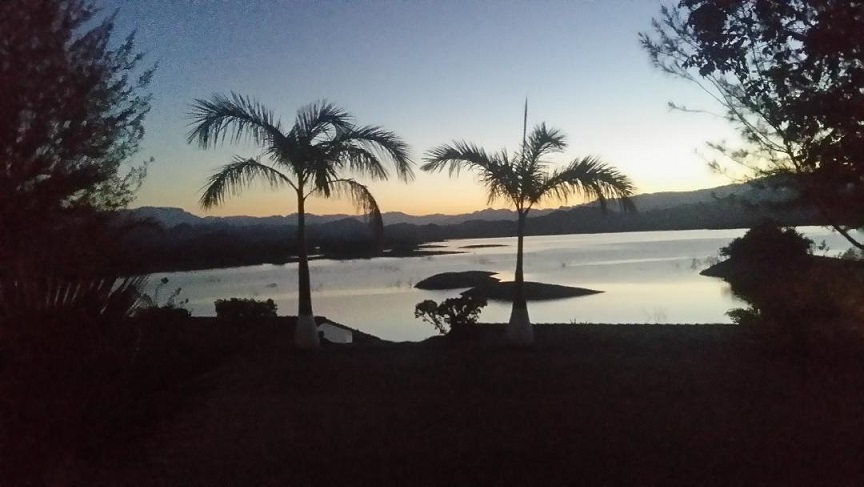 Sunrise view from my room..
And it hit back as everyone whacked the shit out of em.. And we whacked em on everything known to man.. Soft plastics were the order of the day.. And it would remain the top bait for our group the entire four days..
You could pick one.. But a 6" senko was hard to beat.. I wore em out on the Mag trick worm, a lizard, and of course when you take the Plum Ol Monster somewhere, it just does what it does.. It kicks ass and takes names..
I am not gonna bore you with pictures of four and five pound fish. The biggest in our group was a 7-2, although my fishing partner had a 8-9 pound fish pull his panties down and spank him..
We were fishing out a long point in about 25 feet of water, and I had a five pounder at the boat, with a few others in pursuit. My buddy had a line out, and about thirty feet from the boat this big bitch started started treating a six inch gizzard shad like a shuttlecock.. If he'd a stayed out of the water any longer he'd a needed oxygen.
Anyway.. You can just tell when it is a big fish after their ass..And I was stuttering....... Get in there..
Ted had some line out and I figured that by the time he was reeled in that fish would be gone. But he got his senko back to the boat and in the general vicinity of the ripples and it hardly got wet before this big fish inhaled it.
There wasn't no setting the hook on this fish and he was just along for the ride.. The drag screamed for a few seconds and the fish came out of the water like an Orca. Not a high jump.. But a long one.. And she spit that bait out like some used Days Work..
We all been there.. But it is always something to see..
In the next four days we would all catch over a hundred fish a boat.. Most over a hundred and fifty.. And a couple of 200 fish days as well..
We caught thousands of fish..
I was fishing with a buddy into his eighties, and neither one of us had anything to prove.. But two evenings in a row we sat up against the dam, fishing in the shade, and caught eighty to a hundred fish.. Without moving the boat.. And all of these fish were three to five pound fish that were bad asses and fight filled fish.. We left em biting both evenings..
I sent a buddy there the last day as we took the evening off and went to Mazatlan early to check out the scotch reserves..
They caught over eighty fish in two hours in the exact same spot..
I'm telling the lake is full of fucking fish.. Nice ones.. And they'll kick your ass..
Other fishermen also caught the crap out of them on crankbaits.. I caught them on cranks as well.. But it is a lot easier taking one hook out of a fish than two.. Or six..
The last morning we were flipping trees and my partner was taking the reels off his rods.. Said he was done.. I said I was going to flip this last one tree on a mini point..
I caught four in a row on a mangled up lizard between two hardwoods.. And my lizard had give up the ghost.. My last cast was a four pounder.. My first cast was a four pounder..
Life is good..
Folks if you want to go just whack the snot out of em, you can't pick a better lake than Pichachos.. If you want to teach a kid how to worm fish, there is no better place on the earth to do it.. They'll eat him or her up like chiggers in Bermuda..
And you can't find a better run camp than Ron Speed Jr.'s. They'll take care of the details..
Food is overwhelming in proportion and quality. Accommodations are awesome as you have your own private room..
I love this place.. A trip there will cost about 3K, turn key, but they have had some two for ones lately.. Not sure what the status of that is right now.. but I bet he'll have some more..
If you have any questions about the trip, call me and I'll give you the bullshit redacted facts about going.
But you'll catch a lot of fish.. No bullshit..
Well I gotta get back to work.. Oh wait.. I am working..
I'm one lucky son of a gun..
See you on the water!
April 2, 2019: We just had the last cold front of the year.. I ain't saying it is the last one that we will have.. But it was the the last one we had. And it was a son of a bitch for this time of year..
We ain't used to dipping into the forties in April around here.. Kind of a cruel April fools joke.. That ain't a joke..
But one thing that did happen that was good.. We got the first real precipitation that we have had in months.. Literally..
We got 1.65 inches of rain on Saturday and Sunday, and it was a welcome sight. Most of the Valley got some decent rainfall as well, so maybe we'll keep the stopper in the dam for a while longer.. Of course there is no telling with them guys..
We are sitting at 275.58, and that is just about steady for the last two weeks.. And almost for the last month..
Water temps are right around seventy on the good days, and slightly above if we get a few days of sun in a row.
The warmer water has got the shad trying to spawn, but it ain't going on big time just yet. But there are a few spots where they are hitting the rocky banks.
I have been out of town for the last week, but all the fishing reports I hear are of improving catch rates. Shallow is the name of the game, with most fish coming from water less than three feet deep.
Rockpiles and old house foundations are also holding fish. You can catch them with a variety of baits, but plastics and squarebills are best..
I also talked to some folks this am that said the afternoon bite has been best, and the fish they are catching are on shallow laydown's and tree bases in about two feet of water.
And a spinnerbait has been whacking them. My kind of fishin..
While other parts of the state are just getting into their spawn, we are pretty much winding down. From all indications. I ain't saying that we are completely wrapped up.. But there ain't much of it left.. And I for one am glad to get back to some more predictable fish.
If and when we get the water back up in the middle seventies and into the eighties, we will certainly see fish that are more consistent in location.
The soft plastic bite is still best I hear, with a Rage Craw and a Baby Brush Hog catching a lot of fish. The common denominator for all these baits is shallow water..
Overall I will have to say, that by all reports, the fishing is improving.. If we can just keep the water warm.. Air temp was 49 degrees this morning..
The one bad thing that we have been observing this year, is the lack of small fish, that should be 12 inches long about now..
Of course this is due to a couple of factors.
Last year we had a tremendous spawn, with clouds of fry in the weeds and vegetation that was everywhere. And about the time the fish were big enough to swim, the powers that be sucked all the water off of the cover and exposed the baby fish to the thousands of predators waiting in the wings..
And a bunch of the predators have wings..
We also have a revived white bass population, that is not afraid to eat a baby bass either.
And truthfully, bass also think baby bass taste good as well.
It is hard being at the bottom of the food chain.
Some of these things we can't do anything about. And having a population of white bass is not necessarily a bad thing. But they are bait eating machines, and they no doubt compete with the bass for food.
And we have had the conversation about biomass before.. Any fishery can support X amount of fish based on the amount of forage available.. Yada, Yada, Yada..
And I guess any fishery can support any amount of cormorants, based on the amount of available forage. So looking at the cormorant numbers, I will have to assume that we have a good amount of forage.
Because these mother fuckers are out of control.. And news flash, Parks and Wildlife can still not give a shit.
But bring up alligator gar, and they are all over it.. I guess we should rename them Texas Parks, Wildlife, and GPA..
That's not grade point average.. That's Gar Protection Agency.. EPA.. GPA.. Kinda catchy..
I wish they gave as much attention to the bass.. I reckon they are just taken for granted..
"We spend millions annually growing and stocking largemouth bass in Texas lakes.."
And them we dump em in at the boat ramps and let the cormorants eat em..
Pissin in the wind..
You know.. Lets do the math. Just one more time.. Cause I like it..
Oh wait. Here's something I wrote before.. On August 7, 2017..
"If there ain't ten thousand of them on the top of the lake I'll eat your hat.
How we coming on that TPWD?
If I was in charge I'd be on the phone everyday trying to get this cancer fixed..
I find it hard to believe that everyone at the EPA is is an idiot, so someone, somewhere, has to be able to see the light and give us a look over.. The problem being is that they do not even know that this problem exists.
Is anybody ever going to help us?
Someone has to make this a priority. Someone besides me.. They won't let me handle the problem.. Or I'd personally get it fixed..
At this water level, with no real cover in the lake, it is easy pickens for these bastards.. And our fish populations are getting hammered by these mother fuckers every day..
Let's see.. 10,000 birds.. Half a pound of fish a day.. That's 5,000 pounds of fish a day..
That's a hundred and fifty thousand pounds of fish a month..
That's one Million, eight hundred thousand pounds of fish a year..
You think the netters are hurting the lake??
You think the fishermen are hurting the lake?
You're crazy..
How we can enforce laws pertaining to the last two items mentioned, and ignore the birds is mind-boggling to me..
It's the epitome of the elephant in the room story..
And on it goes.."
Do I really expect TPWD to do anything about the cormorants..
Shit no.. They'll let the devastation continue, as they let the birds continue to destroy the habitat, water quality, and the fishery..
And the sad truth is, that Falcon continues to struggle and endure, in spite of TPWD.. Not because of it..
But we could be so much more..
I have been talking about cormorants for a decade.. A fuckin decade.. Has anything been done? Has a count been made? Have recommendations been sent up the ladder even considering that maybe there might be a problem? An infestation?
An overpopulation? A fucking plague?
One day.. One day.. Whoever is in charge at TPWD.. Is going to wake up and say, "I wonder whatever happened to the fishery at Falcon.. Didn't they used to catch em down there pretty good?
Note to current upper management at TPWD.. This shit is happening on your watch..
The catfish have gone crazy down here, and I have some pics to post.. But I am still trying to get caught up after being gone for a week..
And I am surprised that I can even type after all the fish I caught down in Mexico.. We tore em a new asshole.. Or maybe they tore us one.. More on that later..
In any case, it sounds like fishing is really picking up.. So if you are headed this way you just might catch em good..
I'll see you soon. Here.. Or on the water..
March 23, 2019: It's been a pretty quiet week around here, as the weather has not been the best for fishing.. But there were a couple of days that it was not too drizzly and windy.. And a good number of folks did get out and fish.
With mixed results.
Like usual, some folks caught them pretty good, and some folks struggled. People fishing the south end of the lake did better for the most part. The upper end of the lake is spotty, but reports of fish on old foundations and a few rocky points have been reported.
Drag a square bill over the top of em and it is likely that you will get bit.
Down south the Salanaias is fishing about as good as any water on the lake. Fish those creek channel swings, whether back in the creek or in the creeks that run in from the sides.
A soft plastic is as good as it gets.. And small flipping baits that we have been talking about for months are still producing. Something with a candy vibe has been one of the best.
Seems that green and purple flake is doing something the fish like.
The shad are finally showing up on some points and rocky banks.. And it is about time. They are not up there thick just yet, but it is happening in some areas.. Mostly south.. And when the shad get up there thick the bass will be right behind them. Happens every year.
We still cannot maintain a seventy degree water temperature.. It's been over it a few times, and it will be there today. But when I was out on Wednesday I saw a lot of 68 or so.. And there was little to no sun since..
As far as the spawn goes, we are still seeing pics of fish and getting reports of fish that have not spawned yet.. I do believe we are very late in the cycle, but it is still going on to some extent.
I am not sure what depth is best to fish right now, and I am getting mixed reports from the folks I have talked to. Some say eight to ten feet, but most still say that four to five is best. So trying some of both ain't a bad idea.
A spinnerbait is still a good search bait, and if you catch a couple in an area, slow down and fish it with small plastics thoroughly. The fish have been a little clanny as of late.. And I am not sure if you find a pod of fish, or if you just happen to be there when they are eating.. But who cares as long as you happen on them.
This has been an awesome year for the crappie.. The Tigers has no doubt put out thousands of giant slabs this year. Actual two pound crappie have been very common, and fish pushing three pounds have been caught. These fish have shoulders on em..
The white bass are still everywhere, and if you are looking for them, they ain't hard to find. If you run around throwing a crankbait, it is likely that you will catch some by accident.. Sometimes a shit load of them..
The catfishermen have been whailing on em, and it don't matter if you like rod and reel fishing or if you want to set out some jugs. Stink bait on trebble hooks in standing timber in water from eight to twelve feet has put a lot of good eating size fish in the box.
Jug lines with cut perch or the sort have been catching some whoppers, with fish up to forty pounds reported. Folks from our country are coming down this week to catch some fish for Good Friday fish frys.. They shouldn't have too much trouble getting it done..
For this week containing the first day of Spring, it has not been too damn springy around here, or anywhere else in the country. I see that the northeast is getting it again.. Better them than us..
You just can't trust that fuckin' gopher anymore..
It is dryer that a popcorn fart around here, and what little drizzle we have had is just enough to make your car and boat a mess. I am praying for a wet spring and summer so we can keep some water on this years hatch.
I have no idea what the water lords are planning this year.. They have sporadically taken some shots of water out of us.. But to date it has been short releases for the last month.. Of course they took out four feet plus back early in the new year.
Releases from Amistad have increased just a bit this week.. Hopefully enough to offset what we turn loose for a change..
But we'll see..
I fished the Salado and the Hedieona on Wednesday.. And I was the only swinging dick in either creek. Despite having them both to myself, only little fish and a plethora of white bass were to be found. So many good rocky points and banks.. But still no shad up shallow.. It's coming..
I see and hear that the Mueller report is out, or about to be.. And it does sound like a big nothing burger to me.. But don't worry you liberals.. I am sure the house will keep up their bullshit for the next couple of years to keep you on the edge of orgasm..
But alas.. Like that cheerleader you almost nailed back in high school.. You're still running around with a hardon with nothing to stick it in..
I have never seen such a waste of time and money, big money, in pursuit of something that don't exist..
Well maybe the search for Bigfoot.. Or Nessie.. Just cause you want something to be, don't make it be..
And you fuckin' hypocrites can't see the obvious illegality on the side of the Democrats on the run up to the election with the Clinton's.. That's fuckin' hilarious..
I have decided that this is certainly the decade of the woman.. Look at all the attention and respect and the jump to the forefront that they have received in the last ten years.
Many women have been elected to high office.. Many women helped to elect the last two presidents.
The Mee Too movement has brought to the surface years of abuse that women have endured under the hard hand of male dominated businesses.
And I am for one glad to see that women are finally getting their voices heard..
Have you watched any TV lately? Women in power positions on all the dramas have taken over..
I thought that Liv on SVU was a badass.. She has taken down more rapists than all of the DC cops combined.. (But I don't think they really look inside the beltway..)
And she has been whoopin em for decades.. (Or at least it seems like it..)
But what cracks me up is all of the shows, and there are a shit load of em, that have these bad ass women, that weigh a buck twenty, (and fifteen pounds of that is silicone) whoopin the shit out of some two hundred forty pound, tattooed up ex prison inmates, that are built like Scrwartzanegger in the eighties..
I gotta call bullshit..
I realize that the kind of movies that I watch might be different than the ones you watch.. I personally think that if there ain't a car chase, two wrecks, at least ten shots fired, and some frontal nudity in the first ten minutes..
Well shit I am changing the channel..
I realize that fiction is fun, but mixing in a bit of reality couldn't hurt a bit.. It is a movie after all.. And nobody is actually getting hurt..
So I'd like to see a hunnert and twenty pound woman get her ass kicked by a eighty six pound, basement dwelling, skinny ass millennial computer nerd. Maybe he could backhand her with his mouse pad..
After she chastised him for his toxic masculinity.. There's some fiction for you..
Shit this report has gotten a bit off track..
I am outta here for a few days to go visit Ron Speed's Camp over at Pichachos on the Mexican west coast. And I am fully expecting to whoop some ass of my own..
But it is gonna be black bass ass..
I have not had a steak in 351 days (gout issues) but when they put that 24 ounce rib eye in front of me I am going to eat the whole thing.. Don't bother with that tater, Mam.. I mean Senora..
I'll post a full report of the carnage down there when I get back.. But this is a close to a sure thing as going to a whorehouse with a pocket full of cash..
Them fish are stupid, and always hungry.. And I need some numbers to bolster my confidence..
Maybe they'll whoop my ass.. I hope so..
See you in a week or so.. Unless you're in Mexico!
March 16, 2019: This spring has had some of the most screwy weather I can remember.. Of course my memory is shorter than grasshoppers pecker..
This week featured all four seasons.. Which included gales from the North, south, and southeast.. And temps ranging from the low fifties to the high nineties.. And one dead calm day.. And plenty of clouds..
And fishing that has been less than spectacular.. With certain exceptions..
It appears that a man, or woman, can happen on the right spot and get happy in a hurry.. Several folks I have talked to said they have fished their ass off for several hours, and not caught much.. And then it is flip the switch and go on a streak of fish catching for an hour..
I am not sure whether this is just happening on a pod of feeding fish, or finding what they are wanting to eat at a particular time. But in any case it is certainly being at the right place at the right time throwing the right bait..
I have talked to several guides this week, and they all seem to be doing different things. One says tie on a spinnerbait.. Pick a bank.. And throw that SOB till your arm falls off.. And you will catch some fish.. Some days a lot..
Another says throw a senko.. All day.. And another says throw a Rage Craw..
The common denominator is still that most fish are fairly shallow.. Although a lot of fishermen don't want them to be..
Six feet and in is still where the majority of fish are.. Rockpiles with tops in four to ten feet are holding some fish, and you can run a squarebill or hop a plastic over the tops of them and catch some fish. Not all rock piles are created equal..
I am sure that out there.. Somewhere.. There are some deep fish..
I do think that the spawn is wrapping up. I'm sure there are still some late bloomers.. But for the most part the bigger fish being caught are spawned out.
Water temps have been fluctuating a lot here lately.. Last week we had two days with highs in the upper forties.. And clouds.. And the water cooled to 62 on the surface.. But this week I have heard reports of water over seventy degrees..
Of course that was on the 96° day..
The lake level is still holding fairly steady.. I have no idea why.. We are sitting at 275.56 within a few inches of where we have been for a couple of weeks.. But about a foot lower than we were a month ago.
I have been watching with great interest, as I always do, the water levels and release rates from the lakes in northern Mexico. A slight uptick in releases has occurred this week, but it is nothing to get excited about.. Amistad is releasing less than we are, but some little bit of flow from La Fragua and Don Martin have kept us from dropping very much.
Amistad has been on a very slow but steady rise..
Of course it is mid-March and any day the gates could open.
Instead of building a wall along Falcon's shores, we should just keep the lake full.. There's a good natural barrier for you.. But until we can manufacture water, I don't guess that is going to happen..
A couple of weeks ago I posted about the CAST (Catch A Special Thrill) fundraiser, where we auction off local guides for a day of fishing.. The proceeds from this guide auction go to help fund a day of fishing for some special needs children that might otherwise never get to experience what we take for granted.. The thrill of catching a fish.. Hence the name..
And to date there are several fellows still available for purchase. You can buy em now, like E-bay.. Or you can offer a bid on a guide for the day..
If you would like to support this great cause, please e-mail Jim Behnken at Jimb@castforkids.org Or cut to the chase and just call him and get up to the minute results on the auction.. His number is 210-414-8048.
Still available are some great guides and if you were planning on booking one anyway.. Well it is a no brainer.. You can contribute to a great cause, get to go fishing... And write it off to boot..
So quit fucking around and get it done..
Guides still available are:
Ray Hanselman on Amistad.. Who wouldn't want a lesson from him on the Big Friendly..
Jay Grieshaw on Falcon.
Jim Edwards on Falcon.
Calvin Hudson, Falcon.
And Jimmy Steed on Falcon.
Do what you can if you can..
You can also make a donation to the cause by contacting Jim as well if you are so inclined.
I don't know about you, but I am ready for some hot summer weather..
The kind that gets the shad up out of the deep and puts em on the windblown banks and sets off a chain reaction of hungry chasin fish..
The kind of weather that makes you put the blue jeans back in the bottom drawer..
The kind of weather that brings out bikini tops.. Sunblock.. Floppy hats.. Flip flops..
Weenie roasts..
The smell of fresh mown grass..
Kites in the air..
Baseball..
But till it gets here we'll have to suffer with this shit..
Do kids even fly kites anymore?
The weather this week looks pretty crappy down here.. Chances of rain most of the week and highs in the 60's.. So I am less than excited about it.. This shit just sucks..
A week from tomorrow I am heading to Pichachos for a few days of fishing, west coast style.. Where summer never goes away.. And the fish are stupid.. So I have a level playing field..
I haven't been out of Zapata since Christmas, (except by boat) so I am looking forward to some screwing off..
Thanks to all of you who kept me tied to the shop.. We appreciate your business..
I'll see you on the water.. Either here.. Or down Mexico way..
March 12, 2019: Being busy is a good thing.. Being too busy to fish is a bad thing.. But that has been happening to me a lot here lately.. And it ain't all work related.. But a lot of it is..
Fishing has been a bit spotty this last week, with some folks catching some fish.. And some struggling to catch anything that would stink up a skillet..
I can't remember what day it was last week I snuck out for a few hours.. And I will have to say my results were somewhere in the middle.. With no big fish in the boat. And what I caught was shallow..
It seems that some of the fish have moved a bit deeper, but there are still fish in the waist deep water.. And I reckon there always will be. That's the nature of Falcon fish.
The common denominator between the deeper and shallower fish is that they ain't just jumping in the boat. There are still a few quality fish being boated, but numbers of fish have been widely varied.
We have talked to folks that have caught two fish.. And folks that have caught thirty two..
A bright spot lately has been the Salanaias, if I had to pick out a creek in particular.
The Tigers have woken up a bit.. But you will have to put up with a lot of crappie fishermen back in the creeks.. Seems that the crappie have gone to spawning back in them stickups and hardwoods.
And speaking of non-bass.. The white bass may attack you in any area of the lake.. On most any bait..
And if the white bass were John Wick.. I think they would say, "Yeah.. I'm thinking I'm back.."
Senkos and crankbaits are doing pretty good. A senko on a C-rig will catch you some fish.. A squarebill on rockpiles and some rocky points and banks will catch some fish. Wind on the rocks is good.. If it ain't too much..
If you are having trouble getting bit.. Tie on a chart/white spinnerbait. Put your boat in six feet of water. Put your head down, and go down the bank..
The shad are trying to spawn.. Which will inevitably bring the fish to the shallow rocks.. Some of my favorite shit.. It's coming.. But I reckon them white bass are going to be up there after em as well..
Ah hell, they'll help keep the kinks out of your line..
Water temps are up to about 70°, and it looks like we will keep it there for the next few days.
The only problem today is the south wind is blowing about thirty.. Not your chamber of commerce fishing day..
Unless you are living under a rock, you have probably heard that there was an incident on Falcon last weekend. It appears that some fishermen were run out of the Salado by a boat that was firing shots over their boat, and according to reports it chased them a good ways out to near the mouth of the river.
The boat is described as a Pro Craft bass boat with a 200 Merc on it.. I hear the motor has a strange whine to it.. White top with some black on it as well.. It is not the first time we have heard of this boat harassing fishermen.. But this is taking it to a new level.
For the short term I recommend staying out of the Salado, and any other creek you may get way back in on the north end of the lake.
The authorities have been made aware of the situation and hopefully we will get this problem cured quickly.
If you have been to Falcon, or read about Falcon, and who ain't if you're reading this site, then you know that we live right across the river from some importers and crossing Falcon is part of their business. And 99.99% of the time they could give a shit about what we are doing.. What is going on here, I do not know..
I will let you know what I know.. I just am not sure what I will hear.. But when I hear it, you will too..
Stay tuned, and pray for rain.. Irrigation season is just around the corner.. Like tomorrow..
We'll talk soon..
March 4, 2019: Well Ladies and Gentlemen.. If Elvis left the building, he did not take winter with him.. As I type it is 38 degrees outside with a nice north wind blowing some mist around..
Lovely.. Just fuckin lovely..
I am hoping that this is winters last curtain call..
Water temperatures were in the low seventies a couple of days last week.. Just getting warm enough to get some of the shad up out of the depths, anticipating spawning on the shallow rocks..
Yeah, this shit might back them off for a bit.. Hopefully we will bounce back pretty quick but this is a no bullshit cold air mass sitting on us and it ain't gonna get what I call livable till about Thursday..
I hate this shit..
There were some nice fish caught over the weekend, but there were a lot of man hours of fishing over the weekend as well. There were still a lot of folks down here this last week.. And it sounds like there will be a decent number of fishermen down here in March as well..
Cain't say I blame em.. If you can ice skate from Canada to damn near San Antonio then Zapata is not a bad place to be.
We even have the internet here in Zapata, believe it or not, and we have been watching this winter across the country..
Appears that some of you folks have had a rough go of it this year.. I think it is time to tell them global warming idiots to shove it up their ass.. Hopefully it will warm up for you before too long.
Spring has sprung here in Zapata.. My ash trees are fully leaved out, and my live oaks are growing new leaves as we speak. All the black brush and huisache are blooming like wild, the spanish daggers are headed out, and our landscape is covered with flowering thorn bushes. Bout as pretty as this country gets..The whole countryside is covered with thorn bushes that look like this..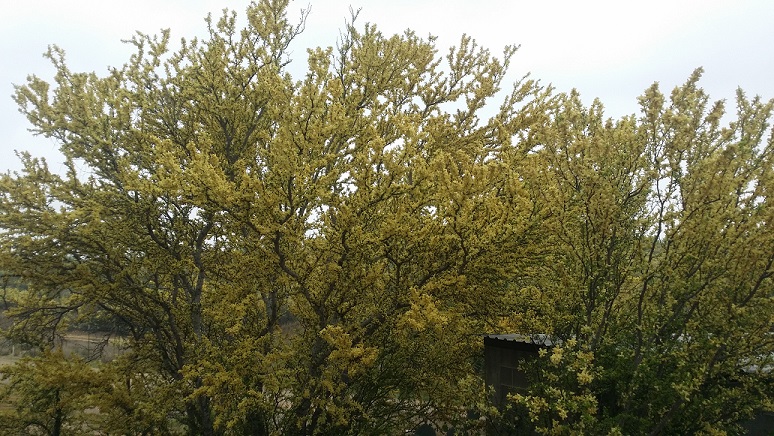 So hang in there.. These are signs that even you are not that far away from spring..
We sold a plethora of different baits this last week, but I will have to say that soft plastics are still the best thing going. And fishing them in water less than six feet deep is still the best scenario if you want to get bit.. Because that is where the majority of fish are..
I fished last Wednesday.. Beautiful day.. Water in the high sixties.. And I have been hearing all these stories about deeper fish on rocks..
So I spent four hours fishing some of my favorite rocky ledges and rockpiles in ten to twelve feet of water.. Without a sniff.
So I headed back to the shallows and flipped and casted to some shallow woods and got bit.. Nothing big.. But at least I got some bites..
I hear a few folks are catching them deep.. But not the vast majority.. Most everybody tells me what I still believe.. That the fish are still shallow..
And when them shad go to spawning here pretty quick we are going to start whacking them on the shallow rocks, and maybe not as much on the wood..
A spinnerbait is catching a lot of fish, and this weekend we heard a lot of folks say that a senko was working good.. Heard of a lot of fish coming from the Salanaias as well.. You can run into a big fish anywhere.. Or nowhere..
The super fluke (not the big one) and the Rage Craw are both still good choices as well, and a lizard ain't a bad idea either..
You just gotta get out there and show it to em..
Like Dave who caught this DD over the weekend..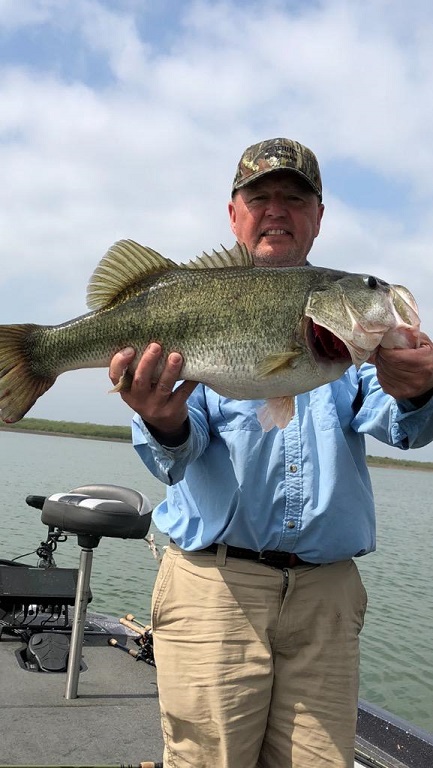 Or Beverly who caught this big six a few days ago..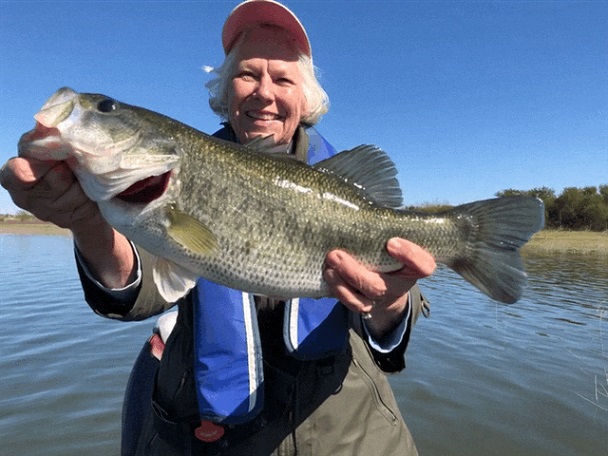 There were a lot of fish in the six to seven pound range caught last week.. And I heard of several nine and ten pounders that I don't have pics of..
A lot of these bigguns are spawned out females.. And we are seeing more and more of them..
The crappie are up shallow and spawning, and we have a year class of them that are true slabs. Big as a saddle blanket.. And a lot of locals are whacking the snot out of em..
Two to six feet of water on woods in the creek channels. They are all over the lake it appears.
And talk about apeshit.. The white bass are pilled up on some points so thick your electronics can't see thru them. Easy limits on jigging spoons right here around the Veleno..
Some buddies put out some juglines for catfish over the weekend.. Yeah they caught the shit out of them as well..
Bunch of twenties and some thirties too. Everything hungry down here..
So whatever you like catchin, you can probably catch it down here..
I have been watching the political goings on up in DC.. The District of Clowns, and it is interesting how filled with hate and rage the Democrats are.. Just because their candidate lost.. It is embarrassing.. I hope no other countries are watching.. And it looks like they can't find anything to stick on Trump..
I'm sure they'll keep inventing some new crime they are sure he is guilty of.. While ignoring obvious crimes committed on their side. Hypocrites one and all..
I thought it was amazing the last go round when the Republicans had about fifteen candidates vying for the nomination. But not to be outdone, the Democrats are rallying the troops and I think that most folks that got elected to dog catcher or higher are running for the Democratic nomination.
And they all are trying to be more radically to the left than the next guy.. Or gal..
Socialism is the rallying cry.. And I just can't imagine that anyone with a brain could even consider the possibility that socialism is a good and long lasting way to run a society..
Especially after seeing how good it has gone for other countries..
Because as socialism breaks down, it always morphs into some kind of dictatorship, or autocracy.. With the country turning into a piece of shit. And people dying in the street.
I really don't think I need to mention names.. But you can find the globe littered with these pieces of shit.. And you don't have to look too hard.
A sow only has so many teats.. And nothing sucks like socialism..
Them titties that seem so big and full of milk will run dry sooner than later..
All I can tell you youngsters and dyed in the wool Democrats is that you will get the government you deserve, if you don't pull your head out of your ass..
And what I wonder is, How can you do this to your kids? Are you that blind? Are you that filled with hate?
Or are you really that stupid..
There really is no free lunch.. Trust me..
Well I spent more time on this subject than I intended.. I need out of here.. But looking at the forecast it don't look like anytime too soon..
Keep the Faith America!
And I'll see you on the water..
February 26, 2019: Yes it has been a while since I last wrote.. But in my defense, it has been a bit on the busy side around here. And thank all of you for that.
February is always our busiest month of the year, and this last thirty days was no exception.. Making hay when the sun shines has always been an important business philosophy.. And with the internet sales machine out there these days, the sun does not shine as much as it used to..
And thanks to all of you that stopped in recently.. And ever.. Sometimes we get a little tied up when it is busy and and a proper thank you may not get issued.. But thanks to all of you who visited Zapata and left some money with us.. We all appreciate it.. Especially us here at FLT.
Bass Champs has come and gone, and there was a very impressive weight that won the tournament. I was expecting a few more sacks at thirty, and and a double handfull in the mid twenties.. But they did not appear.
I know that cold fronts and high winds aren't the best of conditions for a tourney.. But it is what it is.. The wind did not blow as bad as predicted I don't think, but it did blow. And I am sure a lot of fishermen did not chance making the big runs down and across the lake that they would have liked to in anticipation of the gale..
In any case, about 155 teams hit the water, and I would imagine that some folks did not come down due to the wind forecast. So it was a decent turnout considering the conditions. And a shot in the arm for local businesses. Thanks to BC for coming to Falcon, and hopefully we will get them back twice next year.
The weather around here has been less than summer like, and we can't seem to get the water temps back in the upper sixties and around seventy to where the fish get really active.. We have had a few short stints of it.. But it hasn't lasted over a few days before the yo-yo heads back down the string.
We are on a slight warming trend right now, but it looks like this Sunday we are headed back to cold with highs in the forties and fifties for a couple of days.. Depending on who you ask.. So here it comes again..
Water temps this AM are around 62-64 degrees. And we are cloudy with drizzle.. Not much warming going on today..
I hate winter..
The lake is holding steady, if not creeping up like a pair of tight drawers.. We are sitting at 275.76, which equates to 25.44 feet low.
And if we don't get some rain in the valley pretty quick, I am sure the water will start to flow pretty quick as well.
We still have a decent amount of cover in the water, and fry survival depends on it. Pray for rain..
I believe that the spawn, while still going on, is certainly in the third quarter, if not farther along. I know we will have some fish spawning into April.. But the bulk has happened or is happening now. In my opinion..
I am hearing of more and more fish out in the eight to twelve foot range, and a lot of them I hear are holding on brush lines or little depth changes somewhere in that range. I am ready for some warm water and a spawn conclusion that will have these fish mean and hungry after the lovemaking session is over.
Of course these fish are always mean..
And I always thought a big old Whataburger was great after a couple hour session of messing up the sheets.. Or the upholstery in the back seat of a Nash Rambler.. (You younger guys insert Ford supercab.. Why do you think the back windows are darker that the front ones..)
Anyway.. These fish should come out of it hungry.. And I'm all for it..
A Carolina rig has caught a lot of fish as of late.. And I hate the idea of tying one of them son-of-a-bitches on.. But I reckon I am gonna.. And I am going to move out of the thicket a bit and fish some edges.
When I get time to get back out.. Maybe tomorrow..
As far as baits go, there are still a lot of Rage Craw fish out there.. The super fluke and the brush hog are working as well.. And a spinnerbait has worked for some. I wish I had more personal info for you.. But you guys have had me tied up in the store.. And I ain't complaining..
Of course we sold every type of bait lately.. You might even try a little swimbait if you get down here.. And a crankbait in the squarebill or a slightly deeper style appear to be working as well..
That sounded pretty generic.. But you cain't catch em if you don't get out there and show it to em..
Every year about this time I ask you guys to help out with a charity that I believe in.. Namely the C.A.S.T. event that is held in San Antonio for special needs kids. Of course CAST is an acronym for Catch A Special Thrill.. And you know how I like acronyms..
My buddy and yours, Jim Behnken, who used to guide here on Falcon, is the director for our region and beyond, and is once again organizing this event..
And I am sure many of you guys are familiar with how this thing works..
Many of our local guides have donated a days fishing trip for the benefit of this cause, and we are auctioning them off with the proceeds going to help defray the costs of the of aforementioned event.
You can e-mail Jim with a bid on any guide in the batch.. Or much like E-bay, you can buy it (him) now, for $600.
And if you are planning on a guided trip to Falcon anyway, what better way to get to fish a day and get a Duck at the same time.. You of course will have to arrange the day with the guide that will fit his schedule.. But that shouldn't be too hard..
I am not sure how many years in a row we have done this. But it is good clean fun and you will be helping some kids to have an experience in the outdoors that may otherwise never happen for them.
And that is about as macho as it gets..
The guides for this years auction, in no particular order, are Jim Edwards, Calvin Hudson, Jay Grieshaw, John Adami, Robert Riessig, Jimmy Steed, and yours truly, here on Falcon.
And Ray Hanselman on Amistad.
You can e-mail your bid to Jim Behnken at Jimb@CastForKids.org
So bid early and often and lets help this years event come out in the black. I am sure that if you would like to make a donation to C.A.S.T. without buying a guide, Jim will be glad to help you arrange it.
A few bucks from most of us won't hurt too bad.. So do what you can..
If you have any questions, you can call me as well and I'll be glad to tell you what I know.
There are still a good number of folks rolling into Zapata, and it is probably a good year to be coming a little later. As crazy as the weather has been.. I hope to be posting a bit more often as things settle down a bit.
And I'll let you know what is happening..
And hopefully.. I'll see you on the water..
February 18, 2019: Well I have been busier than a one legged man in an ass kickin contest around here.. And I have truthfully not see this many people in town on a non (big) tournament weekend in years. I hear there was a head in every bed at the local motels over the weekend.
There were several club tournaments in town as well over the weekend, and they had some good and some so-so results. Depending on who you ask.. And there were some decent fish caught, but I did not hear of anything over eight pounds being brought to the scales.
I did hear of a few other big fish caught by visitors just fun fishing..
Like this ten caught by Al Lochner, his first DD.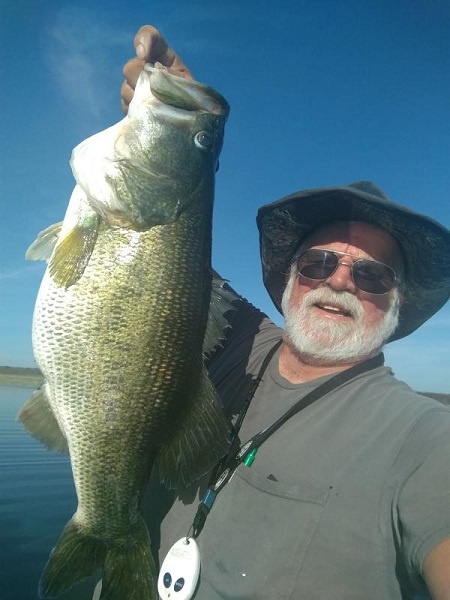 There is s lot of discussion around here about the progression of the spawn. Some folks think it is winding up.. Some folks think it is winding down. But there is no doubt that there are still fish on the way up.
On Wednesday we caught a several males off beds, but saw no females in the area. And we saw no fry either.. So I am not sure what is going on there.. But I did hear from a few folks that they caught some bedding fish, and some of them were females.
I also heard from a few folks that they caught some fish that were white as a ghost. And typically on Falcon that means they have just come up out of deep water..
In any case, there are still a lot of fish in the shallows..
I did hear from a couple sets of fishermen that they caught some fish out a bit deeper, in the ten to twelve foot range, off of drop offs that were rocky. A Carolina rig was used by several to catch some fish.
I also heard that there were some folks that had no luck at all, catching very few fish, and some folks even blanked..
I'm not sure of all the reasons why.. But I know it can happen..
My fishing has been very limited lately, thank you very much, but I did sneak out mid-day a couple of times last week to try out my new trolling motor. And on both outings I managed a dozen bites or more and landed seven to ten fish.
But I do have a couple of places that have been holding some super shallow fish, and I got em figured out.. At least the last ten days I have..
Water temps had jumped to seventy and above on Friday and Saturday, but we have another cooling trend sitting on us for the next few days.. I don't think it will be near as severe as the highs in the forties we had last week. So we should keep water temps in the middle and maybe upper sixties this week, and back to about seventy by next weekend.
And long term prognostications look good for the weekend.
When you have a lot of fishermen in town, you hear of a lot of different baits being used. And fish were caught on just about everything that we sell.. And on some stuff we don't.
And while square bills, spinners, and chatterbaits have caught a bunch of fish lately, the soft plastic bite still appears to be better than anything else.
If you are one of those catching fish on hard baits, you might think I am full of shit.. But I am just going by what I hear and have sold. I am sure in the right spot at the right time you can whack em on a crankbait.
I do agree that a moving bait will catch fish.. Cause I ain't letting my soft plastic make no dents in the bottom. I am still swimming a fluke and a Rage Craw.. And I get a lot of bites when I am letting the bait fall. I am fishing it very erratically.
A lizard has finally made an appearance as a fish catcher as well, which is typical during the spring around here. And whatever you are throwing.. If it will take some chartreuse dye on the tail.. Put it on there..
And speaking of spring, it got summer around here on Friday and Saturday.. A lot of folks worked on their tan base it appeared as I saw more red legs than you'll see watching The Outlaw Josey Wales..
If you ain't from around here, prepare yourself for sunny conditions.. Cause this south Texas sunshine is the real deal.. Specially when it shows up in February..
The lake is holding steady, as we are letting out about what we are taking in.. Sounds about like ICE and Border Patrol..
No real hazards to report at this level..
Except for the gill nets on the Mexican side.. And the Barbed wire fences on the Texas side. If you are back in the shallows on either side, you need to watch out for both.
The nets are thick in a lot of coves on the Mexican side, especially early and late. They generally take them up in the morning.. And set em back out about 2:00.. So often there is reprieve mid-day.
But not always.. Be on the lookout for nets in the shallows..
The coming weekend will feature an appearance by Bass Champs, so odds are that there will be quite a few folks in town once again.
So plan accordingly, and if you are looking for a motel room, you better get busy..
What else can I tell you.. Hell if I know.. But if you have a question about anything just give us a call..
Thanks to all of you who visited our store lately.. And thanks for your patience when we have been busy..
And we look forward to seeing you again soon.. Holler if we can help.
See you on the water. One of these days..
February 8, 2019: The older I get the more I hate winter.. And I am sure that is hard for you to believe.. I've probably never mentioned that I dislike cold before..
As it makes good sense..
Did you ever hear of car needing to be cooled off before you drive it? Shit no.. You have to warm it up..
Did you ever have to get your sex partner cooled off before you went at it.. Hell no.. You had to warm things up a bit first.. (Of course when I was a lot younger it did not take much to get the mercury run up my thermometer.. If you get my drift..)
Did you ever go to bake some biscuits, and before you banged the tube on the counter, the directions on the outside said to pre-cool the oven to minus thirty? Fuck no..
It says preheat to 350°..
Do you light a firecracker with a ice cube? Shit no; you use something hot..
Do cold blooded creatures, like lets say.. Errr.. Florida strain Black bass.. Do they get more active in cold water?
Of course any hayseed that ever jerked when his bobber went under knows the answer to that question..
And let me tell you that this cold weather does the same to me.. I just don't want to come out from under the porch.. No matter how many bones you throw in the lawn..
If you think I'm bitchin, well you are correct.. Cause things were going so good this week.. Highs were in the eighties.. Low winds.. And the fish were in water so shallow that they were getting dusty..
And I was whacking the crap out of em..
Water temps were in the 70° range, but I am sure with two days of cloudy and highs in the forties we are going to loose about ten degrees of water temp. It is amazing how fast the water can cool in the shallows..
And I am sure that the fish will react accordingly.. And not in a positive way.. I am not saying they will be un catchable.. But it ain't gonna be as good as it was till the water temps bounce back.
The lake level is holding steady for the time being, and we are sitting at 275.63, or 25.57 feet low.. That's about eight feet lower than we were at this time last year.
But the good news is that there is still a lot of water out there, and the ramps and hazards are non issues at this time.. We are still five lanes wide here in the county park, and all three lanes are fine at the state park.
The Veleno bridge still has plenty of water over it to not be a problem..
I have been fishing, as have a lot of other folks, in the backs of creeks, and the flats off of them. Right now you do not have to be in the creek to catch fish.. Or at least not before this front. It is conceivable that some of the fish , not yet committed to the spawn, may have backed off a bit into slightly deeper water. But they will not be too far away.
And hopefully this cool snap will not affect the the bite too much or too long.
I have been talking about swimming a craw for months.. That shit is still working.. But this week I have been swimming a super fluke and beating them like a blanket on a clothesline..
Much of the water I have been fishing has been super clear.. So long casts are necessary to catch fish.. Of course that makes it interesting when it comes to getting them in the boat.. Cause it is a freaking forest out there..
I did not fish yesterday morning before the front.. I have a few issues to deal with..
On Wednesday on my last cast, I caught a fish and had him dangling from a hardwood.. While I was in water about eighteen inches deep. I tried to move to the fish but had my trolling motor stuck inside another hardwood and when I stomped on the TM pedal I broke a cable..
Yikes.. I yanked on the line and got my fish loose.. And got him to the boat.. So that was good..
But then.. I had my motor tilted all the way up and I guess I was a bit low on fluid in my trim unit.. And it would not go down..
Being I was in such shallow water I had to use my dip net handle as a pushpole for forty yards to get into water deep enough to get my prop wet.. After I dangled my fat ass over the transom to loosen the release screw on the trim unit and get the motor down a bit..
I tried to steer the TM by hand.. But that worked about a good as socialism..
Anyway, I finally got in water deep enough to putt out a half mile.. But half way out I ran into a net and balled up a bunch of shit on my prop..
This shit just kept getting better and better..
Anyway I finally got back to the shop and found that I am out of the cables that I need.. They are now en route..
And on any other day I might say that it was a bad outing.. But it was pretty awesome and I caught back to back five pounders.. Something I ain't done in a while..
Like with all things, your results may vary.. But a lot of folks have been whacking them pretty decently..
Sam's first day on Falcon turned out pretty good, as he whacked and eleven..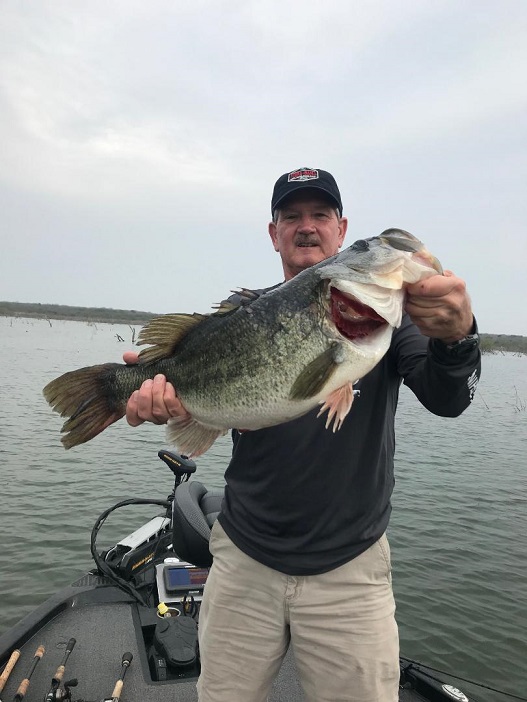 And David got his first DD, courtesy of Mother Falcon as well..
And like I always say, Falcon is always nice to the ladies..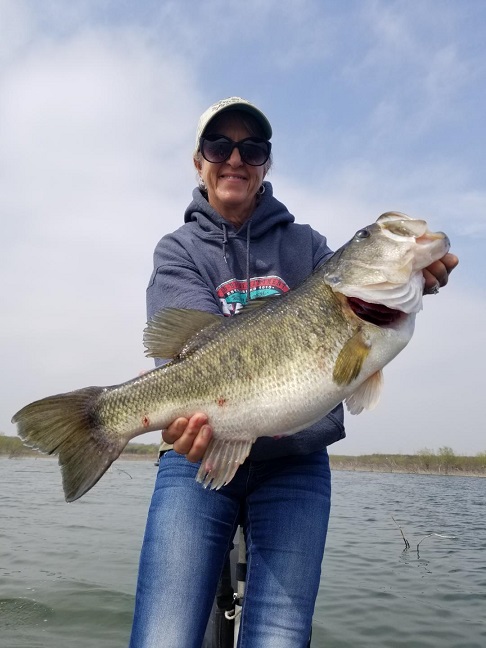 The best thing I can tell you is to get out there and show it to em.. There were a LOT of quality fish caught this week.. Of course I am talking pre-front.. But I don't think that the weather is going to hold em off too long..
If you see a good window, and you got mobility.. Come get you some..
You know, another thing about winter that sucks is being trapped in the house when it gets dark at five thirty in the afternoon.. And for me that means sitting on the couch, eating junk food, and watching TV.. And let me tell you that TV really sucks, for the most part.
Thank God I can binge watch Captain Kangaroo with my TV stick..
But in between the programming there are these annoying snippets of video they call commercials. And let me tell you that is where the real gold exists..
Years ago you would see commercials for Jiffy-Pop.. Delaware Punch.. GI Joes.. Aqua Net.. Camels..
You know.. Good commercials about good products..
Now you see commercials for prescription drugs, condoms, catheters, lawyers, insurance companies, communication devices, and car companies..
And my newest mostest favorite product is named something like Poo Be Gone..
You're supposed to spray it in the toilet bowl to eliminate odoriferous emmitances attributed to gaseous and semi solid waste products.. Which in many households has been a long standing badge of honor.. Seems like this product may take a little bit more of the fun out of life..
Anyway.. I have another idea for someone to make a lot of money.. With a new product with a No Shit guarantee..
Matter of fact.. That is what the new product should be named.. No Shit..
This product should be made in a pump and aeresol spray applicator.. And you spray it on the inside of your underwear before you put them on.. In the right location..
The spray itself will be made of a combination of three products..
Firstly, Dawn.. Cause it takes grease out of your way..
Secondly, 409.. For obvious reasons..
And finally.. Windex.. Cause it prevents streaking..
Think of the time if will same Mom pre-scrubbing and soaking your unmentionables..
I can see this going viral..
#NoShit..
Wait a minute.. Maybe hashmark ain't the best advertising idea..
Maybe #NoHashmark..
Well this report has turned to shit.. Just like the weather..
But you better get down here and get you some. And that's no shit..
See you on the water!
February 5, 2019: It's a busy lake around here as far as Falcon goes.. Over fifty rigs at the county ramp yesterday.. And a bunch at the state park as well I hear. And that's a Monday..
Not your usual Monday, or any other day around here..
Of course with that many boats on the water there has been some bitchin.. And some braggin.. But big fish have been really scattered the last couple of days.
Males appear to be plentiful in the shallows, cruising around looking for love. But I guess they are having about the same luck as me back in the seventies..
But I can tell you that it is happening.. And has happened..
I fished the last couple of days and intend to fish again this afternoon.. And yesterday I saw a lot of beds.. With no fish on em.. I am not sure what that means.. Whether the fish are done and gone.. Or they moved off because of the falling water levels last week..
But there were a lot of fish in the area.. Just cruising.. But impossible to catch if you saw em.. There were also some decent sized females up there as well.. But I never caught a fish that I saw first..
A lot of places the water is clear as gin.. Or maybe vodka.. And making long casts I learned was required to catch these clear water fish.. And of course these fish were in tree infested water so getting them in the boat after hooking one was also interesting..
And of course I am talking about backwaters that were two feet deep.. Just enough to run your trolling motor..
Water temps were up to near seventy yesterday.. And I reckon it will top it today if the sun comes out.. The last two days we have had air temps in the eighties and today and tomorrow should be the same..
So I am hoping today and tomorrow will have more fish on the move shallow.. Of course on Thursday we have another front headed our way..
It's still February..
Water levels have kinda stabilized.. But releases have picked up a bit.. Not a drastic drop going on.. Yet..
I have not heard of any giant fish, but I have heard of a few tens and a good number of sevens and eights.. Here'a a nice DD..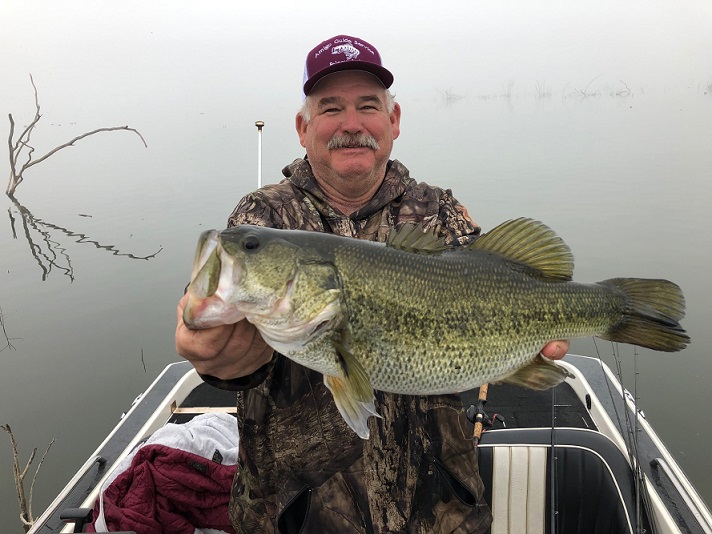 But there are a lot of fishermen down right now, and there are a lot of man hours being put in..
Nothing has changed. But the water temps.. Looking forward to seeing what this week brings..
All my battery lights just turned green.. I gotta go...
January 29, 2019: The first month of the new year is about shot in the ass, and as is typical, we are still dealing with front after front, and nobody here, including the fish, likes it.
But we have been blessed with a few beautiful days, which makes the fishing very comfortable, but it does little in the short term to warm the water to a temp where the fish really get active.
Currently we are seeing water temps in the 60° range. Some days a bit over, some days a bit under. Water releases have slowed for the short term, and we have not been falling as fast as we were the last few days.
We have lost almost four feet of water since releases began back in early January. And not a drop of help has been passed down the river from Amistad.
Oh they are keeping water in the channel.. But it is a hell of a lot less than they are taking out of us..
I guess I could cut and paste that part from the last few years reports.. Condition normal.
But the truth is that the lakes above us have really gotten a break the last two years, as year before last, we caught 22 feet of water from rains that fell between us and Amistad. And last year we caught about fifteen or sixteen feet from rains that fell in the same proximity.
I'll call that an answer to prayer.. Or we'd really be screwed..
The fishing has remained steady.. Now that could be construed as good or bad.. Some really nice fish have been caught lately, and I have seen seen several DD's this week as well.
But they ain't everywhere. Four to six pounders are pretty common.. But you gotta put in your time..
Males are still the most common up shallow, with females spotty and a bit unpredictable. But if you hit one in the head, you can catch the fish of a lifetime..
There is no doubt that the females will be all over the shallows when the water stays warm a few days..
And looking at the long term weather, this weekend and a few days into next week we may have the water temps to move a bunch of fish up.. So look at your calendar and at our weather..
And if you like the looks, pack your ass down here..
Fish are being caught on all sorts of baits.. Long as you fish em shallow. Eight feet and in is the best and if you are fishing outside that you are wasting some valuable time in water that is about 10% as productive as the afore mentioned.
And that ain't just my theory.. Everybody down here will tell you the same thing.
Soft plastics like the Rage Craw, Speed Craw, and Baby Brush Hog are good choices. Putting a dab of chartreuse on the tips is a good idea. And I have no idea why, but these fish like Garlic.. Maybe they're Italian bass.. Fuck if I know.. But that shit will help you get more bites..
Even if you aren't using a bait that needs coloring, putting some Smelly Jelly or the like on it will get you bit more often..
Don't leave home without it..
And when it comes to bites on the soft plastics, you need to be paying close attention to your bait.. Many a time lately you will not even feel the fish pick your bait up. Watch your line and if you can't find your bait you better be jerking..
Typical of the spawning bite here on Falcon.
Swimming a Rage Craw is still catching a good number of fish. Moving it slowly through the cover in a constant slow presentation can get you bit.
Slow rolling a spinner bait or a chatterbait will work as well. Slow is the key.
Last week I was talking about a red craw pattern square bill.. You still need one tied on.. Fish it on any exposed rock or clank it off any stand of hardwoods. That bite is not so subtle, and these fish are inhaling it.. Not like Bill Clinton.. But more like Linda Lovelace.. A long needle nose is a good tool to have in the boat.
We have talked about this time of year since I started writing this report back in 07.. It is the most unpredictable time of year to wet a line.. But if you are looking for an egg laden Rosie then this is the time of year to be here..
Last report I posted a picture of David Sears with a nice nine pounder.. I guess it is his year as he caught another big fish.. A 10-2.. With a belly as big as Santa Claus..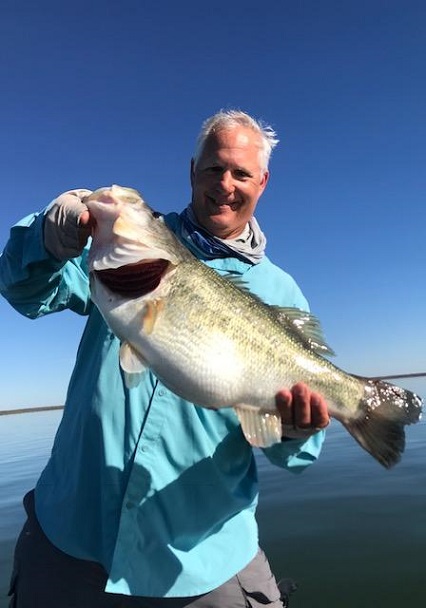 And Rod Haseloff caught this 10-6 this week as well..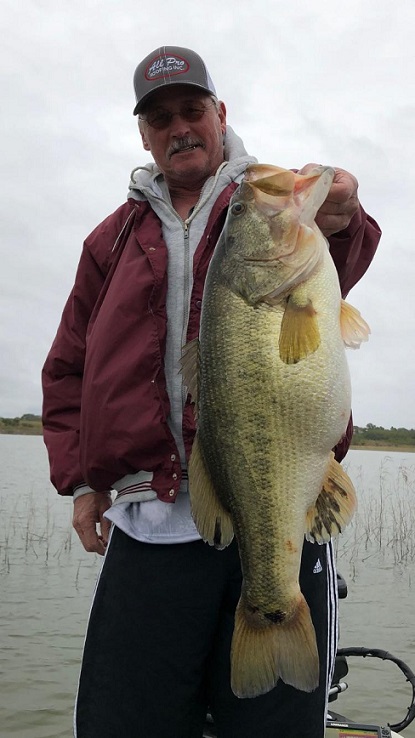 Big Bellies are in around here..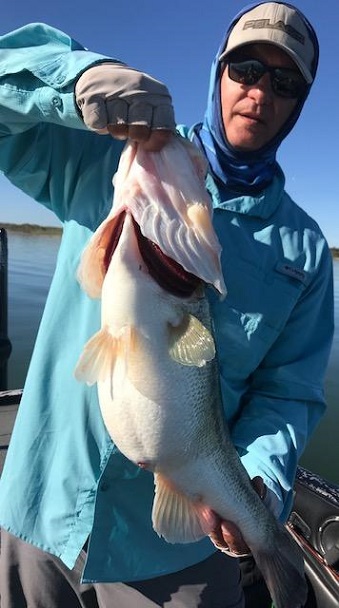 In any case.. Like I said.. If you see some warm water and weather and a hole in your schedule.. Get your ass down here..
I see that the TPWD is considering doing what it always does.. Spend millions on research and data collection.. And then take all of the money they took from you to collect it.. And set it on fire..
Totally rejecting their own research.. Of course I am talking about the continuing saga of the alligator gar.. And the commissions infatuation with this fish.
I know that many of you don't have time to listen to the commissions meetings.. And rarely do I..
Here's an overview of the latest.. Or parts of it.. They want to limit the taking of gar on the Trinity river to fish that are no longer than four feet.. A four footer from the Trinity typically weighs 28 pounds..
They also want to make you report the taking of any alligator gar within 24 hours to TPWD.
And here is a a really fucked up idea.. They want to outlaw any night bow fishing for gar..
And then there is the rumored idea that they might even want you to have to get in a draw for a permit to take an alligator gar..
According to ALL research.. There is no threat to alligator gar on any water body in the state of Texas at current levels of capture. And that is why we have PAW biologists and technicians to stay on top of populations and make recommendations based on science.. Not bullshit..
The commissioners are also deciding limits on bass on a whim on a lake or two.. Just because they say so.. With no regard for the research put into recommendations by biologists employed by PAW..
This shit is just ludicrous..
I think bullshit is a fair description..
What the fuck do we have all this field research for if we are going to ignore it.. We could save millions on staff and benefits if we simply appoint a few Czars to decide what is best for the fish and game of the state of Texas..
Maybe in a year or so PAW will decide that killing anything like a beautiful bird of peace like the dove is just immoral.. And we must outlaw this horrific practice at once..
Why don't we just get PETA to make our game laws for us? They certainly don't have any regard for research..
And evidently nobody in the TPWD hierarchy has any balls either.. Because no one has stood up and said:
"Commissioners.. Here at Texas Parks and Wildlife, we pride ourselves in our work, and making sound and solid decisions regarding our resources is what we do. We make these decisions based on in the field measurements of the habitat, game and fish living within it, and the amount of harvest of the game being taken by sportsmen in Texas.
We employ the best biologists and technicians we can hire. And we charge them with guiding us with protecting our resources. We do not make decisions on any piece of this valuable puzzle without regard for the future of all species, and we are here to serve the people of Texas, and to protect all sporting game for today's Texans, and all generations of future Texans.
And at no time will we let anything within our control, have a negative effect on Texas' game, and the the enjoyment of it by Texans. To include the commissioners here on the court.."
Yeah.. When someone from PAW stands up and says that to the commission. I'll buy em a steak dinner at Ruth Chris..
And I won't even charge em with plagiarism..
E-mail Craig Bonds and Carter Smith and let them know what you think of the proposed legislation.. Their addresses are easy to find..
Let em know what what you think.. Even if you agree with them..
But in my view.. Especially if you don't..
January 22, 2019: I keep telling myself.. It's only January.. It's only January..
But the wind here lately has played out like a bad horror movie.. One direction one day.. Another the next.. The north wind quits blowing.. And before you can get the cover off your boat, there's a twenty MPH south wind..
WTF..
And I'm getting tired of saying, "I live here.. I can fish the good days.." Shit.. When you get my age there might not be that many good days left..
There have been a few folks out on the water.. And most of them have driven farther to get here than the locals.. And I reckon that is why they are out there on the water..
And the report I am getting is that to catch a big fish you just have to get lucky enough to hit one on the head.. And I can believe that.. As a matter of fact I think that is always true.. Skill is important.. But a little luck never hurt anybody..
Moving baits are still doing as good or better than anything else.. Throwing a chatterbait or swimming a Rage Craw seems to be producing some of the best numbers.. But several of my buddies are still throwing the squarebill in the red and having good results.. Rocks and rocky shallow ledges and points.. Typical square bill locations..
Several folks I have talked to have tried deeper water, but their reported results have been sub-par. These fish are in spawn mode, and if they are not in two feet of water, they ain't too far away.
I surely believe that there are some deep fish out there.. But nobody I have talked to has had any luck catching anything of any size or numbers out there..
So I am still gonna recommend that you fish eight feet and in.. All the way to dirt..
The lake is still dropping, with no replacement water coming from Amistad.. Status quo.. We are at 275.88 as of this morning.. That's 25.32 feet low.. We've been worse.. But we've been better..
And one hazard to warn you about up the river.. The old bridge abutment is about to come into play in the next few days. It is currently about three feet under water.. But will be a problem for your lower unit in the next week or so at current levels of water extraction.. This piece of concrete is in the river channel just below Hedieona.. Coordinates for it are N 26°52,705 W 99°19,592.
Pass this obstacle to the west, or on the Mexican side..
The old Veleno bridge is not a hazard at this time..
There have still been a few good fish caught, despite of the conditions.
David Sears caught this 8-15 a few days ago..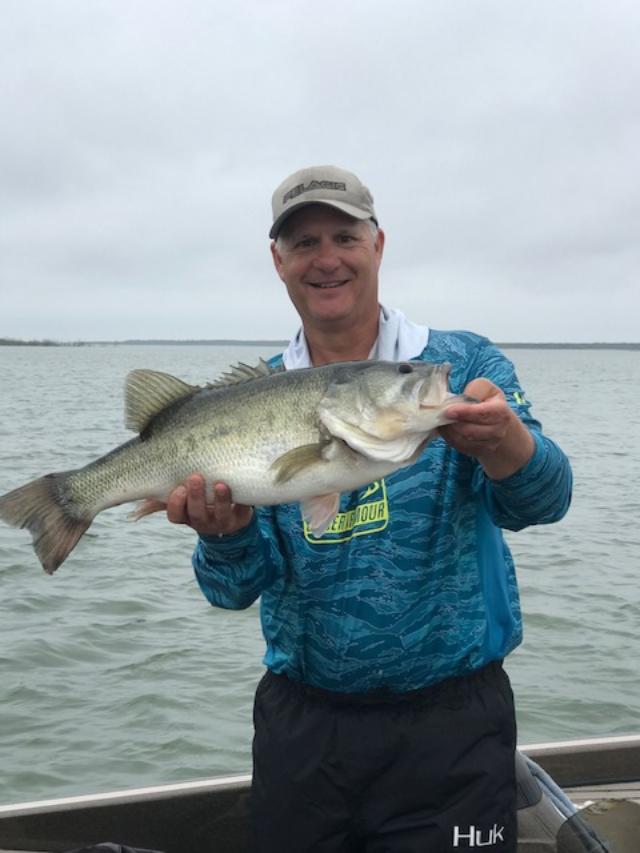 And this Yak fish was caught by Pedro Valdez..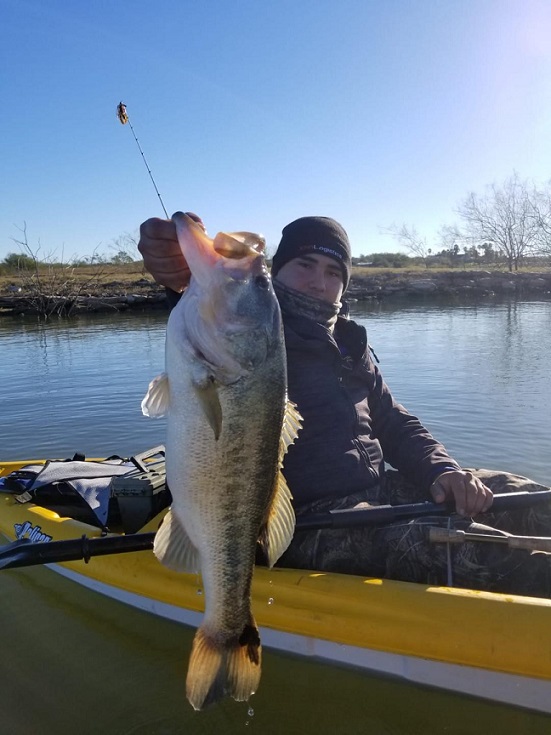 I reckon there are still a few out there..
In any case, this time of year is always trying, when it comes to fishing/catching.. Mother Nature rules.. And right now she says the water is going to be cold.. And the wind is gonna blow..
And I got nothing to fix it.. Wish I could..
I was thinking the other day.. Which often gets me in trouble.. But I was thinking about how crappy TV as a whole is these days.. So now I have started fast forwarding thru the programs, and just watching the commercials..
I think I am getting Ralph Nader syndrome.. Cause most of this shit they advertise looks to be dangerous to me..
But don't worry..
And just because we make a drug to cure or help with one affliction, and the possible side effects number one and nineteen more, (thanks Marty) there is no reason to be concerned..
I guess if you have arthritis, (like me) but they make a drug to make your knees quit hurting you should take it, even though it may cause you to shit your pants in a restaurant.. Or in church.. But at least you can make it to the bathroom without a walker..
But don't worry..
If you have problems with a drug, the next commercial in line is for a lawyer.. And he can get you free Depends for life..
And how about those of you who are trying to re grow your hair.. Let me tell you that there is no product on earth that will re grow your hair.. And I have irrefutable proof..
How do I know you might ask? Because Tiger Woods is going bald..
So save your money.. Fedoras are back in style anyway..
Like you I have been hearing a lot about the government shitdown.. And I am sorry if it is affecting you.. Hope you get back to work soon..
But the ridiculousness of the whole deal is laughable.. Am I in favor of the wall.. From El Paso to the west coast, hell yeah.. Along the Rio Grande we need it in places.. The rest we can do electronically.. As long as we have people to react to areas of need..
And all these people who are entering the country illegally.. And those allowing and supporting the idea.. What the fuck is wrong with you?
I heard the other day something about those poor folks were just victims or accidents of geography.. That they were just not lucky enough to have been born in the US..
Does whatever dumb shit that said that think that the US just happened by accident? That the US is the only place on earth that that anyone could be happy and prosperous?
As far as I know, nobody in the US government, or any Americans for that matter, are gonna get pissed off if you take a few of our documents.. Like say.. The Declaration of Independence.. The Bill of rights..
Take out "United States of America." And insert the name of your shit hole country in its place..
Then you can have it just as good there, and you won't need to come to this country.
Of course there might be a little work needed on your part.. Or maybe not.. If the US just happened by magic..
In all reality, how much more do these idiots, and I'm not talking about the invaders, I'm talking about the Americans that live and work here, and support this shit, think we can absorb and afford?
And the shutdown would not even be happening if the congress did their fucking job.. Pull up your panties and pass a fucking budget.. Quit kicking it down the road..
I can't believe the American people are this stupid.. That we keep sending the same dumb fuck's back..
I gotta go fishing.. I'm going nuts..
But even if I had a lobotomy I couldn't possibly be a stupid as some of these democrats.. It is embarrassing that they are in office.. Some of the republicans are no better..
But if they're there.. The scarier part is that there are a whole bunch of stupid fuckers that put them there..
I've always said that common sense ain't very common..
I must be a genius..
I'm gonna go build a kite..
January 18, 2019: It's Friday in Zapata.. And probably where you are too.. And it is going to be a great day to fish.. Wish I was out there..
Although the weather this week has been pretty shitty.. No sun.. Cloudy, misty, nasty, mostly..
But that ain't stopped these sombitches from biting.. For those with the Pancho Villa sized balls..
The numbers have not been off the charts, but some boats are catching upwards of thirty fish. But the quality has been good and that's why you come to Falcon anyway..
Well.. Most of you..
Water temps are in the sixty degree range, but it appears that a lot of these fish have committed to being up shallow and spawning.. And as we approach the full moon on Sunday/Monday, I don't see them slowing down..
The water should get up a few degrees today, before the wind of tomorrow, from the evil direction, cools things back off and whips the water up a bit..
Tomorrow is going to be a tough day around here.. But it looks like Sunday is going to be alright..
Shallow is the name of the game of course, and a lot of quality fish have been caught in waist deep water or less.. Some in water waist deep on a midget..
The Rage Craw is still catching a lot of fish, but your soft plastic fav will probably get you bit..
I'd try a creature of some sort for sure..
A spinnerbait and a chatterbait will also catch fish. As will a trap like creation.. From chrome to red.. And yes the red with chart belly square bill will still catch em where you can throw it..
It can be a little gnarly up there with those trebble hooks dangling like John Holmes going commando..
Here's a few of many pics I've seen this week..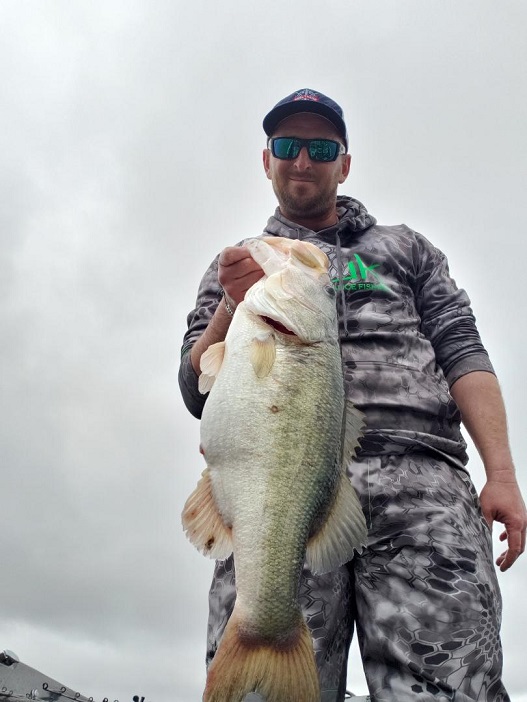 Eric 9.20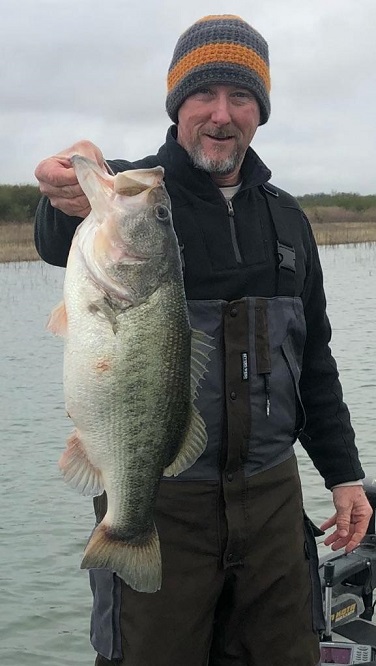 Griffin Park 9.56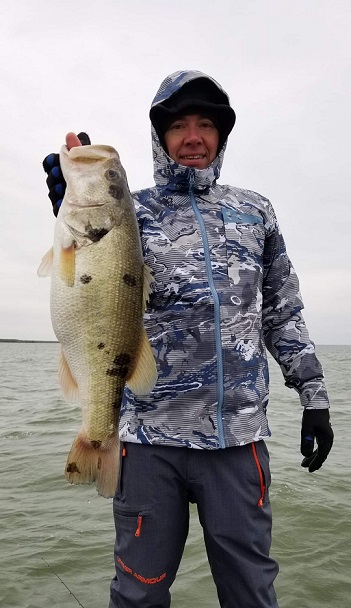 Remember those spotted fish from a few years ago?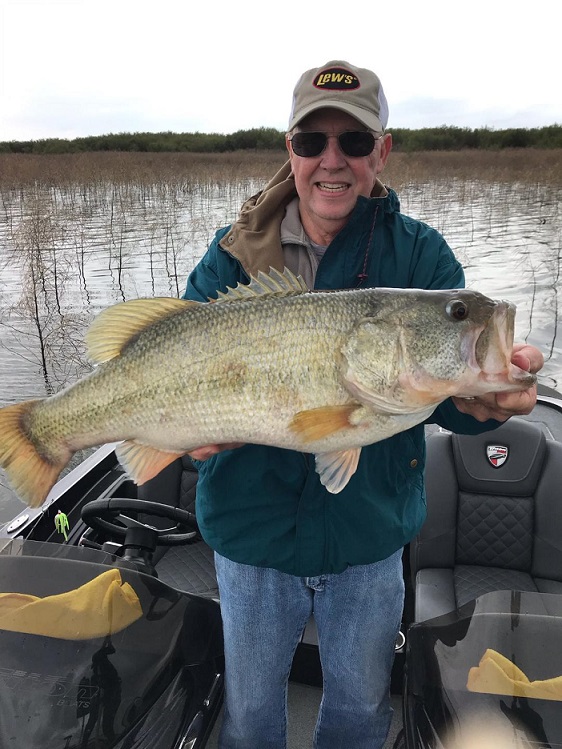 9.20
And here's the biggest fish I have seen or heard of in a while.. Ladd Owens caught this 12-3 in some skinny water as well.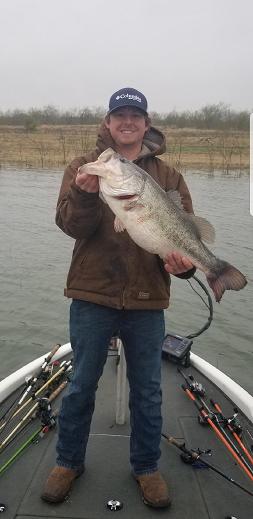 Anyway.. Some nice fish being caught despite of the so-so fishing conditions.. And you can tell from the pics that these fish are bellied up and ready to domino..
If you see a good window.. Get your ass down here..
More soon I'm sure..
January 14, 2019: I'm still having trouble with this 2019 shit.. And writing the end date on a Mexican fishing license way out in 2020.. It just doesn't compute.. I've screwed up more stuff than the Obamma administration..
It's true we are less than a year away from a new decade.. And by the end of the next decade, who knows what we are going to see.. If we make it..
Yes time flies and I can't believe that I retired and moved here eleven years ago.. (My Ol Lady says I was always here anyway..)
Yes I retired and took a part time job just working a half a day.. And for those of you who are good at math you know that a day has 24 hours in the motherfucker..
If you think I am complaining, I ain't.. I've had a real job before.. Yeah.. It sucked.. But like most folks that worked for a living, it was a means to an end..
I really never hated my job.. But if I had to drive into San Antonio every day.. Shit I think I'd come up with some kind of bullshit injury and and try to defraud the Social Security Administration out of a few thousand a month and sit on the porch and drink 40's..
It works for a lot of other no count sumbitches.. Why not me..
I could see me now.. Big pot belly. Overalls.. With a off white T shirt with ketchup stains on most of my shit.. Eatin cold Dinty Moore stew out of the can.. Passin gas that would keep the bird dogs in the back yard..
"Hey!! Hey! You kids keep the fuck off my grass..."
Well I ain't quite there yet.. Hopefully I still got a few rounds to make before the magneto goes out on this Ol B.. Mind that hand clutch..
I'm the same age as Falcon, and she ain't done yet either.. Matter of fact, I am sure she is fishing about as good as any lake in the union. Specially as being right now it is cold enough to freeze the balls off your pet canary in most states..
I reckon that the US and Mexican governments had an inklin that I was coming, so they decided to build me a lake back in the early fifties. A lucky sperm made a connection and Here I am..
Thank you Lord.. It's been fun so far..
I ain't said much about fishing just yet so I reckon we best get to it..
Fish are being caught in bout every stage of the spawn.. There are a small number of fish that have done had their fun, and are in the post spawn recovery state of mind.. But this is still a small number of fish.
A lot of these fish can be found in the same areas that some pre-spawn fish are hanging out.. Off creek channel edges in six to ten feet of water.
Of course there are the fish that are actually on the beds makin babies.. Not a huge number of them but they are there.. And them bitches will sneak up there, do their thing and be gone before we think they are even thinking about it..
Traditionally, Falcon fish spawn in the biggest numbers in Mid February.. That's traditionally.. But like the government likes to say, we have to make seasonal adjustments based on real time weather conditions..
If you'll remember, we had a hell of a cold streak in November down here.. And likely where you live as well.. And water temps got in the low-mid fifties.. And to these fish, that means winter.. It means winter to me as well..
Twice since that event we have gotten the water temps back up to the middle sixties and slightly higher..
And to these fish that means spring.. (Although we are on the typical water temp roller coaster that is January.)
Currently on sunny afternoons, we are seeing 63-65 degree water temps.. And we have a bit of cloudy and cool conditions predicted for this week.. So I don't see a big warming trend for the water in the next few days.. But come mid-late week, we are supposed to be in the seventies and eighties.. And some shit is surely going to hit the fan..
Ok.. What can you catch em on.. I have heard a multitude of baits catching fish the last few days, and if you can fish it in the shit, in less than six feet of water, you have something that can work.
Soft plastics are probably doing as good as the moving baits right now, as the fish are back up in the thickets. That's not to say that a spinner or chatter bait won't catch fish. So will a lipless or square bill if you can fish it in the area you have chosen..
I recommend having all of those on the deck. And it is spawn time and traditionally a lizard will catch them in January and February. Green Pumpkin or W/M Red are hard to beat. Put some chartreuse on the head or tail..
The Rage Craw is also a goodun.. Do the same to it.. And don't be afraid to swim the Rage or the lizard thru the thick shit.. I ain't the only one catching fish with this method..
The lake is dropping as we speak, which is not unusual for this time of year.. We are sitting at 277.01 which ain't bad and the ramps and access and running the lake is no problem. A lot of the creeks up the river, where I have actually been catching some fish, will begin to become problematic in the next week. Stop in and ask me about access when you hit town if you plan to fish above Hedieona..
Basically what is going on now is typical prespawn fishing.. The most unpredictable time of year. Water temps, as previously discussed, are vacillating in a ten degree range that can have the fish going nuts one day.. And watching Opra the next..
And what is also typical is a fluctuating catch rate.. But a lot of folks caught some good fish the last few days.. Saturday Uvalde Bass Club three fish limit was nineteen and something pounds.. With an eight, six and a five..
That's not too shabby.. Here's a couple of pics of fish caught this last week..
George Franklin caught this fish a day early pre-fishing on Friday for Uvalde..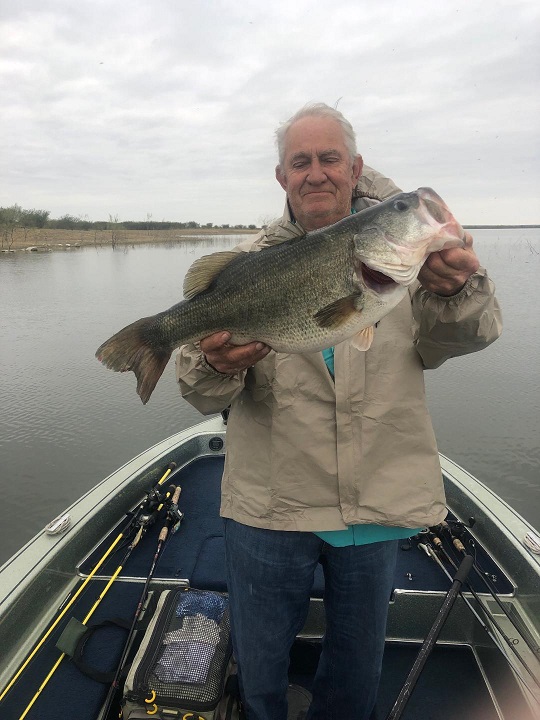 10.12
Gerry, a winter Texan and long time customer caught this big nine..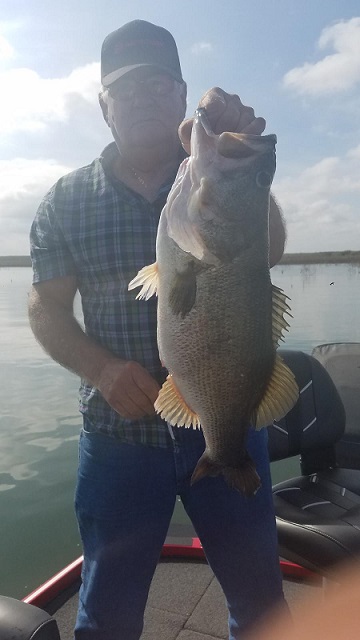 And Dylan, caught this 10.11 last week as well..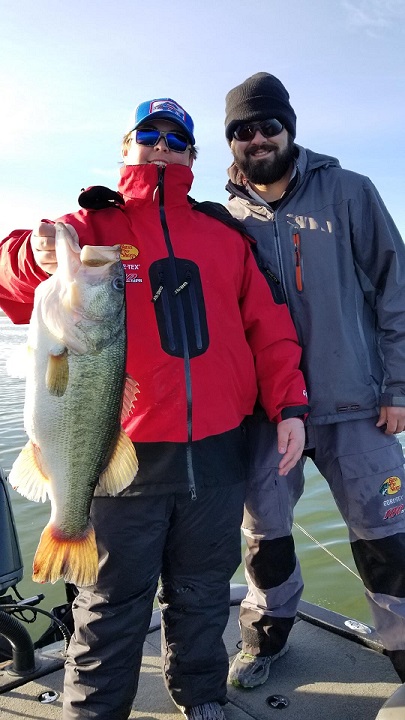 You can see that these fish are bellied up and look like they swallowed a cinder block.. I'm telling you these fish are ready.. A little warm is all we need..
I talked to the Prez, and he says that the government shutdown could last a while. You know that McAllen is just down the road from us..
So being you have some time off, get your ass down here.. And the good news is that there are plenty of Pay-Day loan company's in Zapata.. And being you don't have a payday scheduled, you don't have to pay em back till who knows when..
See you on the water.. About Thursday and Friday!
January 8, 2019: Well as we get back into the swing of things, with the new year off to a fast start, we have found some great fishing weather sitting on Falcon this week. The last few days have been fantastic and we have a predicted non-cool night pattern for the next week.
We have been near eighty for the last few days, and as Phil Collins would say, No Jacket Required the last couple of mornings..
I am sure that winter ain't over.. But this shit is why a lot of folks like to hang out in Zapata this time of year.. Well that and the the anticipation that your next cast could be the bite of a lifetime..
I have been on the water the last two days, and if Tommy turns his back, I'm liable to be on it again today.
Sunday I found the fish to be a bit more cooperative than I did yesterday, but some folks caught em better yesterday than they did on Sunday. And I reckon that is just fishing..
I have been talking a bit about crankbaits with some red on it.. I'm still thinking that is a good idea.. I have been whacking them on a Norman Deep Little N in Tomato Craw Green.. Of course they don't make it anymore..
But anything close would be a good choice..
A square bill on very shallow rocky points, and in some places, bounced off the woods has been good as well.
I did catch my first fish yesterday on the Rage Craw.. Swimming it of course.. But they seemed to ignore it after that..
I think right now it is more about hitting one in the head than anything else..
I have heard of a lot of baits catching fish. And I have seen several others catch fish that I am not throwing.. An underspin with a small swimbait on it has been good. And in a few places the spinnerbait has been whacking em..
I guess mostly I am going to tell you to get out there and throw your confidence bait.. And sooner or later you are going to run into some fish.. I think it is only going to get better if the water stays warm..
Yesterday the water was in the 64 degree range, and that is on the edge of good.. If we can sustain it for a few days.. Or increase it..
Water level is going down, as releases continue.. And we have lost about a foot in the last ten days.. There is still a lot of water out there, but it does seem early to be drawing us down.. With no water replacement from anywhere else..
Pray for rain..
Overall though, I am very optimistic about the fishing we have coming up in the next couple of months, and into the spring..
There is not a lot on the tournament schedule for Falcon this spring.. And I am toying with the idea of putting a Saturday tournament together in March or April.. And at this point that is all it is.. I will keep you advised if something works out..
If your club is heading to Falcon, please let me know so I can add you to our tournament schedule.
I am sure there is something else I am supposed to tell you.. But I can't remember anything else..
I hear President Trump is coming to McAllen tomorrow.. Man I wish he would have chosen Zapata.. We could have spent some time on the lake.. Caught a few fish.. Played nine at Zapata National.. (I think I could kick his ass..)
Congrats to the Clemson Tigers on wining the National Championship last night.. That was also an ass whoopin..
I've a got a few views on some of our newly elected national 535.. And I want to share them with you.. But it will have to wait.. Cause like I said.. I have been waiting for the weather to get good, and I want to fish while it's warm..
Daylight's a wastin!
And if you're out there today.. I'll see you on the water!
January 2, 2019: All right you slackers! Back to work! You guys have been screwing off for nearly two weeks..
Wait a minute.. Maybe that was me..
Well there has been quite a lot going on with the holidays and all.. And welcome to 2019.. Ready or not..
We are starting the year with off with some really good fishing. Despite the the cold snaps and dropping water temps. Although the last time I was out, about five days ago, I saw water in the 67° range.. And fish were in water so shallow, that you had to use a spading fork to get to em..
But after this last cold front, and the one that is sitting on us now, we are seeing water temps in the 59 degree range. Maybe a hair warmer or cooler..
And the fish have backed off to the creek channels, or the edges of them. And if you can find a little deeper pocket in the creek, it can have a pile of fish in it..
This ain't rocket science.. It is Fishing the Spawn at Falcon 101..
Every year we fight this same scenario.. The fish are up and down like a hookers bloomers.. And this year is no exception..
Now for the good news..
Starting about Thursday afternoon, a warming trend is in the works. And it looks to be an extended one.. With highs in the seventies and maybe flirting with the eighty number.. And the nights are going to be warmer.
What kills the water temperature is the clouds all damn day and the cool nights.. And we are on day three or four of it..
But I expect the fish that have put their shallow water recreation on hold to get their ass back up there pretty quick.. Once the sun hits the water and the temps are on an upward trend..
And it's gonna be on..
It seems a bit early, but they are starting to draw some water from Falcon.. And it is the Mexicans I hear that have the gates open..
Of course getting any info from the government during this time of the holidays and the government vacation that the fucking politicians have going on has garnered me no flow info on the Rio Grande water shed.. So I am going on water levels in the river.. Above and below us.. And in the last ten days we have lost about three or four inches of water..
I do expect this trend to continue, unless by some miracle it rains in the valley.. A lot.. And I don't see it coming anytime soon..
And of course the releases will increase as the planting season advances.. But like always , we are at the mercy of the rains..
Back to fishing..
A lot of fish have been caught on moving baits.. A spinnerbait, a squarebill, and swimming soft plastic have been good.. Also heard of fish being caught on chatterbait's and swim jigs..
I have personally been catching them good on a Rage Craw, Texas rigged, slow rolled thru the trees and shallows.. But like I said you need to move out to the creek channel edges with the cooling water..
And that is why the square bill is catching some fish. Because you can actually fish it out in the creek.. Where it has been virtually impossible to fish it in the thickets. Where the fish have been..
I expect the fish back in the two foot deep shit in a few days..
I'll also mention the the water clarity in a lot of places is awesome. Three foot is common, and in protected areas it is more.. You can see your spinnerbait on the way back from way over there..
I do believe some fluorocarbon is a good idea right now with the water so clear.. It cain't hurt..
The Salanaias has been a good place to fish lately. A lot of shallow fish have been way in the back.. As have a lot of fishermen.. Virtually every creek, way in the back, has had active fish reported..
The Coyotes, Benavides, and State Park Cove have also been good.
I have been catching fish up the river.. Bout time..
Long story short, a lot of these fish are ready to spawn, and they are fixin to do it..
Now do I believe that the main push of fish shallow is imminent.. No.. But there are going to be a bunch of early bloomers up there before too long..
When the sun comes out, my ass is going to be on the water.. A lot..
If you come down and come by I'll share some creeks and baits with you that are working.. Like always..
Happy New Year and we hope to see you soon!
December 17, 2018: Well if you are one of the lucky ones that scheduled this week off to fish.. You should be happy as a puppy with two peters..
Cause the weather can just not be nicer than what they have predicted.. If they have gotten it right.. And granted it is weathermen we are talking about.. And they have been known to be less than accurate.. But I am going to give them the benefit of the doubt..
Highs in the seventies and low/no winds.. I'm in..
I fished yesterday, and of course I did not make it south of School Bus.. And I only fished from 11 till 2.. I'd of stayed longer. But I rammed a tree and screwed up my trolling motor mount.. Hell if I know.. Fixin that is on my list for later this morning..
Anyway, I started in the Diablo where I have been getting bit a little lately.. And did not receive the attention I thought we would.. In other words we did not catch shit.. So off we went heading south.. All the way to School Bus.
There was some light boat traffic going in and out of there and I will have to admit that the water in there looks fantastic.
We started out on some long points not that far in, and fished a ways back with little success. I threw a square bill, and flipped a Rage Craw at some awesome looking woods and weeds, and than tied on a chatterbait, but it did not catch anything either..
My partner started tossing a spinnerbait and damn if he didn't catch a nice big male.. About three casts later he had another one whack the shit out of it.. Well I am dumb but I ain't stupid..
So I picked up my spinnerbait rod and about the third cast I had one knock the crap out of it.. But no hookup.. A couple of casts later I caught a fat fat fat female, but she was only about three pounds..
Three casts later I caught another fattie, and when she was running with the bait I swore she was a hog.. Meanest three and a half pounder on the planet..
These are the prettiest fish you have ever seen.. Dark.. Blotchy.. Looks like you painted em after a twelve pack..
Anyway, shortly thereafter I smacked into a hardwood that I did not see and busted the collar on my TM mount.. So that ended a fifteen minute period of excitement that had the blood running..
Kinda like that last fifteen minutes before the dance hall closes.. The potential is there.. Something good could happen.. If you know how to present your bait..
And like that old hound that is too old to get off the porch, I still remember what that trail smells like.. But I'll admit its been quite a while since I been on it..
But I digress..
I spoke to several groups yesterday, and they reported better results on the south end of the lake.. There's a newsflash..
The Salanaias is fishing about as good as any place on the lake.. Most boats that go out and seriously fish, unlike me, are catching fifteen to thirty fish a day. And in that mix there have been some nice quality fish caught.
A swim jig and a chatter bait have been reported as good choices. A little swimming tail trailer on the back is a good choice.. Less is more, so don't go hanging a six inch fattie on there. Three to five inch baits are fine..
Light or shad colored choices are best..
Some areas have a ton of bait in them.. Some have little that is visible.. Bait = Fish..
That spinner bait does not have to be a monster either.. But I will admit I caught fish yesterday on a 3/4 ounce bait with a long split tail trailer.. But my partner was throwing a 1/2 oz in white with no trailer..
So who the hell really knows.. Just go fishin..
Water temps were about three or four degrees cooler than they were last time I was out, and when we started out it was 59 and change.. Almost 62 when we got off..
If the nights stay a bit warmer like they are supposed to we may have a water warming trend.. And the shit is gonna hit the fan..
You heard it here first..
The white bass are going hog wild especially up here on the north end of the lake. Mainlake points and humps almost anywhere can have a cloud of em on there and you can wear your arms out..
Lotsa winter Texans having big fun..
The crappie are still spotty, and not taking a liking to the new poles under the Veleno bridge.. I don't know why.. A few are being caught on creek channels and creek mouths, but it has been a hunt and peck endeavor..
The catfish are still easy anywhere near the river or creek channels.. Seen some ice chests full lately..
Overall things are setting up nicely for the spawn of all species it appears.. And Falcon is going to be the place to be this spring.. Of course now ain't a bad time either..
Christmas is only a week away.. And though it can be hectic, it is also a fun time for most.. I heard on the radio today that you are 37% more likely to have a heart attack on Christmas Eve than on other days of the year.. Around 10:00 PM..
So hit that Egg Nog early and chill out!!
I hope to post a report before the weekend and let you know what happens with this warming trend..
But if I don't.. I want to wish for you a happy, hopefully not too stressful, and a very enjoyable Merry Christmas..
It is possible that some of you I have never met think that I am a foulmouthed redneck with too many guns and fishin poles.. But you might find my musings slightly a-musing..
And many of you who do know me are sure I am a foulmouthed redneck with too many guns and fishin poles..
I am a passionate man, about many things, and I can tell you this..
God put us all on this earth to get along and support and love one another.. No matter your race, creed, religious denomination, or political party affiliation..
He put us on this earth to enjoy the theme park he provided for us. And there are lots of different rides.
And what a ride life on earth can be.. If you remember who is at the controls..
Put God in control of your life..
You just can't believe how much easier it is when someone else takes care of all the details..
I ain't saying it's all easy.. But it is a lot easier than trying to do it all yourself..
I'm through preaching now.. But don't forget to call your Mama.. (Or substitute the family member you need to talk to..)
Love You Man!
MERRY CHRISTMAS!
December 10, 2018: It's a beautiful day here in Zapata, and truthfully if every winter day was like this one.. Well I wouldn't bitch about winter so much.
We did have a wet and cool stretch late last week, and that is the part of winter I like to bitch about.. But we did get an inch of rain out of the deal.. So all in all not so bad..
But the weather did keep a lot of people away, and there was very little traffic on the water last weekend.
The lake is still on a very slow rise, and we are sitting at 278.77 this morning. Water clarity is awesome all over the lake and visibility in the protected pockets on the north end is two feet or more.
We have cooler water that grows less algae, and the greens in the water make for some effective filtering. There are no barren dirt banks for the waves to wash up on and murk up the works.. The south end of the lake is as clear or clearer, and you can see your spinner bait coming back a long way off..
It's not Amistad water, but it is clear. Water temps are in the low sixties..
The few people that I did talk to over the weekend gave me a mixed bag of results.. Of course the conditions on Saturday were poor.. Windy, cool, wet, and cloudy for most of the day..
But a few folks figured it out and caught em late in the day.. In shallow water.. I mean shallow.. Like right on the bank in some instances, and the majority of fish were in less than three feet..
These Falcon fish are different, and like I have said many times before, they just seem to like shallow water.. And several of the guides were in here the other day and we were having a discussion.. About how there are no fish out in the deep water.. Like outside of twelve feet..
You would think that some would have retreated with the cooler water.. But if any have they have gone on a hunger strike out there.. It is damn hard to catch one offshore.. And it ain't for lack of trying..
So lets talk about the shallow bite..
A 1/2 ounce spinner is still a good bet. A chatterbait caught a couple of good fish yesterday. And flipping a smaller offering has been a good choice.. Like a Baby Brush Hog or a Rage Craw.
Putting some Chartreuse spike it on the tips is a good idea.. And throw that sucker on the bank..
Isolated retamas or retamas on mini points have had some fish hanging out on them. And making multiple casts to likely looking areas can double your catch rate.
There were actually a few fish caught up here on the north end this weekend.. And I am not sure if it is because a lot of fishermen stayed close because of the conditions.. Or if maybe.. Just maybe.. The top of the lake might be starting to awaken..
Certainly too early to tell, but what I heard sounds promising.. We'll see..
Lyle Reagan was down here last week and he caught this toad fishing with Matt Reed..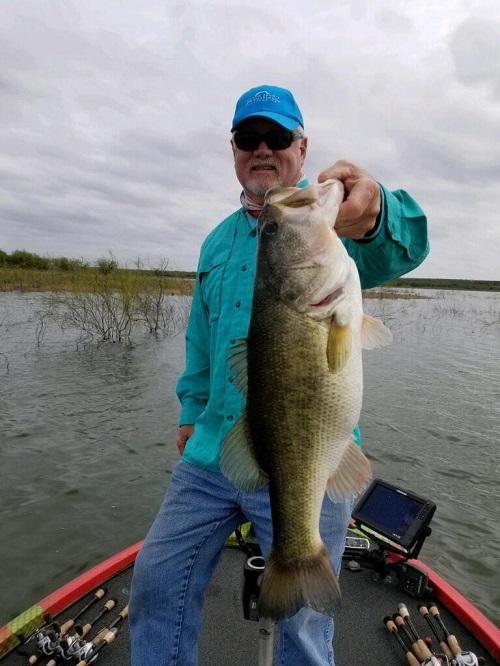 And Jared caught this nice spinnerbait fish last week..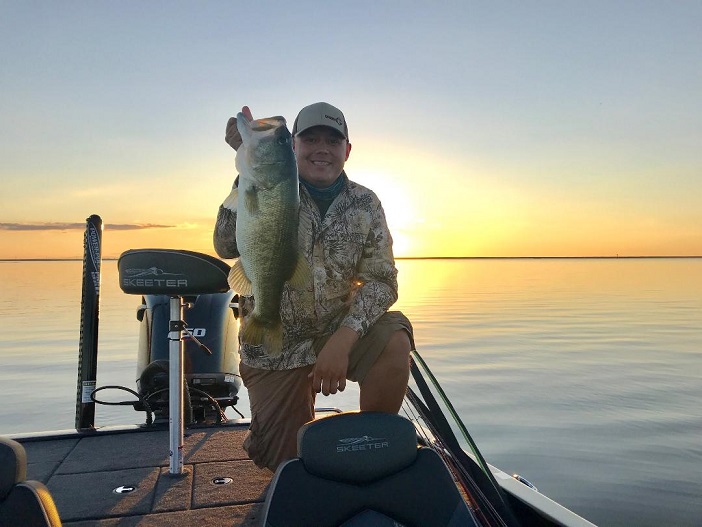 What we need is fishermen.. And we ain't seen many.. It's hard to get a handle on what's going on when there are only three boats on the water.. That's what's at the county ramp this morning..
Of course I do realize that it is Winter and Christmas is only a couple of weeks away. But if you get a chance and you see a few good days of weather, you might want to come down and try your luck.
One thing that is easy pickens, is the white bass.. Those things have been schooled up and will black out your graph in a lot of areas..
The crappie are still spotty, but they are making their ways up the creeks.. Their egg development is really coming along, and they will be doing their thing before too long as well.
And for eating, there ain't much better swimming in Texas waters.. And we been catching some whoppers..
Call us if you have any questions or need help with anything, and we hope to see you early in the new year. And if we see you before that, well that's OK too..
Merry Christmas!
December 3, 2018: It was an absolutely beautiful weekend around here, with very light winds and temps in the seventies to low eighties.. You just couldn't ask for anything nicer..
Except for some fish to bite on the north end of the lake.. It seems that the lake is fishing like two different bodies of water, and I guess you can kinda draw a dividing line somewhere around the Tigers..
I'm not saying that you cannot catch any fish up north.. But it is spotty and inconsistent at best.. And after talking to a lot of fishermen and the guides, we all seem to agree..
It is not for lack of trying either.. We have a good population of winter Texans in town, and many/most of them like to fish locally.. As do I.. But it just ain't happening.. At least not yet..
And you haven't seen any prettier water anywhere.. Yesterday water clarity in the Veleno and Diablo was two feet plus.. And water temps were back up to 64.5.
I am sure that will drop a notch or two with the coming front.. But that is cold water for this time of year around here..
Ok.. Lets talk the south end of the lake.. (You ought to go there if you want to catch some fish..)
Lately the Texas side of the lake has gotten a lot of attention, with decent reports coming from Governors cove to the Tigers. And creeks with a half assed channel seemed to be the best, when fished in about ten foot of water..
Of course that can vary from place to place and sometimes the fish have been right up on the bank..
Spinnerbaits and swim jigs still seem to be the most popular with the fish and fishermen. A lipless bait can also help you locate some fish and when you run into a batch of em you might catch a bunch in a short amount of time..
And then you can go for an hour without a sniff.. Odds are that you will do something in between..
The last week I have heard some good reports from the Salanaias and the Benavides. Remember last year when we were whacking them on the big creek channel in the back of Salanaias..
Well some of that is going on again.. The same can be said of the Benavides. Back in there behind the island on those scattered tree lines.. Tons of hardwoods to pitch and spinnerbait heaven along the green trees..
Speaking of pitching and flipping; that bite is coming around as well down south.
Hardwoods in four to ten feet abound, and every now and then you will pitch to one that has a fish on it.. And truthfully what is more fun than trying to drag one of them mean bastards out of the middle of a woodpile..
That's my kind of shit..
A baby brush hog, senko, or a Rage Craw are good choices.. But your favorite flippin bait will probably get it done..
Keep in mind the water is clearer than it has been in a long time.. So your color selection may change a bit from some of our standards.. But when you throw a Zoom Watermelon Red bait in the clear water when the sun is out, that red just jumps out of the bait..
Yesterday I was trying to do something different and with the thought of clear water in mind I was pitching a Rage Craw in Chartreuse Pepper at woods in about four feet of water.. That bait is not commercially available for reasons I cannot imagine but if you see some get some..
I have caught a shit ton of fish on the Mexican lakes on the west coast with this thing, and have done quite well with it here as well.
I haven't caught shit flipping up here lately, and I have been throwing a spinerbait for the last six weeks. So to preface this story I am going to tell you that I had not retied this particular rig in who the hell knows how long..
But evidently it was too long..
And after flipping a couple of thousand trees, (probably closer to 50) I pitched into one that looked like all the others.. Four feet deep and you could damn near see the bottom..
And though I felt absolutely nothing indicating a bite, I did see my line doing something I wasn't doing to it.. And a light finally came on and I realized I had a bite.. And it had been so long that I stood there for a moment enjoying the thought that a fish might actually be eating a bait attached to the end of my line..
I am sure the elapsed time was not actually that long, but it seemed like it.. It was like standing in warm sunshine on a winters day..
Anyway.. I set the hook in my usual try to turn the boat over way, And holy shit I had a fish on.. A good one.. For about 1.25 seconds..
And when I retrieved my line all I had was a little twisty corkscrew looking end where the hook and weight used to be..
Son of a Bitch..
I am always bragging about I have the best and easiest and fastest knot to tie.. Seems like if it was that easy, that fast, and that good, I would have retied it in the last month..
Unforced error on my part..
Anyway I retied and re-baited (while muttering some curse words I can't recall) with the same outfit and went about ten more trees till I came up on an isolated hardwood in the middle of the back of the creek in about four feet of water..
And I told myself if there is a fish anywhere in this fuckin' creek there's one in there.. So I chunked it in there paying close attention to my bait, line, slack.. Humidity.. Wind direction.. Cloud cover.. Boat wakes..
All that shit..
And sure enough my line started to move off into open water.. And I'm thinking I got your ass this time motherfucker...
(Sorry for the use of the word motherfucker.. But that is what I was thinking..)
So I pushed the fire button and yanked hard and fast.. And it is a good thing that I still have cat like reflexes as I was able to duck the baitless hook and weight as it parted my hair on the way by..
Missed him again.. Light bighting sons a bitches..
Anyway I fished another thirty trees in similar looking water with no more bites and I went home and raked leaves..
I know I could have just said that I fished the Diablo and missed two fish.. But there would have been no fun in that..
Anyway, if you come down here and seriously want to catch some fish, (and who don't) get down south of the Tigers or in the Tigers and work some of those creek channels on back into the creeks. Flipping the trees on the sunny days is not a bad idea right now.. Although I know I have been touting the spinner bait bite as of late.. The flipping bite is coming around..
And it will only get better as the spawn comes to Falcon in the next warming trend.. These fish are ready..
I ain't bullshittin.
I'm gonna go ride out this front in the deer blind and hit em a lick when it warms back up..
And I hope to see you down here before too long..
Twenty two days till Christmas! You're running out of time to catch em in 2018..
See you on the water..
November 26, 2018: OK.. OK.. So I have been FTD here as of late.. But I have been really enjoying it.. And having a triptofan hangover is a serious impediment..
But I am about over it..
Fishing here on Falcon is really on the upswing as the fish seem to be adjusting to the cooler water temps and the semi stabilization of water level.. Although we are still creeping up slowly. Water temps are in the low sixties.. Quite a change from a few weeks ago..
As of this morning, we are sitting at 278.11, or 23.09 feet low.. Which is about five feet lower than we were at this time last year.. But I ain't complaining..
The lake looks awesome and water clarity is fantastic, even in the creeks up the river. Visibility in some areas is up to three feet.. Maybe more in the backs of some creeks when the wind is calm and the sun is high..
And baits with a lot of flash and movement seem to be doing well.. Which is a continuation of the spinner, chatter, swim jig bite I have been talking about.
I have also heard a good report or two that fish are chomping on traps and your favorite lipless baits when you get around a mess of them.
And like I have been saying.. If you catch a fish or two in a kinda small area, slow that trolling motor down and fish that spot thoroughly.. These fish have been clanned up a lot lately, and I have heard of big numbers of fish being caught in an area the size of your kitchen..
It is easy to fish past a school of fish. So if you get bit, beat that water up a bit before you move on..
Over the weekend I also heard of some fish on points coming on a Carolina rig.. They did not say if it was a north or a south Carolina rig.. And I forgot to ask..
But they did say that a smaller bait seemed to work better than a big one.. Stop by and I'll give you some suggestions..
Those fish were also reported in water no deeper than fifteen feet..
Like always, think points and jutouts in creek channels and brush lines.
If you saw the pics of the fish we have been catching you would say that spawning is imminent.. They are so fat and bloated that you'd think they were going to bust..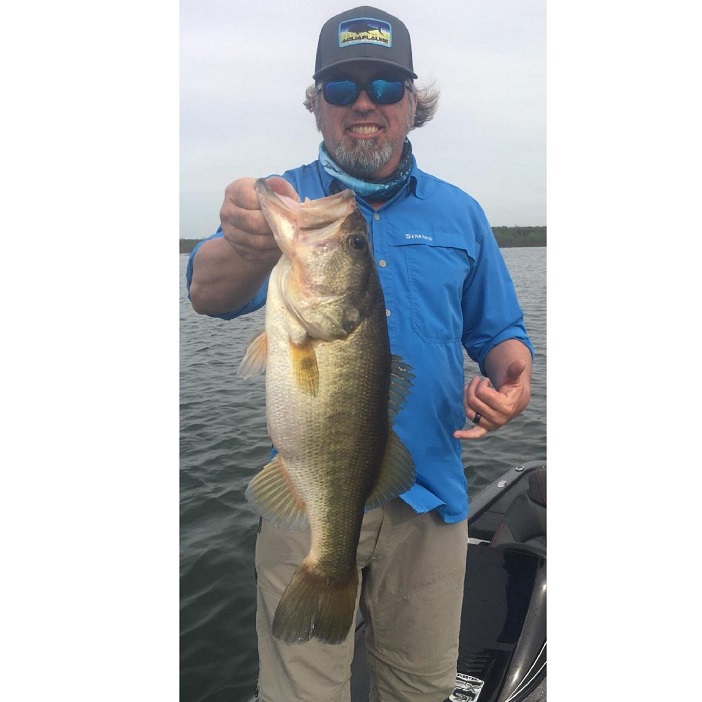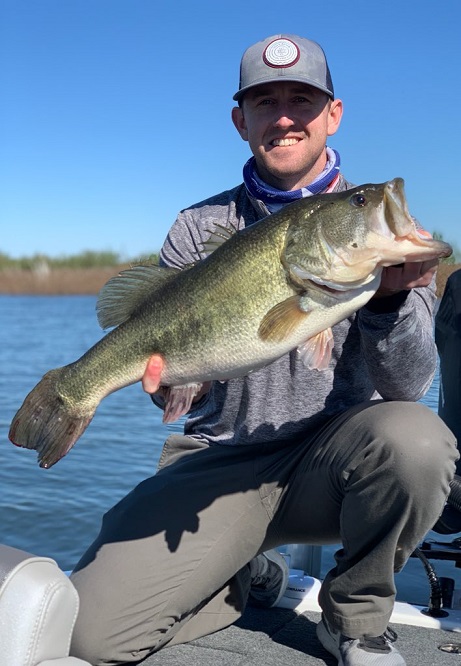 And they are as mean as any fish you have ever caught.. And no doubt that they are buiding eggs for the coming spawn..
I would not fish with any line less that seventeen to twenty pound test while fishing the moving baits mentioned above. Lotsa cover in the water.. And bad things happen to good people when fishing with light line..
These fish will test your equipment, kick your ass, and break your heart.. Not necessarily in that order..
Now before we go off half cocked, (that is a shooting term and has nothing to do with sex, you perverts) I do not want to infer that the fishing is off the hook good.. But it is certainly much improved from a couple of weeks ago when you could spend a lot of time practicing your casting..
I have not talked much about a flipping bite.. Because it has been secondary in fish caught.. But on sunny days, you can catch a few in the shadow of the trees..
Your favorite bait will work in the smaller varieties.. That Z-hog is still a good bet..
I was gone for a few days last weekend, thru Thanksgiving.. And I spent a lot of time in the deer blind..
I did manage to dirt nap a freaky horned cull buck and make a batch of sausage.. And I ate some.. And chased it down with a preventive dose or two of gout medicine.. It's never better than when it comes right out of the grinder..
But I gotta lay off.. I know what's in store for me if I keep eating it..
I also killed a hog and a coyote.. So I got to shoot a few times.. My wife says I am not happy unless I am killing something..
Hell, I get excited what a bug hits the windshield..
We certainly had a crowd on Thanksgiving at the ranch.. And as predicted the decibel level was high.. Thirty something Bendeles can lead to some yammering..
The table was covered with food and we are truly blessed to have all the fruits of our hard work.. As are many of you I am sure..
And it is only right to give thanks for the opportunities we have been given in this magnificent country..
Keep in mind that only by the Grace of God are we here, in the best country that ever happened on the face of the earth.. And don't let the naysayers tell you otherwise..
I hope that you have a great Christmas season.. And that you can make it down to Falcon and enjoy some fine winter fishing..
Our fish don't take the winter off.. And neither should you..
See you on the water..
Or in CVS getting my gout medicine prescription filled!
November 14, 2018: Only about 45 more shopping days till Christmas.. You better get busy..
And busier it has been down here the last ten days or so.. At least when the sun comes out for a bit..
Last weekend we had quite a few folks fishing as there were a few clubs in town. And there were a few groups from across the state here as well. And while there were spotty times of decent weather mixed in, there was also plenty of wind and light rain in the mix.. Enough to make it somewhat unpleasant..
But it is November and it can get cold down here.. As I type we are sitting at a record low temp for this date in Zapata, or very near.. Of course since they moved the temperature collection site from Falcon Lake Tackle to the airport, which is on low lying ground, I notice the lows are about three or four degrees lower than the old days.. And lower than my super accurate thermometer.. (So I was told when I bought it..)
It is 35 on my thermometer at daylight.. But officially 28 at the airport.. And we did have sleet here in Z town yesterday morning..
In either case, your nipples will poke holes in your T-shirt at about 60.. MPH..
I have been talking about how clannish the fish have been as of late.. And how if you find a couple in a small area you need to rake it pretty hard.. Because these suckers have been a little grouped up on occasion.
Over the weekend, there were folks that whacked em in small areas, and folks that struggled to catch anything more than random fish.
And this has been the common story as of late.. But I do believe the fishing is improving as the lake has almost leveled off, and the breakdown of shore line weeds is wrapping up. And what was once flooded greens, then turned to rotting plants and bushes, has now turned to dead stems and sticks and it has lost a lot of the funk that decaying plants can have after being submerged a while.
Cooling water temps will also slow the decay of shoreline weeds and bushes..
We are still creeping up very slowly, and we are currently sitting at 277.38, which equates to 23.82 feet low.
My stick in the water served me well as the online water data gauge was down.. But it is back up and working for the time being.. We have been gaining about a quarter to a half inch a day for the last few..
As we have been saying for the last month or so, the spinnerbait is still catching more fish than anything else going. I think that being able to cover a lot of water is a good thing, and the blade is a good seek em out bait..
There is also nothing wrong with a chatter bait or a swim jig. If you are coming down, stop in and I'll show you which rig is catching em pretty good..
When and IF the sun ever comes out, you can catch some fish flipping the trees as well. Concentrate on trees on creek channel edges in about eight to ten feet of water.. And don't be in a hurry when you are dunking your bait.. A slow presentation has been best. And a lot of the bites are verrrry subtle.
So it is a good time to let your sensitive side show.. Lots of these little bastards (and big bastards) will just swim off with your bait without the slightest feel on your end.. So it pays to be a line watcher.. And if you can't find your bait.. You better jerk..
The pictures I am seeing of fish lately are very impressive, when it comes to the condition of the fish.. All the fish, even the two pounders, look like Rosie after a raid on the Blue Bell factory..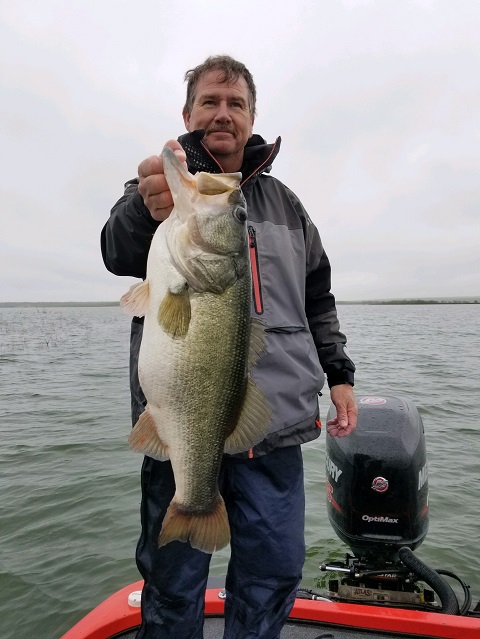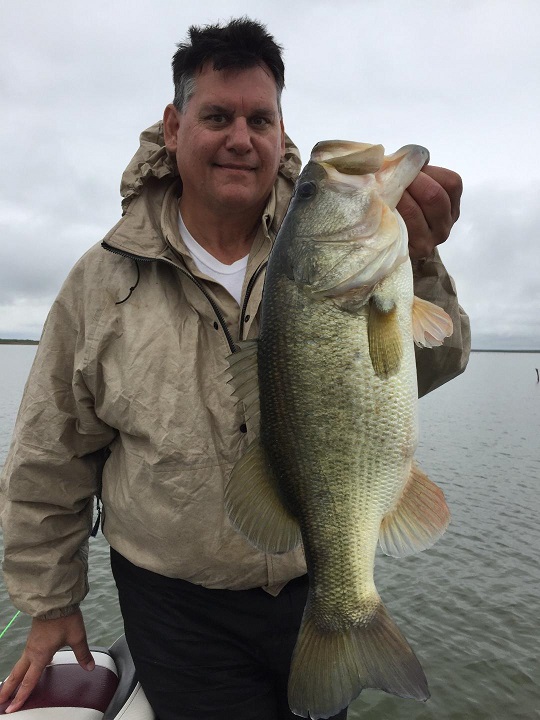 And they are as mean as they come.
I forgot to mention that the water temps were running in the low seventies before this cool snap.. We'll see what this frontal passage does to it.. We are supposed to have some nice conditions the next few days.. So hopefully we can catch a few post frontal fish in the next few days.. Before the next front blows in.
Looks like we are off to another cool start to winter. I hate this shit..
A few crappie are starting to show up on scattered woods here in the Veleno, and a few on scattered brush piles from the top to the bottom of the lake.
I caught a few the other day and they were so fat and thick it was amazing. I split the fillets in half because honestly they were a inch thick on a couple of the fish.. I mean some of them were tanks..
The catfish are still going pretty strong on rod and reel, but maybe slowed down a bit since the river flow has slowed to a trickle.
And while I am giving a general lake report, I'll talk ducks.. Lots of Teal around, but giant numbers of ducks are not here yet.. There may be some arriving as we speak with this front cooling off a large part of the country. But till a lot of shit up north ices over, we won't have em too thick.. But it looks like it won't be long..
There are some.. But not like last year just yet.
Long story short.. If you can be down here a few days after a front, it is possible that you might get in on some good fishing.. But I hope we don't get in another pattern, like last year, of a freakin front blowing in every three to four days..
These fish are building eggs, and there are some fatties out there swimming around right now..
We will be closed on Thanksgiving day, like always, but I will be here bright and shiny on Friday the day after. But I'll talk to you before then..
Last week in my rant about water and cormorants post I intended to thank all of you Veterans for your service and sacrifice to our country.. In honor of Veterans day..
But I went a little off script (probably not) and got caught up in the passion of the moment and forgot..
My apologies.. I wouldn't be sitting here in this warm and cozy fat chair if it weren't for you guys and gals.. And I can never say it enough, but Thank You..
Don't seem like much, but believe me it is heartfelt..
And while I am on the keyboard, let me say a few things about Nationalism.. Or my definition of it anyway..
What in the world can possibly be wrong with being in favor of your homeland over some other country?
Are we not to be proud of our country and what we have built? And what we have have achieved in a fraction of the time the Euros have been around?
And what we have done to help the Euros over the years and the entire planet for that matter?
I am very proud that the United States, along with its Allies, has basically defended the world against tyranny and global aggressors since its inception.
And any of you who equate American Nationalism of today with Nazi Germany are just fuckin idiots..
Go read some history books, you morons.. And not any written today. Find some info written about twenty or thirty years ago.. Maybe you can figure it out..
For the life of me I can't figure out the push for globalism, from Americans, as it can only serve to bring us down to levels that until now have been reserved for second tier and lower countries..
And yes there are second level countries.. We are not all alike.. Or equal..
If we were, there would not be thousands trying to come to this country on a weekly basis..
So we must be doing something right..
And to those of you who think this is such a bad and oppressive place.. Pack your shit and get the fuck out.. Call me if you need bus money..
Keep the Faith America! Keep America first and thank God that you were lucky enough to be born here.. And keep busting your ass to make things even better..
I gotta go pluck my turkey..
See you on the water..
November 5, 2018: You do realize that it is only fifteen days till Thanksgiving, don't you? Holy shit.. Where has the year gone..
I guess the best thing we can say is, "Hey you bastards! I'm still here!" One of my favorite movie quotes of all time..
But it is hard to compete with, "I'm your Huckleberry", or "This is a tasty burger.."
And this year has been a bit of a challenge, from many standpoints..
We started the year out with lots of water, and a tremendous hatch of baby bass, with clouds of fry and schools of little fish of every breed known to man, or at least to Falcon, and they were living in a jungle of shit that was about as ideal a situation as you could imagine.
And from a fisherman's standpoint, it was looking like a banner year for recruitment..
But then the government took over.. And dropped twenty two feet of water out of us so quick that fish were flopping around on the bank..
And being that the government loves cormorants, they allowed the twenty thousand of them living here to eat all the little fish that were evicted from their homes..
We should be catching ten inch bass by the bucketful.. Sadly they are as scarce as hens teeth..
2018 will not be remembered for a bumper crop.. What might have been..
We got lucky again in the last few months to catch some water from local rains.. And when I say local, I mean rain that fell between Falcon dam and below the dam at Amistad.
That's two years in a row.. And that is VERY unusual.. I had never seen Falcon catch as much water from local rains as it did in 2017.
And I have been watching this shit for a long, long time..
The sad part in all of this story is that the Mexican lakes on the Conchos have, and have had plenty of water that could have helped mitigate the level loss here last spring.
But the IWBC doesn't have the nuts to get anything done when it comes to fairness and equality of the use of available water, that we are due.. And our congressmen talk a lot of shit about how we are going to enforce the water treaty, and update it.. And get Texas the water we have coming..
But you know it is bullshit.. All hot air.. Tell you what you want to hear while shoving flowers up your ass.. And then do nothing..
Status quo..
If you want to find out the meaning of boondoggle.. Do some research on the IWBC.. Look at their budget.. Number of employees.. Salaries.. And what they accomplish..
You're not doing anything but looking at election results today anyway.. This will give you a good laugh.. And you might need it today.. But it might make you cry..
TPWD is complicit with the IWBC when it comes to non-protection of our fishery.. I hate to go Larry Bridgeman.. But if he was still alive he would be tearing PAW a new asshole..
And deservedly so.. And while we do still have an alligator gar infestation, the more pressing problem is the freakin cormorants..
Saying that we are doing something for Falcon fishing, by dumping four hundred thousand fingerlings in the lake every year, and doing nothing to protect them, is just ludicrous..
And when we stocked the lake this last spring, these fish did not have a blade of grass to hide behind..
I'm not trying to say that it is nothing.. But all we did was feed the birds and white bass..
Those are the facts..
And while TPWD pats itself on the back for its new Sharelunker program, our fisheries continue to decline in quality.. But at least now everybody can catch a Sharelunker..
And they'll keep blowing smoke up your ass telling you that everything is fine..
I'm telling you it ain't.. And it is going to get worse..
I'm not speaking for every lake in the state.. But Falcon has a Cormorant problem..
Instead of spending thousands and thousands of dollars on fingerlings for Falcon this year, give me some money for shotgun shells, gasoline, and the authority, and let me take care of this problem..
And don't tell me about public safety, lake issues, and a bunch of bullshit regarding, "We can't have some Yahoo running around the lake shooting up the place endangering the public.."
This ain't the first time I shot a Red Ryder and I ain't about to put no eyes out..
If anybody can teach a shotgun safety class, it's me..
I am dead serious.. I can get this taken care of..
But I am sure PAW will continue to bury its head in the sand and say there is nothing we can do about because it is a federal issue..
Horse shit..
From the top down.. TPWD stand up for Texas, and get this crap taken care of.
It is no wonder that lots of folks think that the board members are just a bunch of rich friends of the governor, that like to see that they served on the board on their resume', and that they are there just to get along and look good doing it..
You know.. Sometimes you have to get a little dirt on your hands if you want to actually make a difference..
And I am sure there is a hand sanitizer dispenser at the entry to all the TPWD meetings..
I have officially offered my services the the governor. So if you guys don't want to make a difference then get out of there and let me in.. I have not heard back from him or his office..
You probably clicked on this page to get a fishing report. So lets get to it..
There have been five boats on the lake this week.. And I was one of them. But I went out to catch some crappie for lunch.. And damn they were good..
So that leaves four boats bass fishing.. Actually there were about twelve boats at the ramp on Saturday. And it was so windy I could see seven of them from the ramp..
Most of them were prefishing for a tourney this weekend for the club out of Laredo.. And nobody told me a lot as they barely got out of their trailers shadow.. It was a tough day..
Yesterday however, the fishing was better than I have heard in a couple of weeks.. From the four boats fishing..
I heard that on Saturday, fish on the creek channels, getting to the back of the creeks in Tigers and Goose Bay, were in about eight to ten feet of water, on the drops and slight depth changes. Hardwoods define the creek channels as they wiggle back there..
Peg your weight on a Texas rig and drag and pop it thru the vegetation that is on the bottom.. Sounds like a lot of the bites were reaction bites to when the bait was snatched out of the shit.. A craw or brush hog is a good choice..
Yesterday a buddy of mine caught them pretty good on a spinnerbait on the north end of the lake.. Six feet of water between hardwoods and flooded weeds and brush..
Another guy I just talked to said he had the best day in a month yesterday on the south end, Texas side, flipping and cranking, to include an eight and two sixes..
I do believe that fishing/catching is improving.
We have a few folks heading this way this weekend, including Alamo Bass Club, Uvalde Bass Club, and the aforementioned group from Laredo. So we should get a better handle on what the fish are really doing..
I'm telling you that there are just hardly any folks down here fishing.. So as of late I am just not hearing a lot of info to pass on..
I would have a flipping bait on the deck.. A Z-craw or Rage Craw.. A spinner bait, preferably a chart/white one.. I have been throwing the Jo-Baby with chart/white blades, as have a few of my buddies, with decent results.
You always need a square bill in shad pattern tied on.. And if you want a deep diver for those ledges or a C-rig that is not a bad idea either..
There is no doubt that a spinner bait has caught more fish lately than any other bait..
I have a bunch of fish pics to post. But am growing time short for today.. And I have to go pluck some Beto signs out of some yards.. (Just kidding.. Don't get your panties in a wad..)
If you haven't voted yet, don't forget to get it done.. The last thing we need is more communist bastards in the electorate..
Keep the faith Texas and America! And get involved!
See you on the water. Or at the deer processor..
October 31, 2018: Well October is finally shot in the ass, and it has been an interesting month around here.. Not a lot of it was good.. But some of it was..
From a fishing standpoint, I am going to give October a 5.5.. Some think that might be generous. I have often said that October is my favorite numbers month..
Not this year.. But maybe it is still to come.
It was a wet, cloudy, windy, water rising, muddy water, no current at the dam, no fishermen in town kinda month..
A good friend of mine and fishing buddy had a heart attack.. My brother had a ruptured ulcer and was in the hospital for two weeks.. My son had a visit to the emergency room..
The Mexican gangs had a spat that lasted a couple of weeks across the lake..
And I worked more hours than I like to without a visit to the water for almost three weeks..
It was truly a shitty period..
But I'm lookin at that world in the rearview..
Yesterday I finally got back out on the lake, and if felt good to get some wind in my face.. I'm still picking the bugs out of my teeth..And you cain't get bugs in your teeth unless you were smiling..
Jay was not working yesterday so he hopped in with me and we went out and killed half a day on the north end of the lake.
We fished the Veleno for an hour without a bite, so we picked up and moved down to the Diablo.
I had not been on the water in so long that I hardly recognized the lake with all the new water. And it looks awesome.. Anyway, last spring when the water was falling, but was about at this level, I had a bunch of fish on top of a gravel bar that is studded with hardwoods.. The ultimate flipping scenario..
And I started flipping the woods and Jay was throwing a spinerbait.. And about the fourth cast he had one out knock the rod out of his hands.. But missed him..
I kept throwing the worm.. About five casts later Jay caught a fat two pounder on the blade..
So I picked up the spinner and chunked it for thirty minutes without a bite..
And then I picked up the trolling motor..
We tooled down to Blanco and cruised the channel on the way in, but I didn't really like the depth where I wanted to fish, so we headed to the mouth of Pierces.. We threw a red eye and a spinnerbait at some likely looking rocks and bushes, but all we caught was some sun..
So across the lake we headed to the way back of Coyote. And prettier water you have never seen.. As a matter of fact, the water everywhere we went looks great.. Even the river channel looks good.
Anyway we flipped trees on the creek channel from eleven feet up to six feet.. And the only bite we got was when I wasn't paying attention and my bait was behind the boat by the time I realized it wasn't where I'd left it.. And I swung and missed and came back with a bare hook..
We ran into some other folks I know back there and they only had two fish and a miss or two back there as well..
It looks freakin awesome.. But just cause something looks good, don't mean it is..
So we came home only boating one fish by 11:00..
So yeah.. Fishing sucked.. But it was good to get out..
This morning I talked to a fellow who fished the back of the Salanaias till late yesterday and he did decent. But he said it was slow till the late afternoon when the water warmed back up.
From all reports, the south end of the lake is still fishing much better than the north..
I had a buddy fish Salado and Hedieona on the weekend, and he said the fish they caught were scattered.. No real pattern. And not a lot of em..
Yesterday morning the water temp was about 72°, but I heard that it warmed to near eighty in the shallows in the PM.. Just a couple weeks back the water temps were near 90..
So maybe these fish are in a bit of shock..
The lake is still rising, although you couldn't tell it from looking at the online gauge system.. I can't figure out why it has been two weeks and they still can't get this shit fixed..
Facebook would have fixed this shit in twenty minutes..
When I got home on Sunday, I drove a stake in the ground over at my place on the waters edge.. From Sunday evening till Monday evening, we came up and inch.. From Monday till Tuesday we came up another inch and a half..
You can't beat analog, baby..
I have no idea where where we are headed when it comes to water level.. But if they don't fix the fuckin gauges pretty soon I'm gonna drive up the Rio Grande and drive some more stakes in the ground..
There are finally a few folks in town, and a few more on the way it appears, from the emails and calls we are getting.. And it would be nice if you got down here and helped me figure this shit out..
We also have out first influx of Winter Texans hitting town, so things are getting a little busier at the parks and on the streets.. But it is still Zapata..
I was in Big Bend National Park last weekend, and I'll have to say that it was one thing that I have seen that was not over hyped.. Rugged and beautiful.. If you have never been, like me, it is well worth the drive.. And yes it is a ways out there..
I don't care where you are headed there from..
So the month did end up (so far) in a good fashion as we got our son married off to a super sweet gal and I'll have to say that I am as happy as a clam.. Good job Son.. I'm still not sure how he pulled that off..
But I am also happy to be back in Zapata, USA. And I am looking forward to sitting in the deer blind and chilling out a bit..
Until the next Melee at the ranch on Thanksgiving when forty something Bendele's, spouses, and descendants will all gather in one house..
Oh it's gonna be loud....
I'm kinda meandering a bit.. Get you ass out there and vote if you have not..
Whichever side you are on.. I like to see teams playing at full strength and I am glad to see Americans involved in the process.
Some thoughts on Nationalism next time we talk.. And hopefully a bit more detailed fishing report..
But throw a spinnerbait and a swim jig.. It's a good start..
Hopefully things will get back to normal.. If there is such a thing..
See you on the water I hope!
October 23, 2018: Willa.. Will she or won't she? Who the hell knows.. But it is not looking as good as it could.. According to local prognosticators..
This is the first time I have ever seen a Pacific hurricane put the bulls eye on Zapata.. But that is a pretty tough target to hit.. With those mountains in the way..
I reckon we'll see what happens.. But local forecasts give us a decent chance of rain tonight and tomorrow.. And then a return to sunshine.. Which is overdue..
I'm sure we'll get a bit.. But as it looks for now.. It don't look like a lot of water..
There are still damn few folks down here fishing, probably less than ten boats on the entire lake. But given the conditions the last few days I am not too surprised.. It has been cool and shitty.. With a chance for more shitty..
But the weekend is looking great, from what I can see..
Water temps have fallen from the low eighties just a couple weeks ago, to the low seventies as we speak.. Seventy one has been the number reported by most folks. Pretty drastic.. But that is what happens when you have wet, all clouds for ten days, and highs in the fifties and sixties..
I wish I could give you an accurate lake level.. But the gauges on the Rio Grande system don't seem to be working on the old internet.. Must be those damn Russians..
But we are on a slow rise from visual observations.. And maybe we'll jump a bit if we get rain in the right neighborhood..
Fishing has been spotty.. And I am not talking about the fish biting habits.. I'm talking about the fishermen.. There just ain't very many..
Those that have been out are reporting spotty catches as well..
All I can tell you is that if you find a couple of fish.. Beat that water to a froth.. When you find some fish, there can be a bunch in a small area..
According to most all reports, the fish in any numbers are in eight to twelve feet of water. Edges of ditches and sharp breaks on semi shallow creek channels.
Spinner baits and swim jigs with a swimming tail trailer seem to be catching as many fish as anything else.. Mid diving crankbaits are catching a few fish as well..
But honestly, with the few folks on the lake, it is hard to get a handle on what the fish are doing.. They are not seeing many baits..
There have been a few quality fish caught..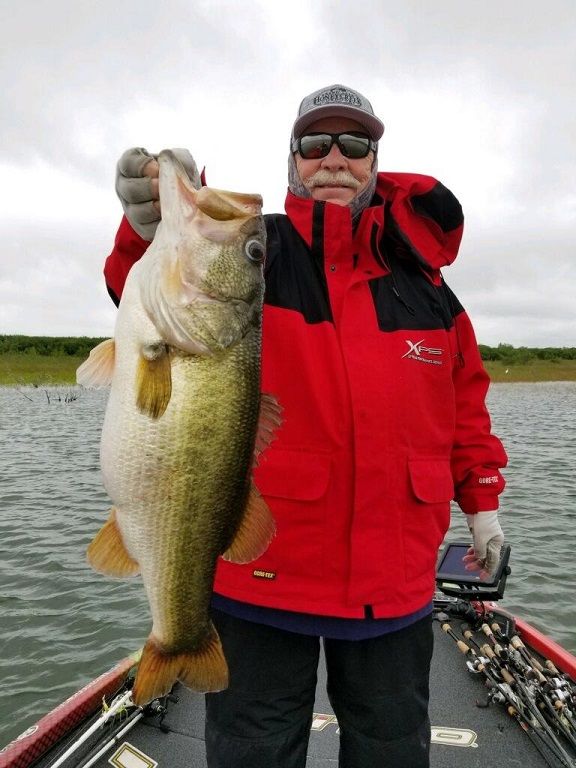 We've got brisket on the pit here today, as my son is getting married this weekend, and we are cooking for a crowd.. And it has been a while since the place smelled this good.. Certainly a lot better than the Gar smell we had hanging around here a few weeks back..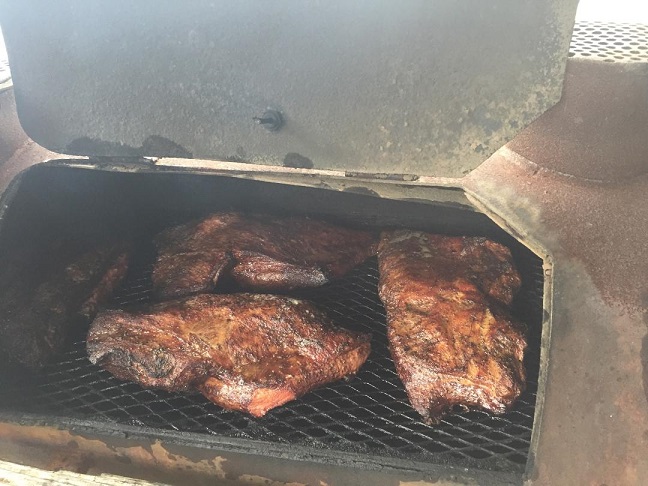 The last three weeks has been a son of a bitch around here.. But once I get past this weekend I actually might get on the lake again..
And I apologize for not having better intel for you..
This weekend looks like a good weekend to get on the water.. So get your ass down here..
And I'll see you next week.. If not before..
October 18, 2018: It's still a wet and cool miserable son of a gun around here.. And the next week appears to continue with the wet.. Albeit a bit warmer starting this weekend..
Not that it's cold.. But I like to bitch if it gets below seventy.. And it has.. And it is.. And I am..
We had a quarter inch of rain today, (by 1:30) and there are sprinkles that have come and gone.. But it is warming up a bit and we are in the middle sixties.
As often happens, when the water cools off a bit, these fish will migrate to a near creek channel and hang out on the edges in slightly deeper water..
Yesterday Matt Reed found a pack of bigger fish and caught a thirty eight pound sack with his clients.. In the nastiest weather you can think of.. Well, Almost..
They also had twenty five fish over four pounds..
Most of the fish were caught on swim jigs.. Yuk.. I hate that shit.. Bout like a spinner bait.. But when it's working it can be magic..
He was probably one of two or three boats on the lake yesterday.. There is nobody here this week..
Cain't say I blame em.. I ain't going out there either..
Who is here is the Highway Patrol big cruiser boats.. Three of them out patrolling the lake.. I guess that someone finally listened to our complaints about the incidents on the lake.. Not sure for how long they will be here.. But it is good to see their presence on the water..
It is about time we take the gloves off and clean this mess up.. But I seriously doubt if that will ever happen..
As long as Americans keep demanding drugs.. Somebody is gonna provide em..
Pretty simple.. And pretty stupid..
So that is about it for the fishing report.. Ain't nobody fishing..
I have been watching baseball on TV.. And while the Astros looked great against Cleveland.. They are sucking against the Red Sox.. I think the end is nigh..
How come baseball doesn't have cheerleaders? Neither does NASCAR..
I can understand NASCAR not having any.. Too far away to the infield to see um.. Although I am sure those rednecks would all bring their spotting scopes if they were there..
The NFL and NBA have Cheerleaders/Dancers..
And while I am not watching the NFL or NBA any longer, I could really care..
But a buddy of mine told me that they hardly ever show the cheerleaders on TV anymore..
Which seems kind of silly to me, but I guess if you look at the way today's society is going, I am surprised that they have any cheerleaders at all..
(Jeckyl) Because we all know that it is purely the sexualization of women, in vulgar display on the sidelines.
Leading to rapes, assaults, and unwanted verbal advances towards all women, because men can be over aroused after looking at this pornographic display on the sidelines..
I am just not sure why any woman would want to subject herself to that lifestyle..
(Hyde) I see on TV that there is a show about the Dallas Cowboys cheerleaders and a drama about making the team..
And from the ten minutes of it I have watched, it's all about the individuals ability to dance, jump, and cheer all in a coordinated effort with the rest of the girls..
But let me ask a question.. Are the cheerleaders there for the women at the games, or for the men.. Or maybe that is a sexist question to ask these days..
Because we are all equal and women can enjoy the cheerleaders as much as the men..
But I kinda doubt it..
So let me save Jerry a few dollars and suggest that he just hire the gals with the thinnest waists and the biggest hooters and let them jump around in clothing that has to be pasted on to keep a nipple from showing..
Men don't give a shit if they can dance in rhythm or not.. They just like to see bouncing boobs..
On a slightly different note.. I often watch the local evening news for the weather and such.. And it is always followed by the local sports. I am sure it is the same in your town..
Have you even seen the volleyball girls shorts that they wear when they play? If they were any shorter they'd have to get a hair net.. And these are high school girls.. Think any high school boys have any testosterone?
Have you seen what the young kids wear out in public these days?
I am probably the last person earth that still has AOL.. Had an e-mail address there since they invented it..
And I know it is the most liberal site on the planet, as most "news" is provided by the Huffington Post..
And I find it hilarious how freaking hypocritical they are with their rolling news stories.
On one page they have Harvey Weinstein stories and all the bad things he has done to women..
On the next page they have "(fill in the blank) stuns on red carpet in see thru dress that leaves nothing to the imagination.."
Followed by a story about a young girl that was abducted by some pervert...
And on the next page they have some young slut twerking (There's a great new word I shouldn't know the meaning of) on some guys crotch..
Don't that make your Mama proud..
If it sounds like I am picking on you ladies.. Well I ain't..
But I am picking on the girls/women that don't act like ladies.. That dress, act, and talk like whores.. And then get offended when someone treats them like one..
Maybe I am wrong, but I just don't think that things will change in the relationship between men and women if we stick with the status quo.
But this is just the opinion of and old country boy that was taught some manners at a young age and a respect for women. And all peoples..
And I pass that respect to women I meet, even if it is obvious that they don't deserve it..
I live by one rule when it comes to dealing with people.. Treat them the way you would like to be treated..
Some folks call it the golden rule.. I'll have to agree..
I am not saying that I do not judge people.. We all do.. And I'll let you judge me on your own terms..
Being a good judge of character will take you a long way in life.. Fortunately I have been blessed with the ability to be a quick study.
I can spot an asshole a mile away..
I can also see the good in a person in a matter of seconds.. Because that is what a good person exudes..
And so can you..
Pick your friends carefully. It is probably one of the most important things you can do in life..
Well this blog has gotten a bit long and a bit personal and a bit political. As there is nothing as political as the ongoing battle between the sexes..
And if you are still reading this far down, you may share some of my beliefs. If not I am sure you have tuned out several paragraphs back.. (Not sure why that last sentence was needed.)
In any case, I hope you try to be as nice to every human you encounter as you can possibly be.. I know you are going to encounter a few assholes out there..
But be nice to em.. Just to piss em off..
See you soon.. I'm bored out of my gourd!
October 16, 2018: It seems that I talk a lot more about peripheral shit than I do about fishing.. But I reckon that is the nature of the beast.
And some times it is hard to get the head chopped off the beast.. And I ain't sure I got that done, but I'm sure I got the son of a bitch bleeding..
Well let's talk fishing first..
The last week saw few fishermen on the water, and those that did struggled to achieve anything that might be considered good fishing.
Till about last Saturday.. And some will certainly consider last Saturday's fishing as so-so. But some didn't.
Uvalde Bass Club and Ingram Bass club were both in town, and we talked to a lot of the anglers in both clubs.
And while I have been promised pictures of the big fish, which I have already seen, I have yet to receive a digital copy.
The big bass of the Uvalde tourney on Saturday weighed in at 11.42 pounds. And believe me it was a pretty fish..
And the big fish from Ingram was a big eight.. And he also had a big seven.. Both caught on buzzbaits..
And yes FLT ran out of buzzbaits on Saturday afternoon.. But I have already fixed that..
I have been telling you that frogs and the like have been catching some fish in the flooded grass and bushes.. You might try a buzzer as well..
Other folks also caught fish, not in record breaking numbers, but enough to keep it interesting..
I have not heard final results from either club.. I'll pass em along if I hear..
Let's shift to Monday. As in Monday morning, aka yesterday..
A wet cold front was predicted to blow in.. And yes it did.. And a few boats that had made a pilgrimage to try our famous October fishing got a little more than they were looking for..
I warned em.
You know a front can't blow in an hour before daylight.. It has to wait till about nine so you can get your ass spread out on the lake.. And that's what happened..
And several boats had an interesting and wet trip back to the boat ramp.. And I am talking about one of them rides that would certainly put foam in your beer..
Like I said.. I warned em..
We have a week of this shit coming.. With north winds overstaying their welcome.. Which is pretty much nonexistent.. For my thoughts anyway..
We are supposed to be in the mid eighties this time of year.. A small respite from the usual heat or unbearable cold.. But we are getting screwed out of our two weeks of fall.. We don't even get back to the seventies till Sunday..
I hate cold..
I am going to stay with a 6.5 on the fishing scale.. Mostly because the weather is not really gonna let us on the water, and it is hard to get a grip on what is really going on under these conditions.. Bad weather and damn few fishermen.. But I can't blame anybody for not fishing in this shit..
And I can tell you that the tarp ain't coming off the ol Skeeter this week..
There are a couple of guides still fishing this week.. They're trying to make a living, and evidently their clients are as crazy as they are..
I was there once..
If I had to fish, I would certainly be throwing a noisy top water in protected areas early.. Hell as cloudy as it will be all week you can probably throw it all day..
Before the big weather change we were catching fish on flukes and dark colored flippin baits on the edges of the grass and on the hardwoods in about eight feet of water on outside grass lines.. When the sun was out..
The spinnerbait was also effective last weekend, as a lot of the tournament fishermen were throwing it in the same areas.. But overall most said the you had to cover a lot of water to catch some fish..
And if this lake ever looked like a spinnerbait paradise, it does now..
We are still catching some water and this AM we are sitting at 273.85, essentially at 26 feet low.
We still have a bit of water in the pipe and we will gradually gain a bit, but it will be slow, unless we get a deluge north of us..
Speaking of a deluge, by now I am sure you have heard of the Llano being on a major flood, and its water is smothering the homes on Lake LBJ as I type. And that water is headed down stream to Travis and down to Austin and points south.. And looking at the video I have seen, there is no way they can hold it all..
This will be another one for the history books I am sure.. Thoughts and prayers to all of you affected by the flooding..
I remember a similar event that took out everything on the confluence of the Colorado and the Llano some years back.. A lot of years back..
Back in the day I spent a lot of time in that country.. Some of the prettiest in Texas.. Sad to see..
I had a barrage of bullshit I was going to write today.. But suddenly I find I am not in the mood for levity.. Maybe that is just what we need.. But it will have to wait a day or two..
Help your fellow Texans where you can.. And keep yourself safe.
We're waiting for the sun, and we'll see you soon..
October 8, 2018: I sure meant to get back to the computer quicker than this, but life has gotten in the way as it often does. I have had a friend and two family members in the hospital in the last week, and I have been a little overwhelmed..
Nobody ever said life is easy..
Well maybe somebody did.. But it wasn't me..
The lake is still creeping up.. But it is down to just creeping.. We are up to 273.54, which is still 27.66 low, but the lake looks good and there is certainly a lot of water to fish.
As I type there is some rain in our watershed again, but it is too early to see if it will help us any.. But we are in pretty good shape heading into winter..
Winter.. Really.. Did I just type that..
It is only 78 days till Christmas..
Water temps are still right around eighty degrees, so these fish ain't thinking about winter just yet..
And neither are we..
The general consensus is that a lot of the newly inundated weeds and grass in the shallows are starting to break down, and fish that were right up in it have moved off the decaying cover a bit.
Some fish have been caught still using spinners and squarebills on water color change lines in the backs of a lot of the creeks. I also talked to a couple of folks that have caught fish out of matted shit..
I use the word shit because there is a bit of it mixed in with the other shit that has formed a few shit mats..
Like mixed in with the shit is some reeds, sticks, grass, plastic bottles, chanklas, and whatever else the litterbugs have so woefully discarded..
When the river really runs, it can be amazing what you will see floating around out there..
I think it is time to put that crying Indian commercial back on TV..
Anyway..
There are still fish being caught on rocks, and rocks that were bare, devoid of grass and weeds, seem to be holding the bait and therefore fish better than banks that were covered with grass.
It is not at all uncommon for the fish to get in that newly flooded grass, but then leave it when it starts to decay..
Even smells a bit funky out there in the back of some creeks..
So I will have to say that numbers are down a bit from where they were the last few weeks. At least in the shallows.
There are still fish there, but they are scattered.
There is still very little current moving down south.. And I don't mind.. But the fish that have been stacked up down by the dam all summer are surely not in a biting mood like they were for months..
The river up here on top of the lake is still a bit murky, but it is starting to settle out as the flow decreases. And all the greens on the bank do help to filter out a lot of the sediment..
The catfish in the river channel are still in the biting mood, and I talked to some folks on Saturday that said they are still murdering them.
I need to find me a tin boat..
White bass are schooling all over the lake, and if you catch one, you can usually catch a bucket full.. Look for birds.. Or just throw a shad pattern crankbait around some rock.. You'll find em..
The scuffle between gangs on the Mexican side of the lake appears to be calming down. There is a big Mexican military presence along the lake, and soldiers and trucks and helicopters have been reported from top to bottom.
And the netters are back on the lake so that tells me that things are de-escalating over there. As it usually does.
And I spoke to several folks that fished the Salanaias and Benavides and the Coyotes and they reported no suspicious activity..
So take it for what its worth.. But things have calmed down, according to all observations..
I'm gonna rate fishing at about a 6.5.. Not great.. But not bad either.. If I was going fishing, I would still fish from marker three south, and I would certainly visit State Park Cove and Government cove.. I saw some pics of some really nice fish this week.. But not as many as the weeks before.
Our first wave of Winter Texans has appeared.. Maybe I should call it a ripple.. But a few folks from northern climes have hit town and I reckon we'll see a few more in the next week. Every year we have less and less of them as a lot of the older folks can no longer make the trip.. Or they have gone on to the happy fishing grounds.. Somewhere we are all headed sooner or later..
But I'm in no rush..
Well unless you live under a rock, I am sure you have been pummeled by all the news media in the last week in regards to the Supreme Court appointment of Mr. Kavanaugh.
And thank God that it is over. And whether she is lying, he is lying, they are lying, or none of them can remember shit because of time past, or the fog of alcohol tainted memories, I'm glad to see that for the time being, innocent till PROVEN guilty, is still a cornerstone of American policy.
That may be the most important tennant of individual freedom of free people living in a free society. If there is such a thing. And that is one of the many things here in the US that does separate us from other "shithole" countrys.
I am not trying to belittle anyone that has suffered any kind of abuse at the hands of others.. But this whole deal stunk to high heaven from the get-go..
But lets get on to the really important stuff..
I grew up in the sixties and seventies.. And I thought we did some pretty wild shit when I was a kid..
Did we drink? Oh hell yeah.. Did I ever blackout? And not remember anything?
I can't remember.. But I am sure my buddies would have..
Did we have rape parties? Did we have girls stupid enough to continually go to rape parties?
I can answer unequivocally, no..
Maybe them Yankees do things different than us..
Was I continually trying to get laid? I can answer unequivocally, yes..
But I did it with style and panache..
I did plenty of stupid shit when I was younger, and I am glad that we have a society that understands the ignorance of youth. And forgives it for the most part.. Within reason..
Because we know that people under twenty one, for the most part, are idiots.. And we forgive them.. Because we were once young idiots ourselves.
A connotation of sophomore means 'young fool.' And for a reason..
Now don't get all offended if you are under twenty one and are a model citizen.. Or if you have a child that is.
I know a lot of sharp kids that got it going on. And kudos them and you for raising them..
But lets face the fact that you don't have much life experience at that age.
And with a few more years under your belt, you just might look back and think that what seemed perfectly thought out at the time, might not have been as good a decision as you thought it was..
Wisdom.. You can't buy it..
But you'll certainly pay for not having it..
The only way to obtain any of it is to live life. Some people absorb it at an early age.. But I know people my age that still have never had an encounter with it..
I have noticed, however, that there are a few traits that will help you glean a little wisdom, right out of thin air.
Humbleness, humility, courteousness, a bust your ass work ethic, and the ability to listen three times more than you talk, will turn you into a wisdom magnet..
And once you possess all this wisdom, people will seek out your advice. And you'll get to talk three times more than you listen..
Hey, I'm no Rhodes Scholar.. But even if I was, that wouldn't make me wise.
Hell, I heard of one who tried to use an intern as a humidor..
But I digress..
And here I am talking about all this crap, when I really wanted to talk about cheerleaders, actresses and female entertainers who dress like hookers, men and women in the workplace, hypocrites, AOL, the NFL, the BFL, MLF, BASS, and the FBI..
And MLB.. Go Astros!
But there are just too many acronyms to keep up with.. Maybe when I retire..
I think I'll go fishing and try and gain a little wisdom about what the fish are doing..
Keep the faith America! The sky is not falling.. No matter what the dimocrats are telling you..
See you on the water..